GROUPON GUIDE TO SAN FRANCISCO
For the Love of Cheese: Best Cheese Shops in San Francisco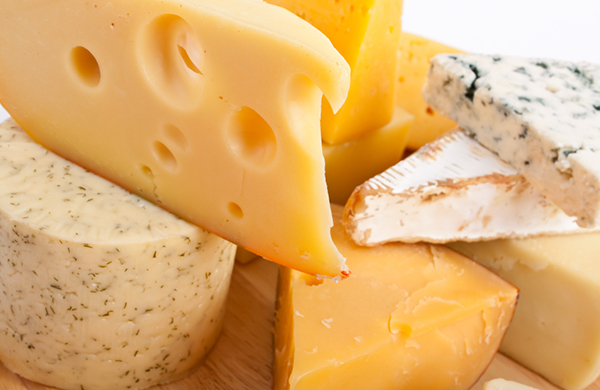 Beyond the occasional vegan or lactose-intolerant eater, San Francisco is more or less united in its adoration of cheese. Whether an ordinary cheddar slice to melt atop an omelet or an artisanal offering meant to be paired with wine and charcuterie, the city has a hankering for the stuff, with plenty of quality cheese shops for cheeseheads to pick their favorites. Anyone headed to Dolores Park is sure to make a pit stop at Bi-Rite, the upmarket grocer nearby that offers an impressive array of quality cheeses to choose from. But for those trekking to Golden Gate Park, there is Cole Valley's
Say Cheese
. With a sizeable assortment of wine and sandwiches, it's as great a spot for rarities that challenge the taste buds as it is for standards like Vermont cheddars or Swiss Gruyeres. And it's likely much less crowded than Bi-Rite. For almost twenty years, Cowgirl Creamery has been brightening up one of the foggiest places in the country: Pt. Reyes Station, California. Fortunately for the mist-averse, they have a shop in the Ferry Building as well, where cheesemongers in white coats hawk wheels and wedges to moneyed urbanites. The fast-paced Ferry Building location is the perfect place to grab a spread of incomparably buttery, triple-cream Mt. Tam. Or, if you're in the right neighborhood, head to
Mission Cheese
on Valencia for flights of hard to find but easy to remember cheeses. The moody shop doubles as a romantic sit-down restaurant and looks a swirling blend of cheese cave and trendy, poured-concrete loft. There's no better place to order a raft of unfamiliar American artisan cheeses, with some light fruit accompaniment and a glass of wine or two. Just be sure to take notes; proprietor Sarah Dvorak seldom stocks the same thing twice. Noe Valley's 24
th
Street Creamery is a true cheese-lovers paradise, with lots of lactobacillus on hand to give ripened cheeses their signature funk. Some options come creamy, others retain their hard texture, but nearly all offer a bit of beautiful stink, meaning the shop – which stocks roughly 300 cheeses – is one of the city's finest, if stenchiest, spots to shop. Look for the large array of vinegars, caviars, honeys and chocolates as well. Owned by a Lebanese-American couple,
Cheese Boutique
in Glen Park is one of the linchpins that make that neighborhood such a treasured urban village. It's an old-school enclave, but this small outpost proudly displays a run of gourmet pastas, house-made hummus and hard-to-find British products like Marmite, as well as dozens and dozens of cheeses. Cheese Boutique enjoys a large local following, showing just how dedicated San Franciscans are to their love of all things fromage.
BY: Gayot
GAYOT.com serves as a leading worldwide authority on the good life. Millions of readers turn to Gayot's savvy, professional reviews on dining, travel and lifestyle. From "Best of" lists and travel guides, to a searchable restaurant and hotel database, Gayot provides dependable coverage while keeping up with the latest trends and news.