For Two Wilco Bandmates, The Autumn Defense Comes First
BY: Collin Brennan |
Feb 18, 2014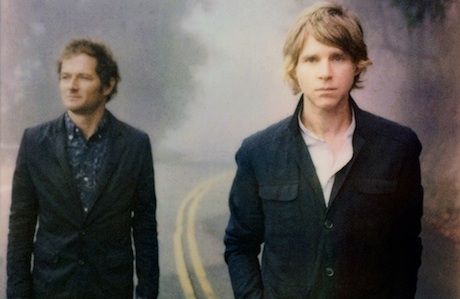 Playing in Chicago's most popular rock band? That's cool. But for Pat Sansone of Wilco and The Autumn Defense, it's the latter band that holds his heart.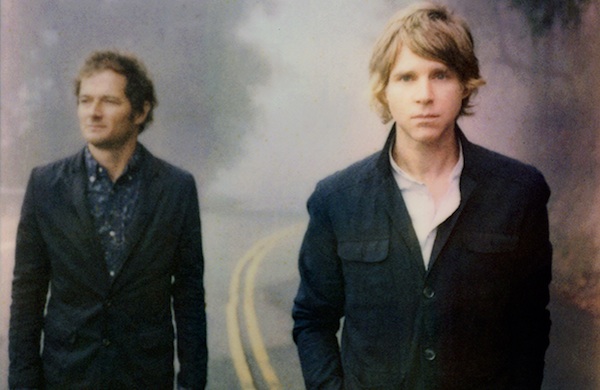 It's a hard life for Pat Sansone and John Stirratt. As members of one of Chicago's longest running and most esteemed indie acts, the
Wilco
bandmates barely find a minute to breathe between playing sold-out shows and writing songs for their own project,
The Autumn Defense
. Somebody's got to do the difficult work of putting words to music, however, and the pop duo has never shied away from a challenge (both members play multiple instruments and are no strangers to recording their own albums). It would be a mistake to think that The Autumn Defense is merely a repository for the much more famous Wilco's B-sides. "We put a lot of care and soul into our records and performances," Sansone says. "There is nothing second-string about The Autumn Defense to us." So much is apparent from the band's new record,
Fifth
, which finds them channeling 14 years of experience into songs that nearly burst with twinkling guitars and groovy pop melodies. Ahead of last weekend's record release parties at 
Schubas
(February 21 & 22),  we asked Sansone what it's like to juggle life in Wilco with the demands of his own passion project.
GROUPON: When The Autumn Defense began, you weren't yet a member of Wilco. Now that you and John are touring together and presumably around each other more often, do you have more time to work on your own music?
PAT SANSONE: In some ways, it's easier to get on the same timetable since we basically have the same periods of time off from the Wilco schedule. But Wilco has had a pretty busy couple of years, so we had to be diligent about making time during the downtimes to make this record.
G: In the past decade, you've pretty much alternated putting out Wilco albums with working on your own material. In that time, Wilco has steadily grown in popularity while The Autumn Defense remains more of a local treasure. Do you like having a project that is a bit further from the spotlight?
PS: Well, we'd love for as many people as possible to hear and like The Autumn Defense. We certainly don't work to keep the audience small. That's why we are out on tour in a van at this very moment: to spread the word.
G: But does having less of a presence on the national stage allow you to experiment a little more?
PS: We make this music because we love to do it, and we make exactly the kind of music we want to make. That wouldn't change if we had a bigger audience than we do now. We would love for more people to be aware of our music, and though it may be a slower process, it seems like [our] audience is growing and the music is continuing to find its way into the world.
G: You've been known to handle a lot of the recording and instrumentation duties yourselves. Did you have to learn any new instruments to record this latest record? Are there any new sounds on here that aren't on your other recordings?
PS: I don't think there are any new instruments here—we are using basically the same box of tools that we've been using even going back to our first album. We did get to use a good bit of our new Mellotron M4000D, which is a great keyboard and gave us a lot of great orchestral textures. But we've always used and loved those Tron sounds!
G: What about the recording process itself? Did you guys try anything different in the studio this time around?
PS: I know that John used GarageBand to do some of [the] initial writing and demoing for a few of his songs, as a way to expand his writing process and break some habits of writing on acoustic guitar. The results were great—you can hear them on "I Want You Back" and "Light In Your Eyes." I think those are both pretty unique tracks for us.
G: You guys are both natives of the South and New Orleans. Have the dominant musical traditions of that region—the jazz, the rhythm and blues—influenced you as songwriters?
PS: Well, you can't be from that part of the country and not have it influence you. Music is just in the air and the soil down there. That being said, the music of The Autumn Defense isn't overtly Southern, but it's in there somewhere.
G: What were some of the first records that attracted you to music growing up?
PS: A lot of our inspirations for starting the project come from a shared love of '60s and '70s British and Californian pop. But there is also the Southern connection with Big Star from Memphis—one of our favorite bands and biggest influences. They were also a Southern band who wanted to sound like The Beatles and The Byrds!
G: Any local bands in Chicago you're excited about?
PS: I'm looking forward to hearing what Dan Schneider is up to with
The Singleman Affair
. He's made a couple of gorgeous records in the last few years and I hear he's working on another. We love
The Cairo Gang's
EP
Tiny Rebels
. Amazing.
Disappears
rocks.
Liam Hayes and Plush
aren't technically a local band anymore, as Liam moved recently, but he is still very connected to this city. He has two albums in the can—one of which I produced—that are currently unreleased but need to be heard!
G: With your busy schedules, do you get a chance to go out to shows much?
PS: Not as much as I would like to, but Chicago has such a wealth of great venues.
Schubas
and Lincoln Hall are favorites.
G: Do you ever foresee taking time off from your many other projects to focus more on The Autumn Defense, or do you plan on keeping this vaguely in "side project" territory?
PS: I've never thought of it as a side project, and we really try to avoid that term when talking about The Autumn Defense. [It] seems to categorize the music in a way that hasn't been good for the cause. But our fans who have developed a real relationship with our music know better.
G: You guys released a new album in the early days of 2014, so it's already been a successful year. How do you top that?
PS: 2014 has been good for us so far—[playing] as many shows as we already have, putting out our new record, taking the band to Japan for the first time…We are really looking forward to what's to come.
Catch Pat and John this weekend at Schubas, where they'll play back-to-back shows on Friday, February 21, and Saturday, February 22. Buy your tickets here.
BY: Collin Brennan
Guide Staff Writer
Collin is a senior editor and a staff writer for Consequence of Sound. He self-publishes zines and moderates writing workshops for The Chicago Publishers Resource Center (CHI PRC).