Four Beauty Tricks I Tried in April
BY: Favin the Maven |
May 5, 2014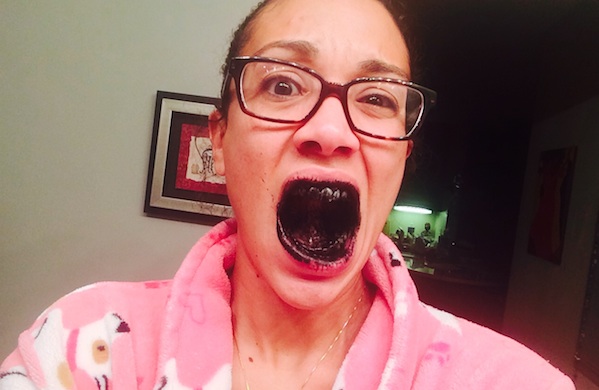 My summary of April: charcoal was a success (in two different ways!), models knew their stuff, and vinyl nail polish was a major fail.
Around midnight one night, my coworker Gina texted me a picture of herself. She gave me no context for the photo, but even if she had, I would have been horrified. In it, her mouth was oozing mysterious black liquid. She looked like a walker from
The Walking Dead
. She hadn't actually become a zombie, though. It turned out she was just trying a new teeth-whitening treatment she thought I might be interested in: brushing with activated charcoal powder. It was one of the four beauty tricks I tried out last month—read on for the details on which ones actually worked.
1. Charcoal teeth brushing
I'm all about
teeth whitening
, so despite the horror-movie implications, I was eager to try this. According to my online research, the all-natural technique could help break up surface stains and yellowing just beneath the enamel, all without causing teeth sensitivity. Sold. I went ahead and ordered some charcoal tablets. I broke open a tablet and sprinkled its contents onto my wet toothbrush, wet it a little more, and started brushing. My whole mouth
immediately
turned pitch black. I would've been nervous, except I could literally hear how squeaky-clean my teeth were getting. I brushed for five minutes, as my research told me to, and I was extra careful not to swallow any of the tasteless charcoal. It's a natural emetic (which means it makes you barf). After doing this two to three times a week for the past month, my teeth definitely feel cleaner and look a touch whiter. Although, fair warning: cleanup is a bit of a process for this one. I rinse with water a few times, brush my teeth again with regular toothpaste, scrub my lips, and sometimes have to floss black flecks from between my teeth. (It doesn't stain the toothbrush, though.)
2. Korean-style charcoal facemask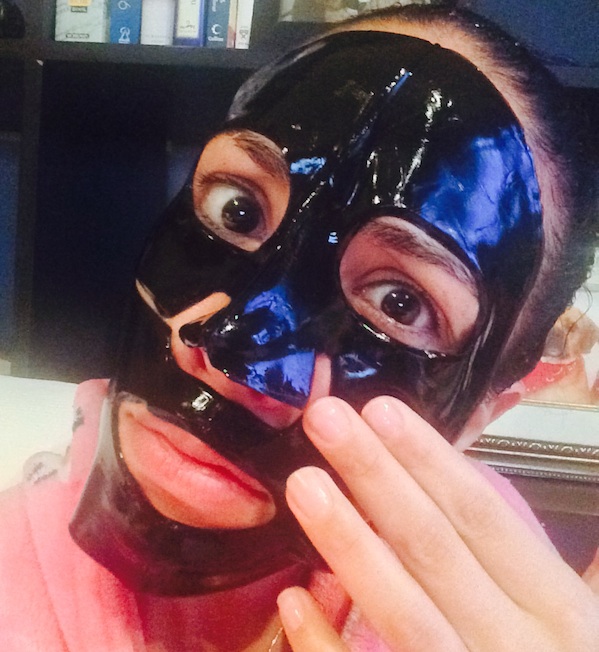 I bought this single-use mask at
a beauty expo
I went to in March. Luckily, those vendors are vetted—had I seen this in a drugstore I would have passed. It looks crazy. It's an actual mask, with little holes for your eyes, nose, and mouth. And because it's infused with charcoal-based gel, it's black. The charcoal gel is there for a reason, though. It's supposed to absorb oil and reduce pimple size. Not only did it soothe my blemishes on contact, but by morning, they were much smaller—and my skin felt insanely soft. The Halloween-mask-y setup actually made it easier to use, too. All you have to do is wash your face, put the mask on, and go watch TV for 20 minutes—no applying drippy creams or mixing ingredients from the pantry. Afterward, you just rub the leftover serum into your skin, too. No moisturizer necessary. Best of all, it comes in two pieces, so if you put on the top half first, you look like Batman. Awesome!
3. A model's tip for erasing pimples
After watching model Suzanne Diaz's secret zit-zapping trick in this
Into the Gloss video
, I couldn't wait to try it myself. Right before bed, I rubbed my zits down with a Q-tip dipped in drugstore hydrogen peroxide, then a second Q-tip dipped in my Proactiv+ Skin Purifying mask. (I didn't have the Mario Badescu drying lotion Suzanne swears by.) By morning, my pimples were about a quarter of the size they were before! No picking, no popping.
4. Vinyl nail polish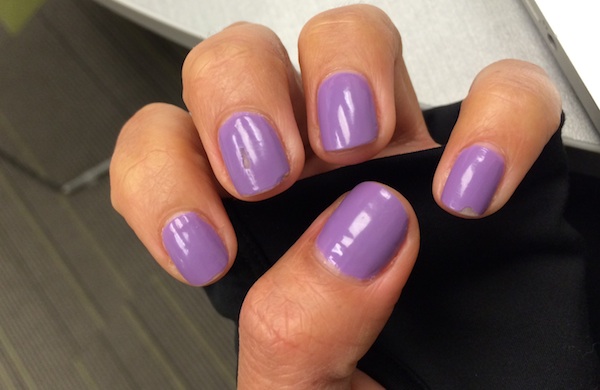 This new vinyl-based polish is being touted as somewhere between regular polish and Shellac, but I'd put it somewhere between "meh" and "ugh." It's supposed to go 7–10 days without chipping, and the topcoat supposedly strengthens over time, as it's exposed to natural light. I had noticeable chips by day four, though, as you can see in the above photo. The problem started on day one. Unlike real Shellac polish, you don't use UV lights to instantly dry this, and my manicurist said it should dry on its own within a few minutes. An hour after my manicure, though, I hit my hand on a doorknob, and got my first major scuff. Even worse, even though it chipped easily, it was hard to remove. Regular nail-polish remover is supposed to do the trick, which it does—but it takes basically a whole sleeve of cotton pads and half a bottle of remover. So overall, this polish didn't last as long as gel, wasn't as easy to remove as regular polish, and cost $5 more than a traditional manicure. Pass.
BY: Favin the Maven
For me, both beauty and fashion need to be accessible and not intimidating. I love a great deal and a good DIY beauty treatment. I pride myself on trying new trends, being open minded and getting a great treatment without breaking the bank. In the name of beauty I will try anything once.