I Walked 2 Miles Through a Beauty Expo and Got Lost
BY: Favin the Maven |
Mar 27, 2014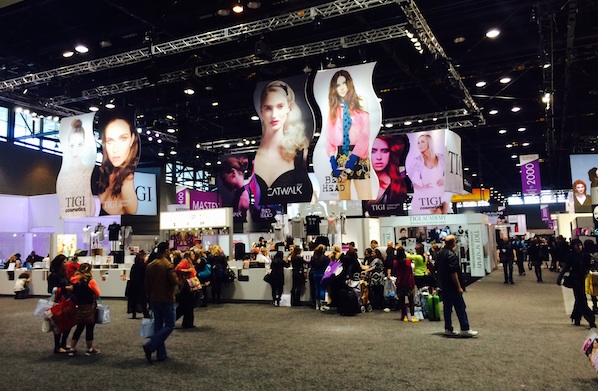 Yes, lost. But I managed to find five cool things along the way, including masks that make your feet peel like snakeskin.
Earlier this week, McCormick Place hosted two of the Midwest's largest beauty shows—
Face & Body Midwest
and
America's Beauty Show
—which I attended with my Groupon beauty team. I'm not exaggerating when I say these shows were enormous—if you didn't have a navigation plan, you could totally get lost. Which we did. But it wasn't our fault. Everywhere we looked there was a cool hairstyle to admire or a fun beauty gadget to play with. Here are five of the most memorable products and trends we saw:
1. All-natural spray tanning
Bronze Biologic
was promoting its botanical tanning solution, which is made from a combination of purified water, beet sugar, and aloe vera. I was so intrigued, I let the representative spray my face a beautiful shade of bronze (see the video
here
). And it wasn't just the formula that was impressive, either. Bronze Biologic's gun gave off no overspray, meaning my white (!) shirt didn't get a drop of color on it.
2. Foot treatments
There were a LOT of foot treatments. But one that really jumped out at me was 
Baby Foot
's exfoliating booties. The single-use masks wrap around feet, coating them with 17 natural extracts and fruit acids that make cracked, dry skin peel off like snakeskin. It's somehow gross and awesome all at the same time. I bought a pair and can't wait to try them, so stay tuned for that.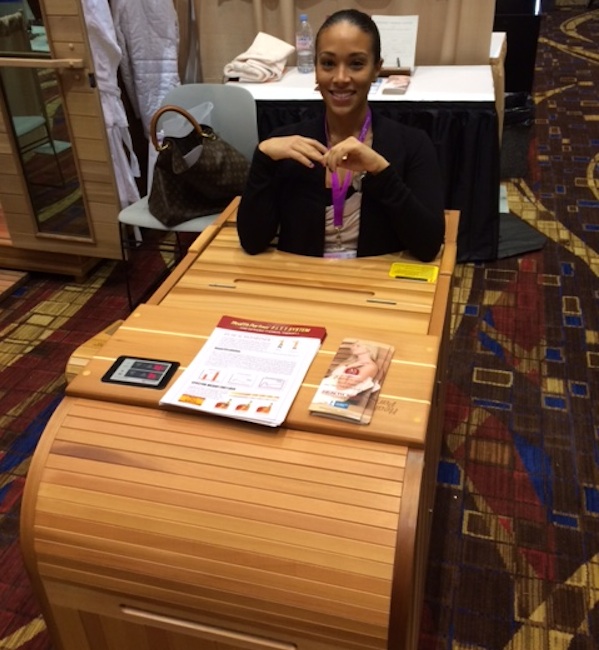 3. Infrared sauna chairs
Health Partner's F.I.T.T. system
takes lounging to a new level. The chair is built into a red-cedar chamber that encloses the lower half of your body, warming it with infrared heat to help relieve pain and boost metabolism. It was
really
warm—I think if I had sat much longer than 15 minutes I would've started sweating. But apparently you build up a tolerance to the heat, because the rep said she uses it for about an hour a day while watching TV. (Like I need another excuse to binge-watch
House of Cards
.)
4. Men's hair
Brands including TIGI and Redken were very conscious of the national trend of "dapper shops," old-school-inspired barbershops where guys can sip beer and watch the game while getting a haircut and shave. As such, there was a lot of energy devoted to men's salon services and styling products—TIGI even did live styling and cutting onstage to demonstrate their product line, B for Men.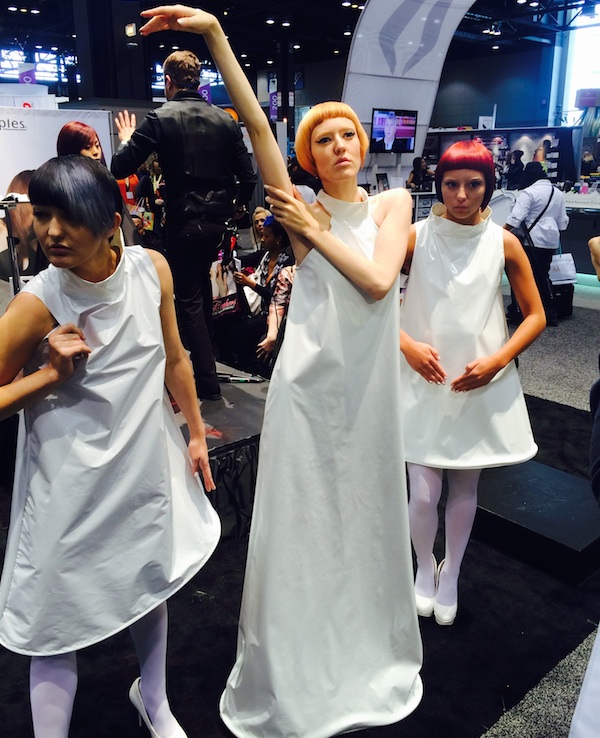 5. Bold hair color
As adorable as St. Vincent and Kelly Osbourne look with their pastel hairdos, I'm not surprised that crayon-box hues have evolved from bold ombre-dipped ends to all-over color. It seemed all the major hair-color brands—including Redken and CHI—had models flaunting hairstyles saturated in shades of neon pink, scarlet, and tangerine.
Photos: Groupon
BY: Favin the Maven
For me, both beauty and fashion need to be accessible and not intimidating. I love a great deal and a good DIY beauty treatment. I pride myself on trying new trends, being open minded and getting a great treatment without breaking the bank. In the name of beauty I will try anything once.