GROUPON GUIDE TO WASHINGTON-DC
Four Holiday Treats That Kick the Gingerbread Man to the Curb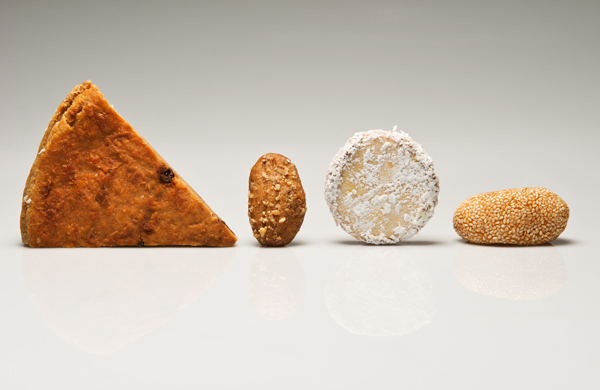 Above: pastries, from left to right: capirotada, finikia, alfajor, and buchi.
Baking treats is important during the holidays, but how many of us approach it with more than a half-hearted effort? It's not all our fault—we're super busy, and our families are driving us crazy.
But still. All those plastic containers of rock-hard chocolate chip cookies at office parties. Those fruitcakes and rum cakes with black-hole densities, each bite requiring a gallon of milk to choke down. And what is that you're leaving Santa this year? A "brownie" with M&Ms in it? You might as well glue some Milk Duds to a cinder block.
This year, try pastry treats from around the world. Each has global roots and influences, and all of the pastries included in this article could be easily found and affordably bought at some of the best bakeries in Chicago.
Below are four international pastries perfect for eating in large quantities during festive winter days. To grant some perspective on each treat, I asked my 60-something Aunt Helen, a former pastry chef and still world traveler, for her opinion on each baked good.
Let the tour begin.

Stop 1: Colombia for alfajor
PETER: Let's start our journey in Colombia. Mekato's has cases and cases filled with popular pastries from South America, and alfajores themselves are enjoyed across the continent. Their traditional recipe is a bit different in Colombia, though it still consists of two butter cookies pressed and held together by a confection made from heating sweetened milk to a thicker texture (dulce de leche or, in Colombia, a version called arequipe, with a texture more like custard). The treats are finished with a dusting of powdered sugar and often with shaved coconut, too. What do you think, Aunt Helen?
AUNT HELEN: Oh, this is one of my favorites! I learned to make it while I was traveling with your uncle. It's not hard to make either the cookies or dulce de leche. And you can make big batches of alfajores easily. Such an exciting trip, backpacking across the continent. We met some wonderful people. I learned all about alfajores from one family in particular we stayed with. They were the same ones who showed us the path to the city of gold.
PETER: The what?
AUNT HELEN: The city ... down the road. From where they lived.
PETER: OK ... let's move on.
Stop 2: Vietnam and the Philippines for buchi
PETER: Buchi has many other names and hails from China originally, but today it can be found throughout Asia. As other cultures adopted the pastry, they added their own touches to the sweet. La Patisserie's take is closest to the Filipino and Vietnamese version. Made from rice-flour dough and coated in sesame seeds, buchi is both crisp and chewy, and its hollow middle is commonly filled with a sweet black bean, red bean, or lotus paste. Eating only one of these at a time is really not an option—they're way too good. Your thoughts, Aunt Helen?
AUNT HELEN: I really like this one, too! I spent some time in Southeast Asia in the late '80s. I wanted to get away and visit somewhere I'd never been. Needless to say, it was an incredible trip. The local cultures throughout the region were fascinating, and of course the food was amazing. Buchi is sold pretty much everywhere there. The best I ever ate was actually the night I had to parachute onto a small island to recover a—
PETER: Parachute?
AUNT HELEN: Yes ... I took parachuting lessons.
PETER: Oh. But why at night? And what were you "recovering"?
AUNT HELEN: Hm, I can't remember. Certainly not a powerful ancient relic.
PETER: Right.
Stop 3: Greece for finikia
PETER: Finikia are basically the best pastry ever. The cookies are made with flour, butter, orange zest, cinnamon, and sugar. Then after baking they get a dip in a boiling honey mixture and, once cooled, are sprinkled with walnuts. When they're done, they're perfectly crumbly and moist. Pan Hellenic in Greektown makes terrific finikia as delicious as the home-baked ones I enjoyed growing up. I guess we're biased about them, though, aren't we, Aunt Helen?
AUNT HELEN: It's true, our whole family is from Greece, so how could we possibly say anything disparaging about perhaps the best Greek pastry of them all? It's always been my favorite, even more than baklava.
PETER: I agree! Learning to make finikia is like a rite of passage in our family.
AUNT HELEN: Speaking of which, has your mother mentioned anything to you about Ulysses's bow yet?
PETER: No, why?
AUNT HELEN: No reason.
Stop 4: Mexico for capirotada
PETER: Though traditionally served during Lent, capirotada is too amazing to eat only once a year. Like its other pastries, Artemio's bakes capirotada fresh each morning and offers it year-round. Mexican bread pudding can be made in a number of ways, but it usually begins with a toasted bolillo (similar to a baguette) soaked in syrup made with cane sugar and spices. Typical ingredients added to it include dried apples, raisins, and apricots, as well as pecans, almonds, and walnuts. Aged cheese is also melted into the dish, infusing it with a rich texture.
AUNT HELEN: Ah, I love capirotada: it's everything fruitcake wishes it could be. I eat it all the time when vacationing in Mexico. When I visit, I like to stay in little hotels right on the beach. Right on the Pacific. I remember one summer I was there I bought some worthless old boat and fixed it up with my friend, Red. We fixed it up like new and went out charter fishing.
PETER: That's the ending to The Shawshank Redemption.
AUNT HELEN: Never heard of it. What is that, a book of poetry?
Review
There you have it. The honest reviews and well-intentioned ramblings about four wonderful baked goods. Each is decidedly nontraditional and sure to turn heads in the best way. Your friends, family, and even Santa will be grateful.
Has anybody seen Aunt Helen?
Photo by Andrew Nawrocki, Groupon