Four Ways to Make Olive-Oil Cake That Is Moist, Dense, and Delicious
BY: Nathalie Lagerfeld |
Apr 2, 2014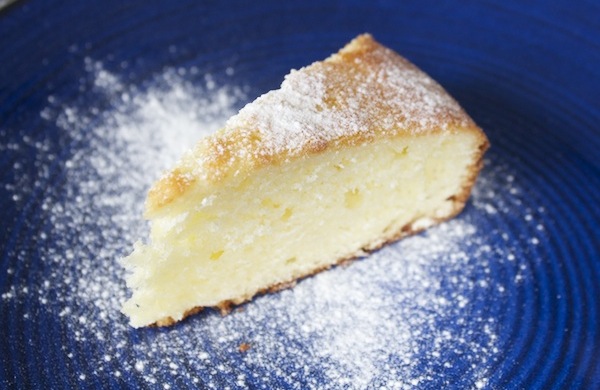 About 75% olive-oil cake. That's a guess for my score on a body-composition test right now. Last week, I made my first olive-oil cake, and I have been devouring it in big chunks every day since. I don't make desserts at home too often, but last week left me with a bunch of leftover ricotta and a recipe from the
Smitten Kitchen
cookbook that promised to use it up. (The recipe isn't on the Smitten Kitchen blog, but you can find a facsimile
here
.) When I was finished, all I could ask myself was: what had taken so long? At its best, olive-oil cake is as moist as can possibly be. A touch of sweetness and often citrus lets the bright flavor of the oil come through. Like pound cake, it works well with creamy or fruity garnishes—this recipe called for concord-grape coulis. But unlike pound cake, it's not so dry that it needs them. I found I preferred my cake plain, with just a light dusting of sugar. It's equally good as a breakfast pastry or light dessert, or a midafternoon snack, or … The fun thing about olive-oil cake is that it's flexible—you can make it with different flours or swap out sweet fruits for savory herbs. Although I haven't perfected my version yet, I have a long to-do list of recipes waiting once I get the technique down. Here are a few of my favorites, each labeled with the attribute that makes them stand out.
Prettiest:
Olive-Oil Cake with Candied Orange
from
Bon Appétit
Maybe it's the long Chicago winter, but I've really been feeling cardamom lately, whether in hot mulled wine or cold
whiskey slushies
. This iteration of the olive-oil cake is soaked in a cardamom syrup that reminds me of gulab jamun, my favorite Indian dessert. The candied oranges and syrup can be made a day ahead, which takes some of the pressure off if you're preparing this for a party. Which you should, since the sliced oranges on top makes this cake look very special-occasion-worthy.
Most savory:
Polenta Rosemary Olive-Oil Cake
from
Turntable Kitchen
(adapted from David Lebovitz's
Ready for Dessert: My Best Recipes
) This herb-infused recipe would be a great way to dip a toe into 2014's savory-dessert trend. In preparing this post, I looked at a bunch of other rosemary-garnished olive-oil cakes, including this
parmesan-sprinkled one
and
this pine-nutty one
recommended by former
Gourmet
editor in chief Ruth Reichl. But all of them still cling to citrus zest as if it were the only lifeboat in a stormy dessert sea. By contrast, this recipe goes all in on the herbs and throws in toothsome polenta flour to boot.
Classiest:
Maialino's Olive-Oil Cake
from
Food52
All of my cooking to-do lists involve recipes from Food52's Genius Recipe column, which usually lives up to its name. This looks like a pretty standard olive-oil cake classed up with some Grand Marnier. I'll take the geniuses' word for it that the addition makes a delicious difference.
Most allergy-free:
Gluten-Free and Dairy-Free Chocolate Olive-Oil Cake
by
Baked Bree
(adapted from
Nigellissima
by Nigella Lawson) Made with almond meal, this recipe seems like a good alternative to the flourless chocolate cake you've been serving to gluten-free friends since time immemorial. My mouth waters just thinking about the flavor combination of decadent dark chocolate with slightly floral olive oil. Mm-mm.
A few runners-up:
Add cherries
!
Add a glaze
!
BY: Nathalie Lagerfeld
Guide Staff Writer
Nathalie is a writer and editor on the Guide's food team. Originally from Virginia, she now lives in Chicago, where she regularly indulges her love of tortas, bibimbap, and Cheez-Its. Follow her on Twitter @maviswillsaveus.