Four Ways to Wear All-Over Prints
BY: Emily Donelan |
Jul 29, 2014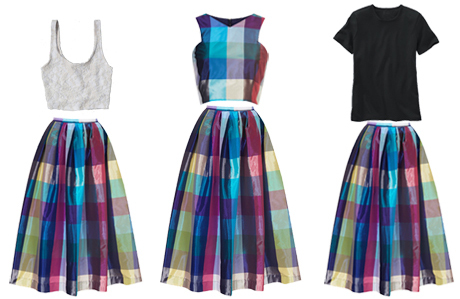 When wearing all-over prints, it's a fine line between looking glamorous and looking like grandma's couch. But it's actually not that complicated. The key? Choose sophisticated prints in modern silhouettes that suit your body type. We've found four matching sets, and added some coordinating garments to show how versatile these printed pieces can be as separates.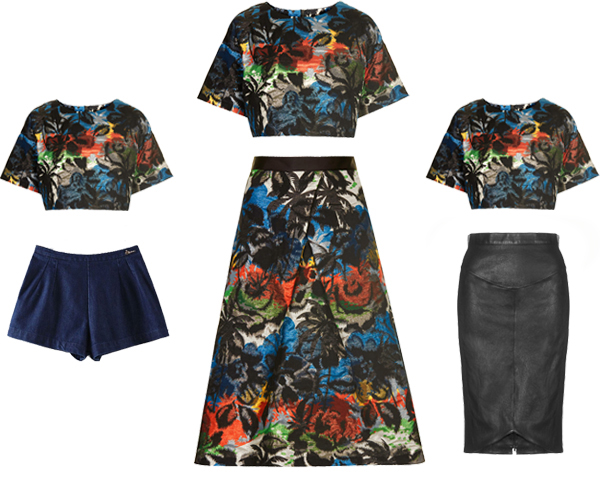 Look #1: The Deconstructed Dress
Palm jacquard tee, Topshop ($130); Palm jacquard midi skirt, Topshop ($170); Black leather skirt, Avenue 32 ($598 on sale); High-waist jean shorts, Jolly Chic ($22.99)
Buying separates instead of a full dress can be more figure-flattering, as you have more control over fit (it can be more cost effective, too). For a sleeker look, pair the top with a leather pencil skirt and strappy high-heeled sandals, or dress it down with high-waisted shorts and espadrilles.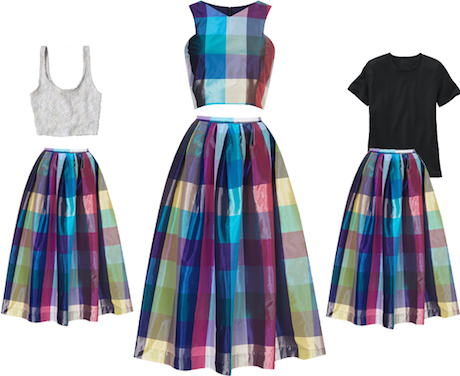 Look #2: Crop Tops
Taffeta Picnic midi skirt, Topshop ($190); Taffeta Picnic crop top, Topshop ($76); Iris crop top, Abercrombie & Fitch ($17.10 on sale); Short-sleeve Pima tee, L.L. Bean ($17.99)
This set's longer crop top shows just a sliver of skin, giving your eye a break from the bold pattern. Show more skin by swapping in a shorter lace top and wedge sandals, or less with a black tee and canvas sneakers.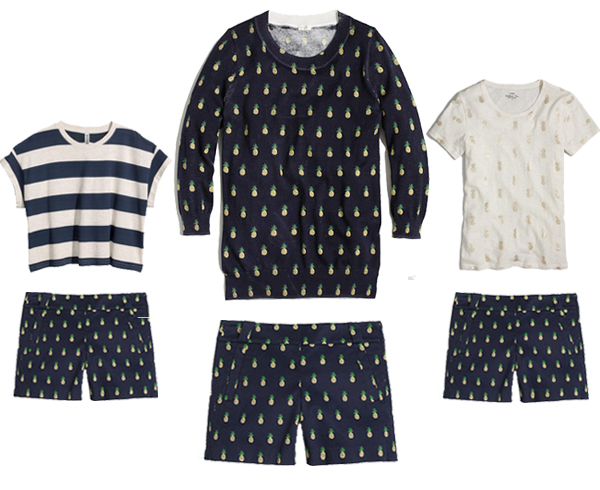 Look #3: Classic Cuts
Charley pineapple sweater, J.Crew Factory ($34.50 on sale); Printed stretch chino short, J.Crew Factory ($49.50 on sale); Pineapple collector tee, J.Crew Factory ($34.50); Cropped jersey top, H&M ($6.95)
The simple tailoring of this sweater and shorts keeps the pineapple print from being
too
sweet. This also makes it easy to separate the set: double down on the 'apples by half-tucking this printed tee, or mix prints with a striped top. (Read more
tips on mixing prints
.)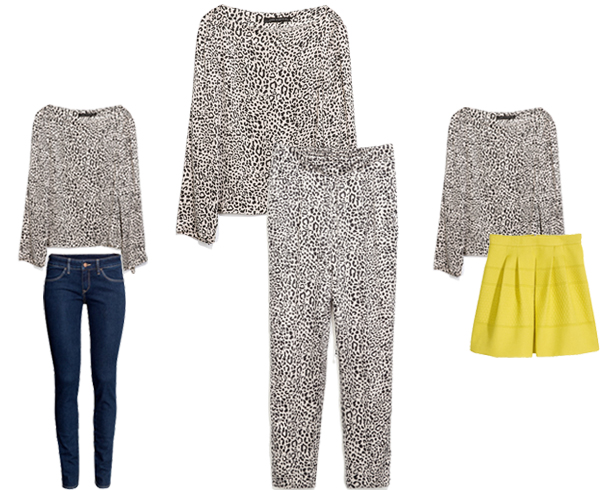 Look #4: Back to Bed
Animal-print top, Zara ($29.99); Animal-print trousers, Zara ($29.99); Skinny low-rise jeans, H&M ($9.95); Neon jacquard-weave skirt, H&M ($49.95)
Wearing pajama-inspired clothes may not feel chic, but this animal-print set looks quite sophisticated with some black-leather Birkenstocks. Even more surprising is this bold print's versatility, as it pairs equally well with dark-blue skinny jeans or a neon miniskirt.