Nine Highlights from the Lollapalooza of Beauty and the Grammys of Hair
BY: Favin the Maven |
Jul 21, 2014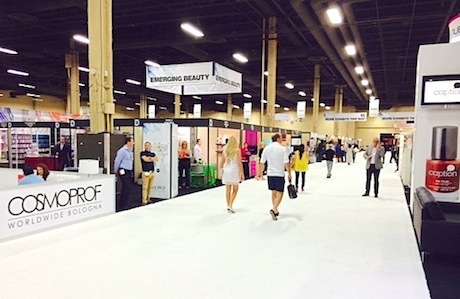 Earlier this month, I went to Las Vegas. But not to gamble (not officially, anyway). My coworker Mamie and I went to check out
Cosmoprof
, a beauty convention held at the Mandalay Bay Convention Center. It's sort of like Lollapalooza, except instead of bouncing from stage to stage to watch bands, you wander among more than 1,000 vendor booths to see YouTube stars, bloggers, and brand reps. On our first night in Vegas, Mamie and I also hit up another beauty event:
NAHA
, or the North American Hairstyling Awards, hosted by Giuliana and Bill Rancic. (Remember when
I interviewed Giuliana
?) It was more like the Grammys—a red-carpet event where all the stars of the hair industry gathered in hopes of claiming a prize. Like most jaunts to Vegas, it was a crazy adventure. I think Mamie got a manicure from the future? Read more about that below, along with my eight other favorite moments from the trip.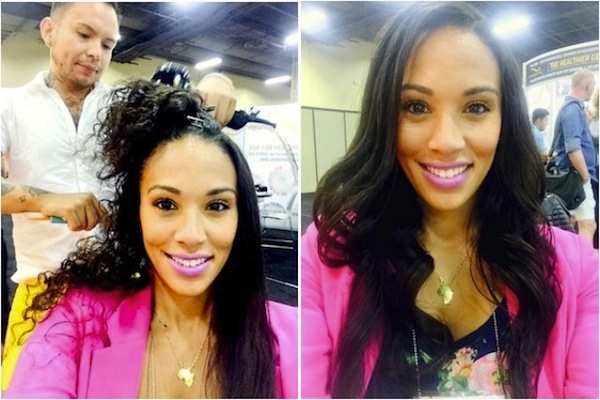 1. Getting my hair straightened at the Fiji Loves booth.
The line—a shampoo, conditioner, serum, and beach spray—isn't on the market yet, but I was
sold
on how silky the products made my hair feel. The stylist explained that their main ingredient is oil from a nut indigenous to Fiji, which hasn't really been seen in the US until now. Look out, argan oil!
2. Meeting Cassandra Bankson.
She's the model who showed her cystic-acne scars in a
viral YouTube video
and demonstrated how to cover them (flawlessly!) with foundation. "This is probably the most nerve-racking thing I could possibly do because it is my biggest insecurity," she says in the video. Over 23 million views later, it's helped fight the stigma around scars and proved that she's a master makeup artist.
3. Meeting someone who knows Barbra Streisand.
Dawn McCoy used to work for E! News and is now the creator and editor of
BeautyFrosting
, but we mostly talked about her 10-year stint as Streisand's personal shopper. That's right. She probably has Babs in her phone
under Babs
. So jealous!
4. The mystical Second-Hand Scissors ceremony at NAHA.
Among the awards for Hairstylist of the Year, Best Hair Color, and Best Texture, there was a ceremony called Second-Hand Scissors, in which senior stylists passed their shears on to their junior colleagues. One recipient said something like, "I felt the energy of the master when he passed me his shears." It was
so
Harry Potter.
5. A little bit of tween humor.
While announcing the Best Hair award, Bill Rancic misspoke and said "Breast Hair" instead. The
whole
place busted up laughing, me included. In their heart of hearts, everyone is a middle-schooler.
6. The pool at the Mandalay Bay Hotel.
Guys.
It's a beach
. According to the Mandalay Bay website, there's 2,700 tons of real sand there—and it slopes right into the water, just like at a real beach. The only thing reminding you that you're in the desert is that the pool is a
little
smaller than an ocean.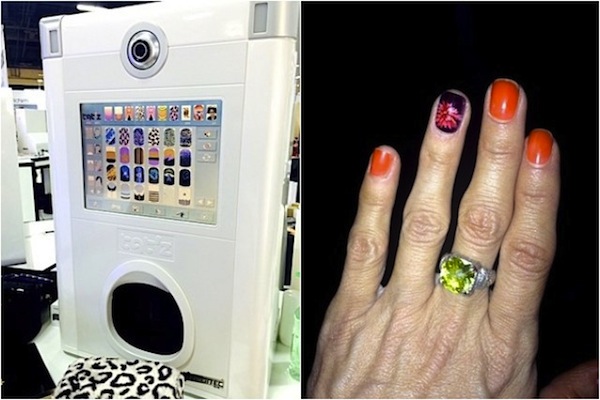 7. A manicure. From a printer.
At the
Tat'z Nail'z
booth, Mamie got nail art printed right onto her finger from a futuristic vending machine/printer. It only took
three minutes
, and the machine was loaded with thousands of preset, intricate designs. Mamie chose a flower, but the machine could also print a recognizable portrait of Britney Spears right on your nail! You can even upload designs to the machine.
8. The purest, lightest hair products I've ever tried.
I love my samples of
Theorie
's argan-oil-based shampoo, conditioner, and hair mask. Their creator adheres to the rigorous product-testing protocols of Europe and Asia—not just the US ones, which are kind of lax by international standards—and I can feel the difference in my hair. I always kind of thought that shampoo is shampoo, so the brand doesn't matter. Theorie officially changed my mind.
9. One, the Michael Jackson show from Cirque du Soleil.
I love Michael Jackson's music, and this did
not
disappoint. The dancing was so good that for a second, I could've sworn it was him onstage! Overall, the "Dirty Diana" number was my favorite. There were
fire geysers
.
BY: Favin the Maven
For me, both beauty and fashion need to be accessible and not intimidating. I love a great deal and a good DIY beauty treatment. I pride myself on trying new trends, being open minded and getting a great treatment without breaking the bank. In the name of beauty I will try anything once.