From HoneyBaked Ham to Veganism at Kitchen 17
BY: KATIE CORTESE | 7.31.2013 |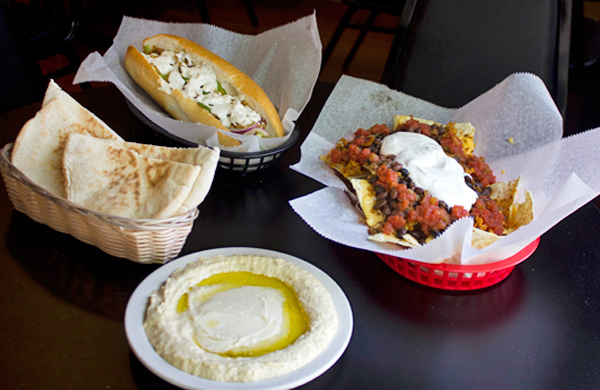 After a December 23 Christmas rush one year at HoneyBaked Ham, Don Clements tallied up the receipts. The total? $180,000 worth of hams sold. That would give any manager a holiday high, but not Clements.
"It was difficult for me," Clements, 34, said. "That was wrong on a lot of levels." One of those given levels is the fact that Clements is a vegan. That means he abstains from all animals products—or in his words, "Nothing with faces, nothing with parents."
The Road to Veganism
It's a story that started many years ago, long before his days of selling hams and even longer before his current job as the owner of the vegan eatery Kitchen 17 (613 W. Briar Pl.) in Lakeview.
When he was 16, Clements lived in Columbus, Ohio, where he worked at a chicken-wing joint, learning the basics of cooking from a helpful chef. That job catapulted him into a career in the restaurant business, including work at a Jewish deli and as a manager at a Noodles & Company, Potbelly Sandwich Shop, and HoneyBaked Ham.
His breakthrough moment for veganism came at Ohio State University, where he studied political science and volunteered for Dennis Kucinich's 2004 presidential campaign. Kucinich, a longtime vegan, spoke to Clements and the rest of the volunteers about his life as a vegan.
"The speech stayed with me for a very long time," Clements said. He went through what he called "levels of cognitive dissonance" for 18 months before breaking that thought process and becoming a vegetarian and eventually a vegan.
Clements made the leap into his new lifestyle as an informed vegan. He can spout off facts about the meat and dairy industry's effect on the environment. He also addresses moral issues and health reasons to not consume animals. "All the animals we eat eat a plant-based diet," he said, extolling the diet's simple logic. "Why don't we just skip the middleman and go plant-based ourselves?"
His Own Humane Kitchen
On the day I met Clements at Kitchen 17, the lights were out. It's how Clements likes to work: cooking in the scarce light until it's time to open shop.
Kitchen 17 is his first venture as an owner. Its opening in May 2013 signaled the realization of a dream and the chance to finally do it his way as a vegan. He describes the menu as "eclectic" with a Mediterranean feel, blending influences from his Israeli wife and his childhood Pennsylvania town, which had a large displaced Lebanese population.
Clements makes nearly everything from scratch. For the philly cheesesteak sandwich—by far the most popular item on the menu—he bakes seitan, which mimics pepperoni, italian sausage, and other meats. Rather than creating and recreating dishes through trial and error, Clements is able to visualize each recipe in his head.
"I just kind of know if it will work out or not," he stated matter-of-factly. That is how he came up with the seitan base recipe of "equal parts dry and wet ingredients and a low bake temperature," he said. His personal favorite creation is the rosemary veggie burger, an agglomeration of quasi-puréed veggies mixed with ground soy protein and wheat gluten.
When I was at Kitchen 17, Clements prepared hummus with pita slices, loaded nachos, and a philly cheesesteak sandwich. The hummus was creamy, and the nachos offered a nice crunchy contrast to the chips with a soft burst of flavor from the beans, salsa, and cheese. The philly cheesesteak left a tinge of spice on the tongue.
Clements smiled with each praise-worthy bite I took, and he talked about how the benefits of veganism have not been limited to his kitchen. They've also leapt onto his beard. His close-cropped mass of brown is flecked with small gray hairs, which sprouted in his mid-20s, then stalled when he went vegan. He hasn't seen a new strand since. "Going vegan seems to reverse the aging process," he said with a laugh.
He feels a thousand times better since switching lifestyles. "I haven't gotten sick since I became vegan. It is amazing what is does to your immune system," he said.
"I am in constant contact with a community that is like-minded," Clements mused before I left. "I feel like I am living the life I am supposed to be living."
Kitchen 17 houses a cozy 18 seats and a mishmash of vegan artists' work on display and for sale. The menu includes vegan sandwiches, salads, pizzas, and the creamiest hummus around. Clements offers free beverages, including iced tea and lemonade, and no corkage fee for patrons who BYOB.
BY: Katie Cortese
Guide Staff Writer
Friend to animals and craft brews.