3-D Printing at Chicago's Harold Washington Library
BY: Emily Wachowiak |
Jul 30, 2013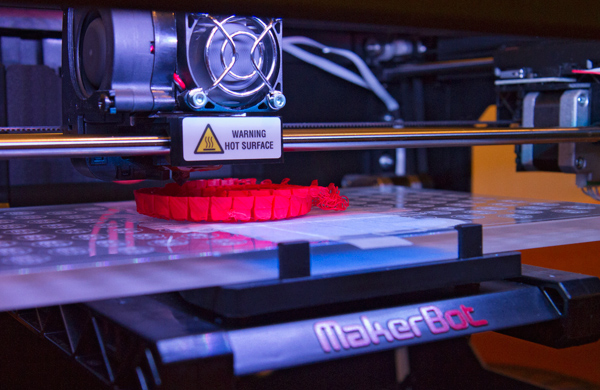 The Maker Lab doesn't look like part of a library—and it certainly doesn't sound like one. The compact room on the third floor of the Harold Washington Library periodically reverberates with the sound of drills slicing through wood on the custom milling machine, vacuums sucking up sawdust, and vents airing out laser-cutter machines. These devices nearly drown out the mechanical buzz of three microwave-size 3-D printers as they turn thin streams of biodegradable PLA plastic into bookmarks, detailed figurines, and stretchable bracelets.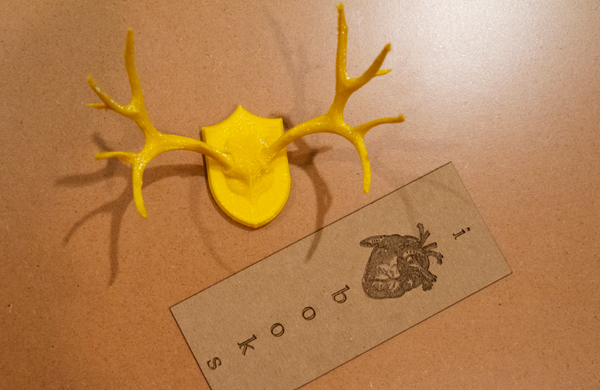 The Lab's possibilities are quite literally limitless. "It's really up to your own imagination what you can do," says librarian Yolande Wilburn, who helped brainstorm and execute the project, made possible with a grant from the Institute of Museum and Library Services. The lab has already churned out laser-cut metal keychains, wooden cell-phone docks, vinyl T-shirt decals, a chessboard with pieces, and busts of library employees—using 3-D scans taken with an Xbox Kinect. Yolande even boasts that the MakerBot can print its own replacement parts, making it both an impressive self-sustaining machine and a terrifying progenitor of a Matrix-like future.
Yolande explains that the lab uses consumer-grade products from the likes of MakerBot and Silhouette because CPL "wanted to be able to give people hands-on experience with things that were affordable to them." The machines themselves run anywhere from $200 to a couple thousand dollars, but the software used to develop designs is downloadable for free on the internet. That means anyone can map out a design at home, then come into the library to bring their blueprint to life—for free.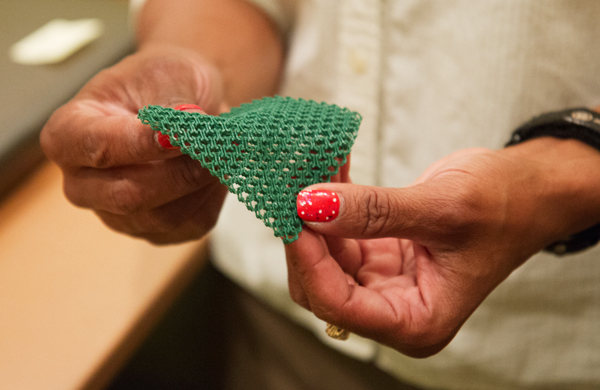 Anyone Can be a Maker
"One of the things we really wanted to do is make this space accessible to both women and men," Yolande says. During fact-finding trips to 3D-printing labs around the city, such as Pumping Station: One (PS1), she and her colleagues couldn't help but notice the "huge male population" manning the machines. "We get lots of guys who are interested in sewing, but we wanted to make sure that we brought women in here to really see what you can do." By combining "low-tech" sewing and jewelry-making skills with fabric cut via laser and 3-D-printed pendants, students enter a whole new era of fashion design. The 3-D printer even churns out lengths of flexible mesh that can sub in for traditional fabric. "You see a lot of designers that are starting to use this technology to design new and really interesting dresses," Yolande says.
Yolande herself had no experience with 3-D printing before embarking on this project, and she admits she felt a bit intimidated when she first set foot in PS1. "The first thing they did was say, 'Tell us what you make.' … I never really thought of myself as a maker," she recalls. But as she explained her lifelong love of DIY, from fixing her childhood bicycles to recently renovating her house, she realized that she had earned that title. "Once we had established that, they accepted [me] into their community." And after seeing kids as young as 9 years old take to the technology, and mastering it herself, Yolande's convinced that it really is for everyone. "If a bunch of librarians can learn it, then anybody can come in here and learn it."
All of the library's software-overview classes are already filled up through August, but the Maker Lab will keep operating through the end of the year, at which point the machines might make their way to other libraries around the city. Until then, visitors can acquaint themselves with the technology during open-shop times or other classes that feature hands-on projects such as jewelry making or sewing.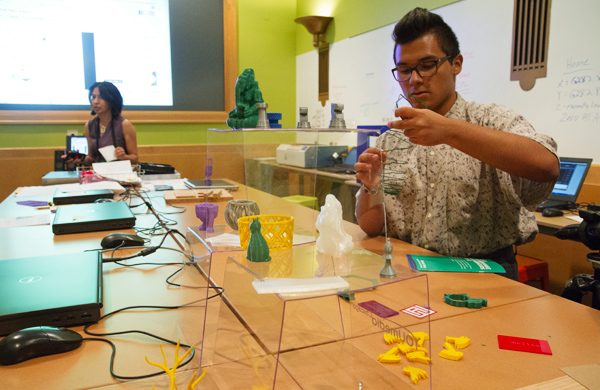 An Entrepreneur's Reference Section
The Maker Lab may still seem incongruous with the concept of a library as a place for quiet study, but Yolande sees the space as filling a niche that Chicago's libraries have inadvertently come to occupy. "One of the things I noticed [working at various library] branches was that people were using our space to do things. For instance, at the Humboldt Park branch, we had artists who were coming in and they were bringing in their canvas," she says. "We had people in there making jewelry." She noticed that some of these artists appeared to be homeless or jobless, and the library became a space where they could feel like "they're doing something productive." Some of them would even sell their creations in the park. In a similar vein, she'd catch aspiring entrepreneurs trying to Skype potential clients on the library's free WiFi, and she realized that CPL had become a resource for startups, whether the librarians liked it or not. She sees the Maker Lab as "giving opportunity to people who are trying to help themselves."
Although the Maker Lab isn't set up as a "manufacturing warehouse"—patrons will be limited in how much they can print—the librarians are happy to refer people to places around the city that will print out designs for a fee, such as the 3D Printer Experience. Using their knowledge and expertise with the machines, the librarians continue to serve as reference resources like any other in the library system. "I see it as checking out sort of a human book of experience that you can't put on a shelf," Yolande says. "It only happens when you put spaces like this in and people who create can come together. It creates a whole new knowledge base for others to use. I completely see it as the library's mission to provide [that] information."
Photos: Michelle Klosinski, Groupon.