Get Ready to Monkey Around at the Clever Ape Race
BY: Emily Wachowiak |
Aug 21, 2013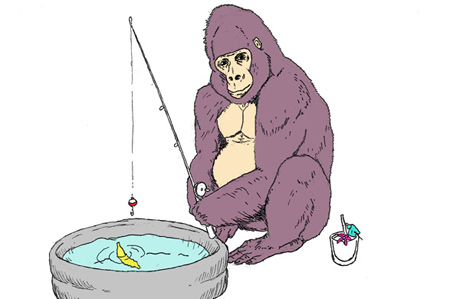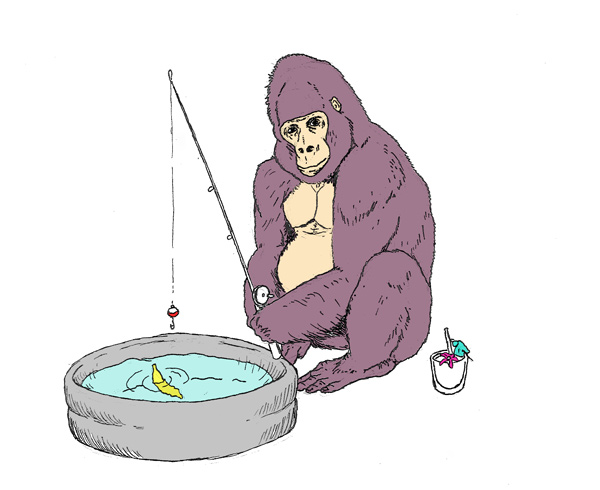 What do mai tais, improv comedy, and parkour have to do with evolution? Well, not a whole lot, but they'll all be lumped together on Saturday, September 7, for the
Clever Ape Race
, an urban adventure challenge that's both a celebration of human achievement and an excuse to throw a party. Human evolution has taken millions of years, notes event organizer Marc Uible, "[but] during the Clever Ape Race, people are going to make the transition in just a few glorious hours by digging into local experiences, meeting new people, and partying." The event will be the first competition hosted by the
The Numbered Days
(TND), an organization Uible founded with the simple mission of bringing people together offline. "In the last [few years], there has been all this innovation online with Twitter, Facebook, et cetera, but the offline area hasn't really matched that," he explains. "It doesn't seem like there's a lot of places for people to get together offline in a new context." So far, TND has been breaking new social ground with block parties, art showcases, and innovative loft parties, including a bash that was named one of
Huffington Post's Best Chicago Parties of 2012
. So the jungle-themed soiree that concludes the Clever Ape Race is sure to be a blowout—complete with mixed drinks and interactive jungle art—but getting there will be half the fun. For a flat entry fee of $25 per team, teams of two to four people (aged 21 or older) will face five absurd
challenges
that take them through the streets of Wrigleyville. At each station, contestants compete to earn pendants that reveal clues leading to the party location. I grilled Marc for some insider tips on how to win this race, which he promises will be "ridiculous, experiential, and local."
GROUPON: How has the planning for this race differed from your previous events, which have primarily been loft parties?
MARC UIBLE: This has been much more about discovering what is interesting and what is new. We're trying to figure out experiences that we don't think a lot of people have had, but have maybe heard about. So we've got craft cocktail–making with an experienced mixologist. We've got parkour, which is a really interesting way to navigate objects with your body, sort of like a stuntman might do. We've got improv, and we've got building a fishing rod to fish a banana out of a kiddie pool. We're trying to figure out really fun experiences [that] go far beyond traditional scavenger hunts, where they might say, "Find this location, and take a picture to document that you were here" or "Find someone with a bald head and kiss that person's head." Let's have them do something that's a little more interesting, a little more experience-based.
G: How else is the Clever Ape Race different from the Great Urban Race or other scavenger-hunt events?
MU: The Great Urban Race or
CityScape Adventures
[will] have 12 or 14 challenges, but only like one or two of them have you actually doing something. And the ones that are experienced-based are a little mundane. [They might ask you to] shoot ping-pong balls into a person's sombrero, and it's like, "Why am I doing this? Does this really mean anything?" And obviously there's a level [of that] here, but if you learn to craft a cocktail, that might be something that sticks with you. If you learn something about parkour, you might learn how to move your body a little bit different. Or improv—if you learn the basics and you have to perform, that's something that's interesting. I think it's unique. I think that's where we're really different. We're taking the best part of those races and making it better and putting on an actual party at the end. Whereas they'll kind of have a reception, we're talking like a day loft party.
G: How should contestants prepare for the Clever Ape Race? Drink banana smoothies? Spend some time in the Monkey House at Lincoln Park Zoo? What's the strategy?
MU: What I really want to emphasize is that one does not need to be athletic for this event. [But to prepare], a banana-vodka smoothie a day will provide you both the potassium and tolerance needed to enjoy the day party. Also, the unabridged version of Darwin's
Origin of Species
may seem a bit lengthy for a pre-read but it's an awesome conversation starter.
G: How familiar with the Wrigleyville/Lakeview area do contestants need to be to succeed in the scavenger challenge?
MU: This is the part that definitely does not require one to be a clever ape. We're going to be giving them a map that shows where all the challenge locations are. The only mystery is where the jungle after party is.
G: The drink-mixing contest will be judged by a professional mixologist. What's the best way to impress them?
MU: The key is, it's going to have to both look exactly like the [example] finished product, and it's going to have to taste just right.
G: What kind of improvisation will contestants be doing? Will it be long-form improv challenges like at iO, or shorter, Whose Line Is It Anyway?–type games?
MU: Contestants will receive a few minutes of training on the core principles of improv from a local and experienced improv team. They will then have time to pick props for a two-minute skit that is announced as they step on stage. The improv team will vote on the best [skit], and the top team will win a prize at the after party.
G: What kinds of urban obstacles will contestants be hopping over (and around) during the parkour challenge?
MU: We're still figuring out exactly what the course will look like, [but] contestants will receive an introduction to the basics of parkour, which is movement that stresses efficiency and speed. Then [they'll] practice three simple moves before completing either a simple course or a display of the learned moves.
G: Are Tarzan yells encouraged?
MU: Yes. Tarzan yells are most definitely encouraged. Swinging from trees, loincloths. ... There's going to be a required change into a loincloth.
G: What's a better way to prepare for the kiddie-pool fishing challenge: bass fishing in the Chicago River using a banana as bait, or catching a goldfish with your bare hands in Buckingham Fountain?
MU: [T]he bass fishing one for sure.
G: What should contestants wear to the race? Are there bonus points for monkey suits?
MU: [They should wear] comfortable clothing and shoes, but [the race is] not necessarily going to require running or athleticism. There are bonus points for monkey costumes, as well as a Biggest Party Animal award for the after party. There's also a prize for the first-place finishing team.
G: One last question—who would be more likely to win the Clever Ape Race: Charles Darwin or Jane Goodall?
MU: Probably Jane Goodall, as she is much more familiar with the ins and outs of being a clever ape.
Illustration: © Will Landon, Groupon