Five Pasta Shapes to Spot at Your Next Italian Dinner
BY: Katie Cortese |
Sep 23, 2014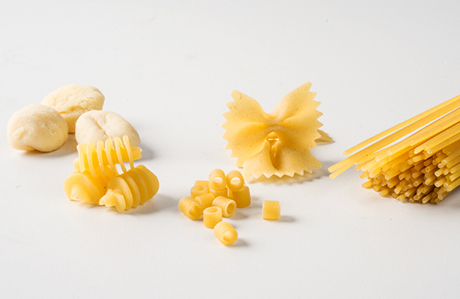 Chef Chloe Coscarelli has a strategy for choosing which pastas to cook. The Food Network competition winner selects pastas based on the rest of the dish, pairing spaghetti noodles with chunky sauces and picking dome-shaped pastas to help catch smaller ingredients. Chef Chloe grew up in an Italian family that cooked big Italian dinners, which served as the inspiration for her newest cookbook, Chloe's Vegan Italian Kitchen, out September 23. "I remember as a young girl eating massive Italian lunches with my great-grandmother in Pittsburgh," she said. "The table looked like a Las Vegas buffet—Italian-style. There were enormous plates of freshly prepared vegetables. There were also platters of pastas and her amazing Italian cookies." To further her inspiration while crafting recipes for the cookbook, Coscarelli zigzagged across Italy in spring 2013 with her best friend, indulging day after day in Italian dishes—and that meant a lot of pasta. Which, of course, was more than fine by her. "One of my favorite things to do is go to a really well-stocked Italian deli and peruse the dried-pasta aisle," Coscarelli said. But with so many different noodles on the market, it can be tough to decide what to buy or what to order. To help, Coscarelli lists her top five pastas: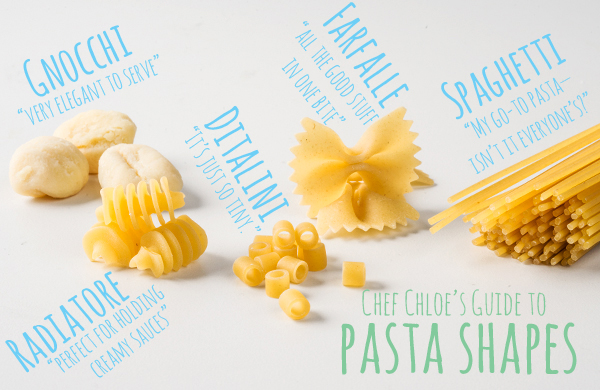 1. Gnocchi: "Gnocchi are tiny pillow dumplings. I always try to include a gnocchi recipe in my books. In my latest cookbook, Chloe's Vegan Italian Kitchen, I have a recipe for potato gnocchi in herb-garlic sauce. They are a lot easier to prepare than people think, and they are very elegant to serve. Yum!" 2. Radiatore: "The definition of this pasta is small radiators. This unique shape has multiple ridges, which are perfect for holding creamy silky sauces. Each 'radiator' is a perfect mouthful, and the shape is perfect for cold pasta salads to serve a crowd. If people are standing and eating, radiatore pasta is easy to spear with your fork without making a mess."

3. Ditalini: "Let's face it: I love this little tube-shaped pasta because it is just so tiny. I use this one for making my classic deli-style macaroni salad." 4. Farfalle: "As a little girl, I adored these bow-tie or butterfly pasta shapes. My mom had discovered them in the '80s just in time to cook them often for me and my brother. The novelty of this shape never gets old. I remember my mom would explain that she loves to use farfalle with peas and other small chopped ingredients because everything gets caught in the folds of the bow tie, so you can get all the good stuff in one bite! I agree." 5. Spaghetti: "This is always my go-to pasta—isn't it everyone's? My dad loves pasta, but I swear he always asks, 'What kind of pasta is it? Spaghetti?' And when I say 'Yes,' I can almost see a happy dance coming."
Shop Goods for kitchen and dining products:
Read more about Chef Chloe and Italian food on the Guide:
| | |
| --- | --- |
| | |
| Chef Chloe's Vegan Thanksgiving Dinner | The Rules for Deep-Dish Pizza |
BY: Katie Cortese
Guide Staff Writer
Friend to animals and craft brews.