Go from Work to a Holiday Party Without Changing Clothes
BY: Michelle Schuman |
Dec 11, 2013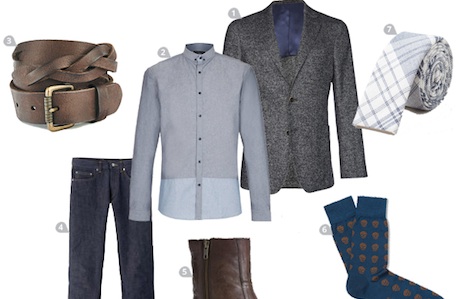 Calendars get crowded around the holidays. It's not unusual to go straight from work to a
last-minute shopping trip
, and then on to an office party or gift exchange with friends. Although it can feel overwhelming to dress for a night out before the morning coffee's even kicked in, it's actually quite simple if you keep two tips in mind: choose classic silhouettes, and pocket a couple of colorful or glitzy accessories.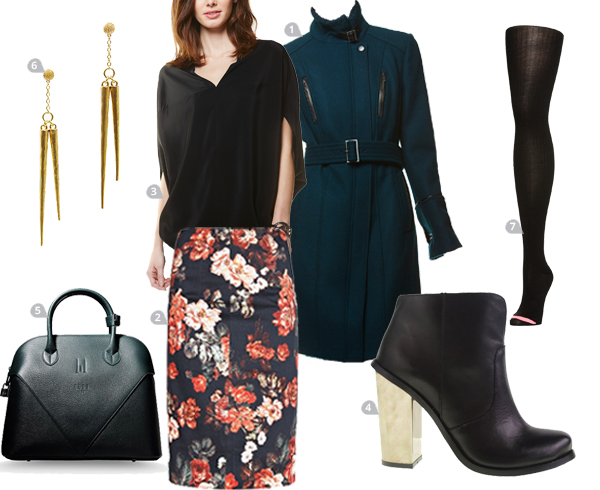 Her Look 
Build your outfit around black, which is both foolproof and chic. Add work-appropriate silhouettes in party-appropriate colors and prints, like this teal military coat and floral pencil skirt. A pair of metallic earrings and some fresh lipstick provide the finishing touches. 1.
Cole Haan military coat
; Goods Reserve ($289) 2.
Floral pencil skirt
; Mango ($59.99) 3.
Nicole Miller silk blouse
; Goods Reserve ($99) 4.
Gold-heeled ankle booties
; Francesca's ($159) 5.
Golden Goose leather handbag
; The Corner ($1,138) 6.
Monika Chiang spike earrings
; Goods Reserve ($34) 7.
Hansel from Basel donegal tights
; Penelope's ($35)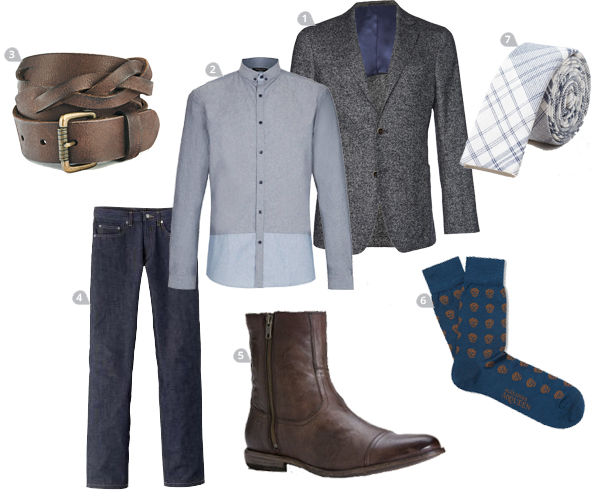 His Look
A few key details keep this business-casual look from feeling stiff come party time. Dark-rinse jeans transition easily from the cubicle to cocktails, and the plaid of this skinny tie is a more sophisticated take on holiday tartans. 1.
Herringbone blazer
; Suit Supply ($399) 2.
Tonal dress shirt
; Topman ($110) 3.
J.Fold braided belt
; Goods Reserve ($22) 4.
A.P.C. jeans
; Penelope's ($185) 5.
Harvey boots
; Frye ($268) 6.
Socks
; Mr. Porter ($80) 7.
Square check skinny tie
; Apartment Number 9 ($88)
BY: Michelle Schuman
Michelle is a freelance fashion designer and dancer from Detroit. She has traveled the US extensively (and loves it!), but her biggest goal is to travel abroad.