Goth Rockers Lacuna Coil Share Their Favorite Feel-Good Songs
BY: Emily Wachowiak |
May 16, 2014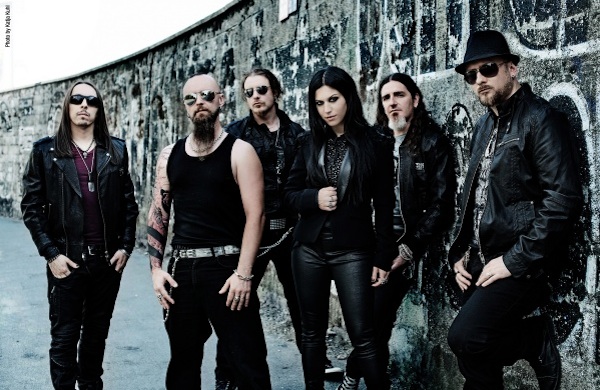 "I'm a zero in the dark night. I'm a prisoner, I'm hostage to the light," croons
Lacuna Coil
frontwoman Cristina Scabbia on the band's new album,
Broken Crown Halo
. The Italian goth-metal band has been churning out somber verses like this since their mid-'90s debut, gathering a worldwide following of misfits and malcontents along the way. But when Lacuna Coil isn't layering brooding lyrics over chugging guitar riffs, they prefer to unwind with more, um, traditional party anthems. In the midst of their latest
American and European tour
, we asked the band which songs never fail to bring a smile to their lips and some sunshine into their hearts.
1. LMFAO – "Party Rock"
"This song definitely helps to set the right mood for a crazy, excessive night…It has been a classic for our loud dancing parties on the bus."
2. Jon Lajoie – "WTF Collective"
"We are fans of this crazy Canadian artist, and his
videos
are hilarious! We use his songs as a closing theme at the end of some of our concerts, too!"
3. Foo Fighters – "Learn to Fly"
"It's all about the
video
for this song—so very funny! It's cool to see Dave Grohl and the guys acting. Every time we think about that video, it puts a smile on our face."
4. Lady Gaga – "Judas"
"Cristina loves her, because she's not lip synching and because the beat is irresistible. She even dances over the video choreography, which is pretty entertaining!"
5. T.I. – "What You Know"
"It reminds us of a night with members of Disturbed and Avenged Sevenfold. After a wild party at [Disturbed guitarist] Dan [Donegan's] house, some of us in Lacuna Coil went back to the tour bus with the Avenged Sevenfold guys and danced our asses off to this song until 5 in the morning."
6. Steel Pulse – "Steppin' Out"
"[We used] to listen to this song during the P.O.D. tour in the States in 2004. The guys got us a hookah and we smoked and drank beers together listening to this groovy song."
Click here to listen to the whole playlist on Spotify.
Lacuna Coil will be at Chicago's Bottom Lounge on Tuesday, May 27, at 8 p.m. Purchase tickets here, or check Groupon for deals on other concerts.
Image courtesy of the artist.