Graham Elliot on Cooking, Punk Rock, and Why They're One and the Same
BY: Mae Rice |
Apr 14, 2016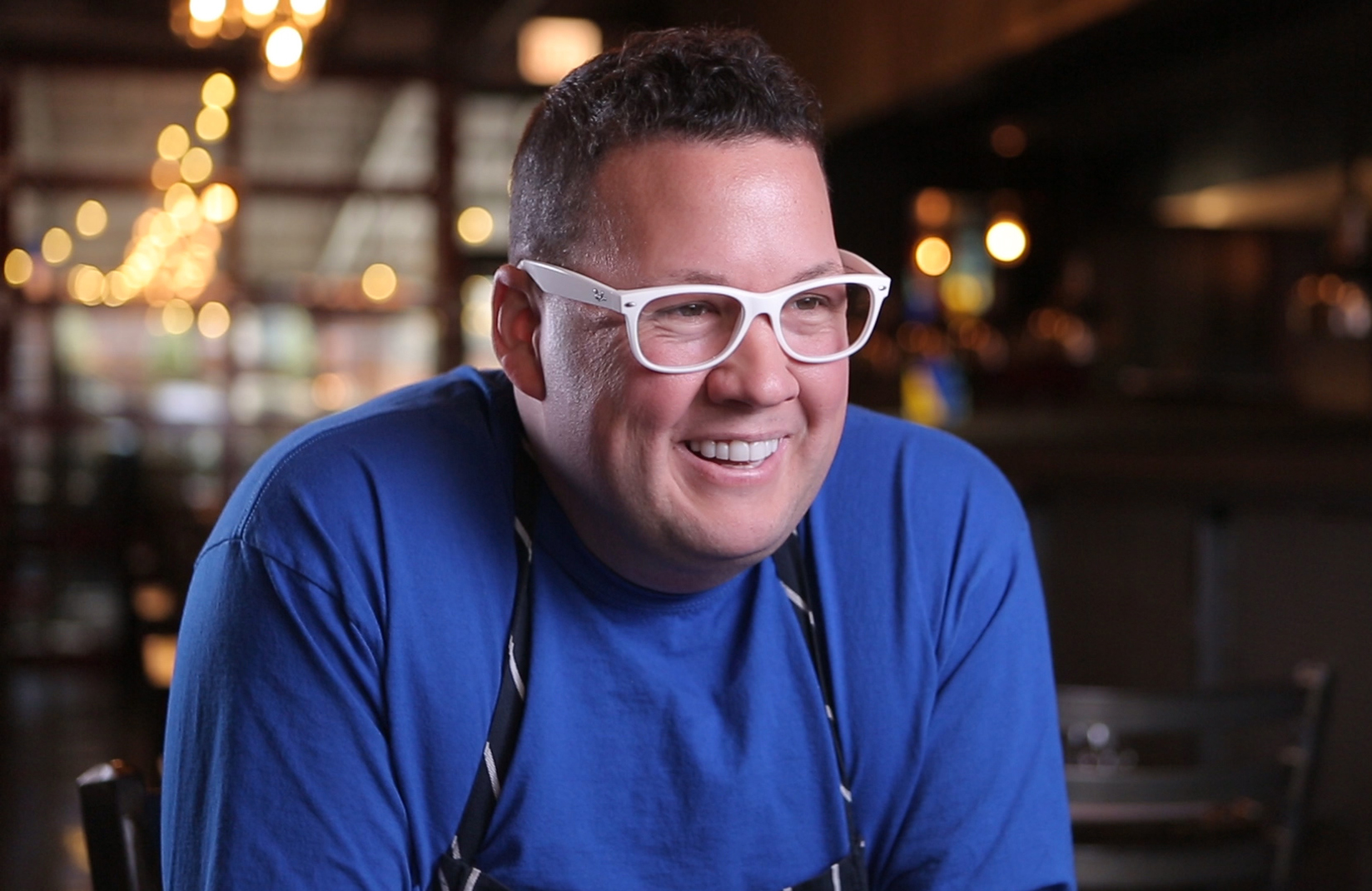 It's fitting that Graham Elliot loves "Mayonaise" by the Smashing Pumpkins. After all, mayonnaise is a food, and Graham is a chef. Not just any chef, either: a judge on MasterChef and a longtime star of the culinary world who became the country's youngest four-star chef at age 27.
Then there's the less-obvious Chicago connection: the Smashing Pumpkins started out there, and Graham opened his first (and currently only) restaurant there, too. The eponymous bistro emphasizes simply prepared seasonal ingredients. This summer, for example, guests could expect huckleberries, diver scallops, and beech mushrooms on their plates.
Last but not least, Graham and "Mayonaise" share a punk-rock sensibility. Not only is Graham covered in tattoos, he also convinced us that there's nothing more rock 'n' roll than cooking.
Below are highlights of a 20-minute conversation about food, music, and combining the two. Hear just what Graham had to say:
On why cooking is punk rock:
"I think the kitchen is the last bastion of rebellion. You have chefs that used to wear the toque and the big button-up chef coat and the humongous apron where they look like the white Darth Vader. Now, I'm wearing an apron and a blue shirt, people wear dishwasher shirts, everyone's got tattoos—you get them in culinary school now—and it's just this idea of 'Eff you, I'm cooking what I cook, I know what I like to make.'
"But it's a relationship, too. Guests come in, and they're like, 'Send me whatever!' or 'Order a ton of different little things, and I'll try it!' I think because of that, the mentality in the kitchen is, 'Anything I make can be punk rock. Because tomorrow, I'll change it if I feel like it.'"

On his favorite music to play in the kitchen:
"Some days I want to cook to Miles Davis, sometimes it's your early-'90s alt rock. I've been in a Smashing Pumpkins phase lately, and … if you go back and listen to Siamese Dream or even Gish, everybody has ripped them off. You go from the super-quiet pretty to the super heavy … go back and listen to 'Mayonaise.' It sounds like 90% of the bands that are on your indie-rock stations today."
On being the culinary director of Lollapalooza:
"Being the culinary director of Lollapalooza allows me to showcase that symbiotic relationship between food and music. I think all chefs are failed guitarists, and most musicians fancy themselves foodies. And that's the best thing about the world, right, music and food?
"It's so cool to have access to 300,000 people in a weekend and show them that festival food can be, not just a burger and hummus and ice cream on a stick, but lobster corndogs and deep-dish pizza and a scallop that's been grilled and turned into a satay. And it's all being put up by independent, chef-driven restaurants that have the same punk ethos that most of these bands do."
On his favorite seasonal ingredients:
"I feel that there's no better time of year than spring. It's a rebirth, especially in Chicago when you have nine months of winter, a couple months of nice warmth. Things bursting from the ground, unfurling, and just being gorgeous and green and edible.
"This is a consuming passion to the point of being perverse. You stop at a light, and it turns green, and you think: green garlic and asparagus and scapes and fiddlehead ferns. When I lived in Vermont for my first chef job, I used to go out and forage for all these things. Those are the ingredients that are close to the heart."
On colorful food:
"There are certain colors that draw you, just like in painting. If a food is gray, if it's dark, it almost makes it more cerebral, where you're trying to understand it. It's like culinary opera. You appreciate it, but you're not going to sit and eat a humongous bowl of a gray dish."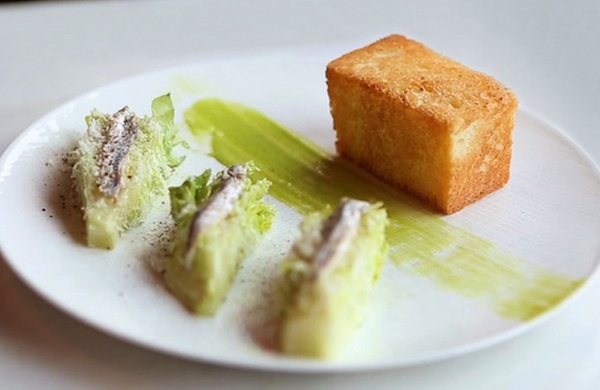 Above: Elliot's deconstructed caesar salad, which has been on his menu for almost 10 years.
"But when you see beautiful hues of red from beets and wild asparagus that's gorgeous and green and purple… those things, I think just at this animal level, you see and you're like, 'I want that.'

When we plate our food at Graham Elliot Bistro, we always say we want it to look like you were in a garden and you tripped on it. Very natural and beautiful, not 90-degree angles, not two dots on the plate right here and using a ruler to make a line. That never happens if you're out in nature, and I think your mind and your eyes do gravitate towards things that look very pure and natural."
On his favorite dish a contestant has made on MasterChef:
"I think [my favorite] one was a gazpacho and ceviche that Christine Ha, who was our blind cook, put together. It really spoke to me because it was so tasty … putting aside the idea that she couldn't see what she was making. If I was blindfolded and tasted it, I would know what season it was, I'd know what was in it. It was one of those [dishes] that even off-camera, we made contestants come up and try."
On why, as a MasterChef contestant, he would fear no Mystery Box:
"Mystery Boxes are my forte. You could give me a carrot and I'd come up with a hundred dishes. I have no problem when it comes to that. If there was a recipe I had to follow, that's where I'd be screwed. I cannot really do pastries to save my life. … It's very hard to simply go in and do a soufflé, liquid-centered chocolate cake, whatever, because there are certain ratios. I like to throw a million things together and make it fun. That's how I work."
His advice for an up-and-coming chef:
"Unlearn everything you've ever been taught. Your culinary schools are based in the past. They're showing you things that are not relevant now. There's no right or wrong. It's whatever you feel, just like music. You can either sit there and play Beethoven, who made music hundreds of years ago, or you can throw it all away, get onstage, and play whatever you're feeling. It's that constant journey of trying to find your own voice."
Watch Graham talk more about his career and his desert-island food: