Great Fictional Moms, from Betty Draper to Murphy Brown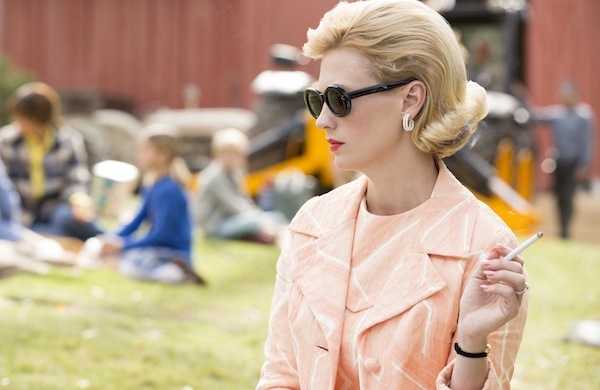 Literature, television, and film are filled with perfectly coiffed dream moms à la June Cleaver as well as shrieking harridans (Faye Dunaway's Joan Crawford springs to mind). But it's the complex characters who remind us most of the real thing. Some of these mothers are beyond excellent, some deeply flawed. All of them should remind you to get your mom a gift already. Check out our
Mother's Day Gift Shop
and get cracking.
– Allison Shoemaker
Betty Draper Francis – AMC's Mad Men
Nobody liked Betty at first (not even her kids). But everything changed once she kicked Don to the curb. Their split wasn't just a sigh of relief for fans, it was revitalizing for her character in general. Sure, she still has her share of foibles—catty, cold, and condones her daughter's smoking—but Betty has blossomed into one of the show's most compelling characters.
Moxie:
6 |
Fear Factor:
6.
Never forget
. |
Day Drinking:
10 |
Warm Fuzzies:
2 |
The Kids:
8. #TeamSallyDraper
– Randall Colburn
The Mother Bunny – Margaret Wise Brown's Goodnight Moon and The Runaway Bunny
This steadfast Mother Bunny seems to have endless love and patience for her child, who runs away, threatens to transform into birds, and must say good night to everything in the room. She's also wily: what other mom would
become the wind
to guide her sailboat-child to safety?
Moxie:
10 |
Fear Factor:
8 (she can
turn into
things) |
Day Drinking:
0 |
Warm Fuzzies:
100 |
The Kids:
10
– Catherine Bullard
Clair Huxtable – NBC's The Cosby Show
Clair Huxtable was many things: lawyer, wife,
fashion icon
. Above all, though, she was a mother. And as hubby Cliff Huxtable mugged, Clair ruled with the roost with a cool elegance.
Moxie:
10. Clair
invented
moxie. |
Fear Factor:
10 |
Day Drinking:
0 |
Warm Fuzzies:
8 |
The Kids:
10. Not a dud in the bunch.
– RC
Rose Hovick – Stephen Sondheim and Jule Styne's Gypsy
Rose—both the fictional and
historical incarnation
—has become the symbol for nightmarish stage mothers everywhere. But even though she really did a number on her kids, she also fought hard to create a great life for them. Cut her some slack: volume is important in show business!
Moxie:
10 |
Fear Factor:
10 |
Day Drinking:
Unknown |
Warm Fuzzies:
2 |
The Kids:
Both highly successful, one ran away, one wrote a tell-all. So … 5?
– AS
Molly Weasley – J.K. Rowling's Harry Potter series
Molly Weasley is the mom everyone wants to be—she's got a huge heart, she's not a pushover, and she will physically ward off evil wizards to keep her kids safe. Plus, she knits a mean sweater.
Moxie:
100 |
Fear Factor:
10 |
Day Drinking:
2, but butterbeer barely counts |
Warm Fuzzies:
8 |
The Kids:
10
– CB
The Dowager Countess of Grantham – ITV/PBS's Downton Abbey
As played by the formidable Maggie Smith, the DC has long been the series' most beloved figure—in part because she doesn't balk at calling her son a buffoon. But Violet Crawley really proved her grandmotherly bona fides when she helped poor Edith cope with an unplanned pregnancy.
Moxie:
10, 15 as played by
RuPaul's Drag Race's BenDeLaCreme
|
Fear Factor:
7 |
Day Drinking:
1 sherry |
Warm Fuzzies:
6 |
The Kids:
7 for Rosamund, 5 for Robert
– AS
Murphy Brown – CBS's Murphy Brown
Murphy Brown's decision to raise her first son solo prompted then-Vice President Dan Quayle to criticize the character. Elsewhere, single mothers found strength in Candice Bergen's portrayal, which showed that a woman needn't abandon her career to be a caring and attentive mother.
Moxie:
10 for her hair alone |
Fear Factor:
8 |
Day Drinking:
5. Whatever it is, she'll take it neat. |
Warm Fuzzies:
3. Murphy could be cold, but let's not forget
this
. |
The Kids:
4. Avery, we hardly knew ye.
– RC
Text by Allison Shoemaker, Catherine Bullard, and Randall Colburn. Photo: Justina Mintz, AMC.