Grownup Field Trip: Architecture and Scandal in Wisconsin's Western Upland
BY: Jonathon Schaff |
Apr 9, 2013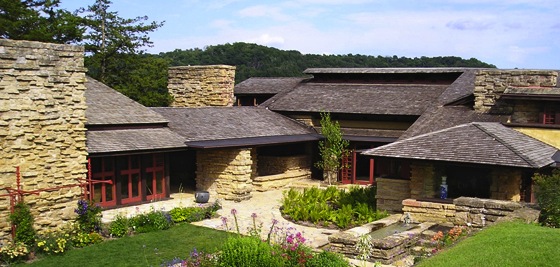 This week's trip takes you to Spring Green, Wisconsin, home of architectural sites Taliesin and House on the Rock, and the state's only nude beach.
Taliesin: Frank Lloyd Wright's Cursed Summer Home
Named for the Welsh bard Taliesin, whose name means "shining brow," architect Frank Lloyd Wright's
summer home
sits on the crest, or "brow," of a lush hill near Spring Green, Wisconsin. As in all Wright designs, the placement was more than simply aesthetic: Taliesin appears to rise harmoniously from the topography, a choice in line with Wright's school of organic architecture. Always ahead of his time, he used locally sourced limestone to build chimneys and piers and sand from the Wisconsin River to create a rippling effect in the stucco walls. Controversy has made Taliesin nearly as recognizable as its design. In 1911, after striking up an affair with a client, Mamah Borthwick Cheney, Wright left his wife to build Taliesin as a new home for him and Cheney. In 1914, when Wright was away on business, a servant set fire to Taliesin and killed its residents, including Cheney. Later, Wright would rebuild the destroyed section of the house, only to see it burn down again due to an electrical fire in 1925. Wright would rebuild the house a second time. Today, Taliesin is privately owned and can only be visited on a prearranged guided tour. Tours run from May 1 to October 31. Call (877) 588-7900 to make a reservation.
The House on the Rock: A Fantastical Wonderland Perched on a Cliff
Never scorn an architect. That's the lesson Frank Lloyd Wright learned the day he discouraged Alex Jordan Jr. from building a gaudy villa in Madison, saying, "I wouldn't hire you to design a cheese crate or a chicken coop." The words stung. Jordan plotted his revenge in the form of a magnificently strange building built on a cliff not far from Taliesin. Thus the
House on the Rock
was made. This otherworldly complex straddles a 60-foot rock column towering over unblemished Wisconsin forests. Built to reference Wright's style, the principal building, known as The Attraction, features endless dimly lit rooms stuffed with odd curios and collections: furnished dollhouses, self-playing musical instruments, and the largest indoor carousel in the world all fit comfortably inside the cavernous walls. Jutting out like a spear from the side of The Attraction is the glass-walled Infinity Room, which extends 218 feet over the canyon with no support structure beneath it. The wing's 3,000 windows provide views uncommonly impressive in the flat Midwest.
Spring Green: Quaint Town Near Wisconsin's Only Nude Beach
An hour west of Madison and three hours northwest of Chicago,
Spring Green
is a small town of about 1,000 people situated on the banks of the Wisconsin River. Visitors can investigate the river on a canoe or kayak tour from the
Wisconsin Canoe Company
, paddling out to one of the river's many sandbars and isles or even making the trek to Wisconsin's only nude beach. Back in town, consider reminiscing over your Groupon Grownup Field Trip at
Freddy Valentine's
, a historical pub located in the former State Bank of Spring Green. The original bank-vault door remains intact, as does the vault itself, where the town dragon still fitfully charbroils burgers.