Guttermouth Is Still Punk. Here's How They Can Stay That Way.
BY: Collin Brennan |
Apr 4, 2014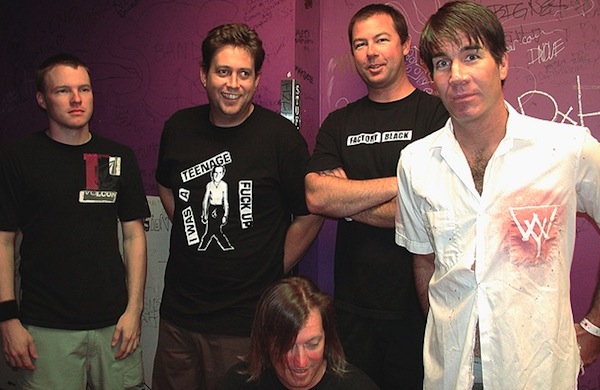 Ten albums into a career that began in 1988, the Orange County skate punks won't be stopping any time soon. We suggest 10 ways they can stay punk into their golden years.
There comes a time in every punk's life (usually the early 20s) when he faces a crucial decision: stay on the path of true rebellion, or trade in that safety-pinned denim jacket for a business-casual blazer?
Guttermouth
arrived at that crossroads years ago, and they never thought twice or turned back. The band arose from Orange County's skate-punk scene in 1988 and spent the '90s pushing that genre to the brink of its (admittedly limited) confines. Ten albums in, their lyrics are still peppered with the familiar references to beers, babes, and left-wing politics. If you're looking for reinvention, the door is that way, and don't trip over the skateboard on your way out. The band's longevity is impressive, but it got us thinking—how long can they keep this up? Adult life is riddled with the kinds of responsibilities that would make a young, idealistic rocker clutch his bullet belt like a security blanket. Thankfully, middle age also comes with its own opportunities to stick it to authority. We've brainstormed 10 ways the boys of Guttermouth (and you) can grow up without ever having to, you know, grow up.
1.
Start a mosh pit in line at the DMV.
2.
In the "Adjusted Gross Income" section of the income-tax form, write "Whatever."
3.
Get a tattoo of your Social Security number.
4.
For every presidential election, vote for Dee Dee Ramone as a write-in candidate.
5.
Name your firstborn child Black Flag.
6.
Make sure you have a good auto-insurance plan, then slash your own tires.
7.
Decorate your skateboard with an AARP bumper sticker.
8.
Safety-pin a Misfits butt flap to your jogging pants.
9.
Spend all of your retirement money on a pool filled with Mountain Dew.
10.
Just be yourself. Because really, isn't that the punkest thing of all?
Guttermouth will perform at Bottom Lounge (1375 W. Lake St.) on Friday, April 18, at 9 p.m. Tickets are $13; click here to purchase.
BY: Collin Brennan
Guide Staff Writer
Collin is a senior editor and a staff writer for Consequence of Sound. He self-publishes zines and moderates writing workshops for The Chicago Publishers Resource Center (CHI PRC).