Hang on to Your Brains at the Running Dead Zombie Run
BY: ZACH BOSTEEL | 10.30.2013 |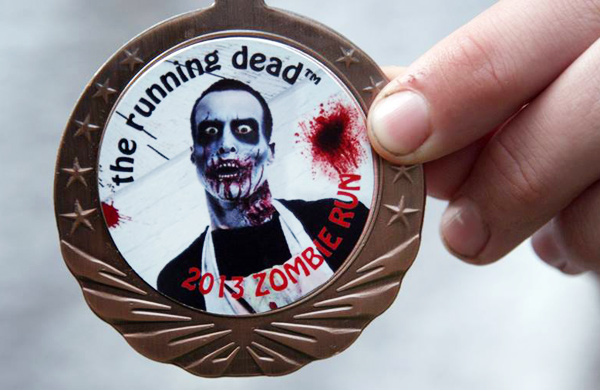 Ari and I stopped in our tracks, trying to catch our breath as we racked our brains thinking of what to do next. We had broken the cardinal rule: we got separated from the group. Just a few minutes before I had been thinking the autumn leaves were beautiful. Now the shades of green, yellow, and red reminded me of infected skin and dripping blood. Ahead of us, the narrow path was clogged by a half-dozen staggering zombies.
"I'll go first," Ari volunteered. "I have the least to lose."
Thankfully, it wasn't his actual life Ari was sacrificing—just his last flag. This wasn't some apocalyptic nightmare, it was The Running Dead: a zombie-themed 4.6K that challenged participants to navigate manmade obstacles along a course through Highland, Indiana's Wicker Memorial Park, all while being chased by hordes of the undead. At every turn, the zombies were trying to snatch three red flags off straps cinched around runners' waists. There was no penalty for losing all your flags—everybody was encouraged to finish the course—but some primal fear demanded that I avoid capture by these predators in decaying human skin.
Before the race, runners of the previous wave taught us it was a good idea to run en masse; there was safety in numbers. Once I started my heat, the first few obstacles were easy enough, including a short wall of tires and some low hurdles. But then the real challenge presented itself: a group of zombies who lurched out from behind the trees, trying to tear off flags. Caught in the flow of runners, I had no choice but to charge forward, spinning and side-stepping in a desperate bid to hold onto my stash. I got through unscathed.
I didn't lose my first flag until I found myself in that scrape with Ari. Though he had dashed ahead and made it through with his final flag intact, I wasn't as lucky. We managed to survive a few more run-ins with zombies, and then endured the heckling of a police officer as he helped us cross a road. "It's the apocalypse," he called. "Run faster!"
After crawling through a tunnel blocked by zombies on both ends and practically flinging myself over an inflatable wall (and losing my final two flags in the process), I got a glimpse of the final obstacle—an army crawl under some half-buried picnic tables draped in a black tarp. It was then that I realized I would have never finished the race with a flag to spare. Zombies were lying in wait on the tables' benches, scooping up any remaining flags from those scuttling beneath. One runner crawling beside me looked up at the lurking zombies and laughed, saying, "Sorry, pal, I'm already dead."
I emerged once more into daylight, and jogged the last few steps over the finish line, pleased with my finish time of 22 minutes and 19 seconds. Volunteers greeted everyone with cheers, as well as complimentary snack bars and water.
I immediately began thinking about the next race (I heard from the organizers that they're planning to do a similar event as early as next spring). Attendees can also opt to participate as a zombie, bloodied up with professional makeup, and I couldn't help but wonder what I might look like as one of the undead.
Try it if: You and yours want a family-friendly fun run, or if you're down to compete for gift certificates, iPads, and a sweet 6-foot trophy with a blackened skull on top.
Don't go if: You don't like running. It's mostly running.
Beware of: Zombies, obviously. And the cold.
Invite a friend who: Is light on their feet, might be willing to sacrifice a flag for you, and will be ready to dance at the post-race Zombie Prom.
Come prepared with: All your running gear, though T-shirts were provided.
Wear: Good shoes, warm running clothes, and gory Halloween accessories.
Intensity level: Relatively low, and good for kids 11 and older.
Photo courtesy of The Running Dead
BY: Zach Bosteel
Guide Staff Writer
Zach writes, draws, and develops web applications with pretty much all of his professional and free time. He enjoys spending time with his wife, his two cats, and at his favorite gym, EKF Martial Arts.