Hari Kondabolu Is Connected to Almost Everyone in Show Biz
BY: Kelly MacDowell |
Mar 27, 2014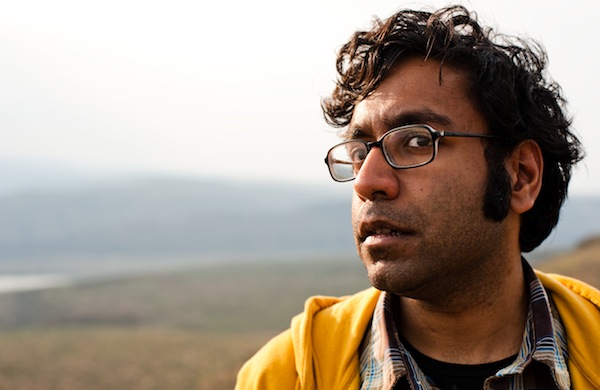 Even if you're unfamiliar with the comedian, he's probably just a few degrees removed from your favorite star.
Hari Kondabolu should be more recognizable than he is. The comedian has performed on
Conan
and
Jimmy Kimmel Live
and currently cohosts the increasingly popular
Untitled Kondabolu Brothers Podcast
. But despite these successes, Kondabolu remains mostly under the radar. Given his prodigious talent for making people laugh, this is flummoxing. And it becomes even more so when you realize that his background links him to some very famous names beyond Conan and Kimmel. Here are nine facts about Hari that you might not be aware of. Even if you haven't heard of him yet—don't worry, you will—you're bound to recognize some of the names he's connected with.
1.
The Queens-raised comedian graduated from Townsend Harris High School, as did
Richard Rodgers
and
Ira Gershwin
. The school mascot, Hari the Hawk, is named after him.
2.
Hari went on to receive a master's degree in human rights from the London School of Economics, whose alumni also include
John F. Kennedy
and
Mick Jagger
. This degree eventually helped him land a job—just not the one he expected. It was while Hari was working as an immigrants'-rights organizer at the 2006 HBO Comedy Festival in Seattle that he was discovered.
3.
As an Indian American comic, Hari often bases his material on racial and cultural issues. This made him a natural as a writer for
Totally Biased with W. Kamau Bell
, the now-defunct sociopolitical late-night show.
4.
In October 2011, Hari joined the ranks of published
Spin
contributor
Chuck Klosterman
when he published his own
cover story
on Brooklyn rap group Das Racist.
5.
Hari's connection to
Das Racist
actually runs much deeper—hypeman Ashok "Dap" Kondabolu is his little brother. Together, they host the
Untitled Kondabolu Brothers Podcast
.
6.
Hari has become something of a fixture in the podcast/radio scene, with guest appearances on programs such as
NPR's All Things Considered
and
WTF with Marc Maron
.
7.
In December 2012, Hari was featured on a
Flavorwire
list of 2013 up-and-comers alongside
Angel Haze
and
Girls
star
Alex Karpovsky
. Flavorwire praised Hari's work as "intelligent, political comedy that isn't afraid to get a little bit radical."
8.
Earlier this month, Hari's debut album,
Waiting for 2042
, was released on Kill Rock Stars. This makes
The Decemberists
,
Sleater-Kinney
, and the late
Elliott Smith
his labelmates.
9.
On one of Waiting's tracks, "
Weezer
Broke My Heart", Hari laments the fact that, at 28, he had somehow become "the creepy old dude at a Weezer concert."
Hari Kondabolu performs at Lincoln Hall on Friday, April 4, at 9 p.m. Tickets are $14–$17 and can be purchased here.
Photo courtesy of Hari Kondabolu
BY: Kelly MacDowell
Kelly's first concert was Fleetwood Mac and her first career was in the beauty industry. Now a style and music writer, she loves Project Runway and her dog, Watson.