Hema's Kitchen: One of Chicago's Most Chicago Restaurants
BY: Kevin Moore |
Mar 18, 2014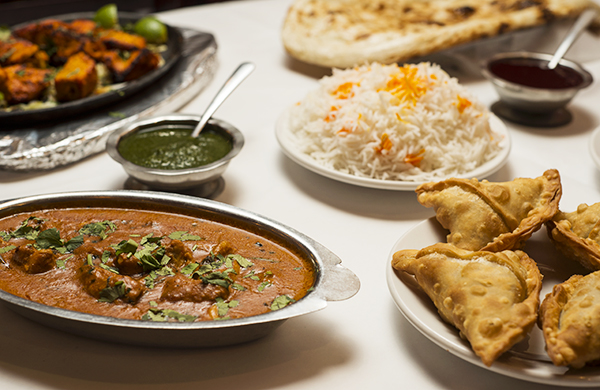 How do you find Chicago's most Chicago restaurant? You begin by taking the world's best decision-making device: the bracket. Then you combine it with Chicago's best device to represent its messy, opinionated landscape: the ward map. Some have called this pursuit "patently absurd." We humbly disagree. By taking our logic above (bracket + ward map) and extrapolating it into a larger, totally airtight algorithm, our computers have found a winner for the title of Chicago's most Chicago restaurant. See the finalists and read more about the search here. Below is one of the finalists.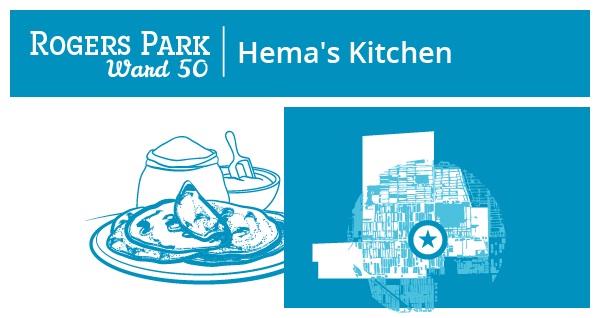 Even with a large, square sign jutting out over the sidewalk, it's difficult for
Hema's Kitchen
(2439 W. Devon Ave.) to stand out amid the neighborhood's vibrant assortment of shops, restaurants, and specialty grocery stores. The corridor of Devon that runs through West Ridge bears a unique energy. With its bustling crowds and tight quarters, the street has a lively spirit that makes Western Avenue, which is just around the corner, feel sterile. Amie Zander serves as the executive director of the
West Ridge Chamber of Commerce
, and she characterizes that particular street as a condensed representation of the larger neighborhood's cultural and ethnic diversity. "We describe it as 'the international marketplace,'" she said, noting that the packed sidewalks and vast array of businesses may be overwhelming to some visitors, but those characteristics are exactly what makes the area so distinctive. Zander mentioned that the street's Indian and Pakistani roots run the deepest. However, West Ridge is also home to a number of ethnic groups, including—among others—large populations of Afghan, Bangladeshi, Iraqi, Kenyan, Ethiopian, and Orthodox Jewish citizens. Much of this diversity accompanied the neighborhood's booming growth over the last 30 years, and, according to Zander, this development is especially apparent along Devon.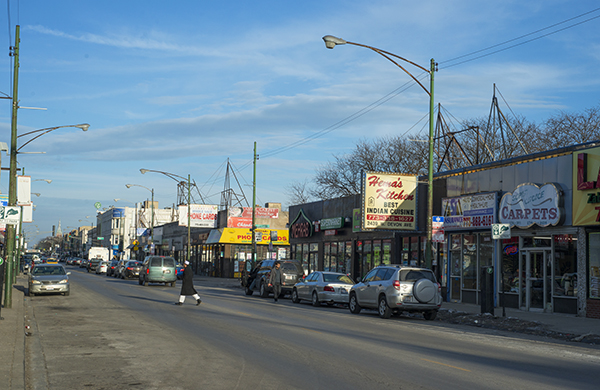 As I made my way to Hema's Kitchen, the South Asian community was the most prominent. Several Indian restaurants and kaleidoscopic displays of saris caught my eye as I scoured the streetscape, searching for the large, square Hema's sign that would be a neighborhood landmark anywhere else in Chicago. By the time I found the door, I was ready to eat.
Hema Potla: Hyderabad's Culinary Ambassador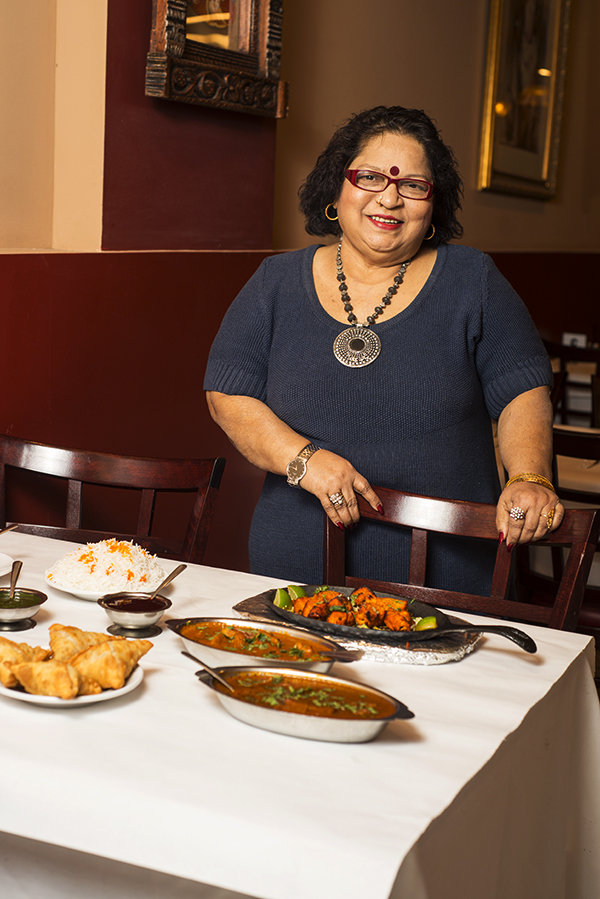 Hema Potla originally hails from Hyderabad, India—known as the City of Pearls since it once served as the trading hub for the country's precious gemstones. In Chicago, Hema and her late husband decided to embrace their roots by opening a restaurant in 1992. Hema's husband was actually the first person to spark her passion for South Asian cuisine. From him, she learned to cook meals that featured the unmistakable combinations of fragrant herbs and spices—many of which she roasts and grinds—found in dishes unique to Hyderabad, as well as others from regions throughout India. The first Hema's Kitchen opened on Oakley Avenue, and the public's clamoring for Hema's cooking led her to open a second location in Lincoln Park before relocating the original restaurant to Devon along the pulsing heart of West Ridge's "international marketplace." Although traditional Indian cuisine is clearly the major source of inspiration, Zander praised the fact that Hema's goal is to make her menu accessible. It's the sort of restaurant where you can introduce yourself or a guest to Indian cooking by ordering a relatively mild and tame meal, but you always have the option to dive into the culinary equivalent of the deep end. Hema serves as a sort of guide in this respect, helping diners figure out what sort of experience they are seeking.
The Meal
Unfortunately, Hema was not available during my visit, so I opted to stick with some classics for the sake of comparison.
Vegetable samosas:
They arrived straight from the fryer and even had the blistered, golden-brown pastry shells to prove it. Naturally, my two-piece order came with a refreshing mint chutney as well as an irresistably tangy tamarind chutney the color of cherry-pie filling.
Garlic naan:
The tandoor-baked bread had a thickness and consistency that I more commonly associate with pita. Whoever made the choice to top it with roughly chopped chunks of garlic as opposed to a finely minced spread deserves a handshake.
Lamb curry:
These tender pieces of lamb are cooked in a brick-red, tomato-based gravy spiked with onion and a mélange of spices. I asked for medium spice, and the ensuing burn was one that slowly built with each bite but never left me wiping my brow and blinking away tears. Naturally, every last piece of naan was used to sponge up the curry sauce that remained in the serving dish.
Final Thoughts
In marked contrast to the street just outside, Hema's Kitchen adopts a more casual, laid-back ambiance.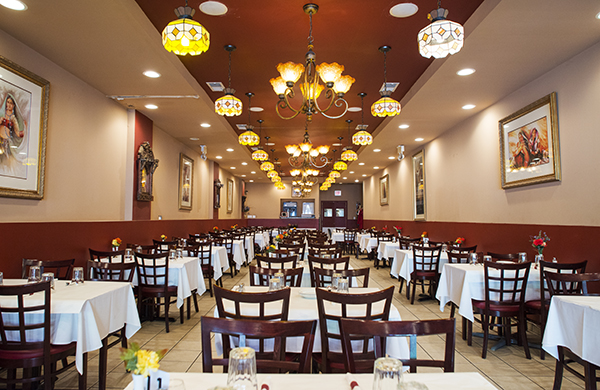 Traditional Indian music does play over the sound system and framed paintings of sari-clad women fill the walls, but the space lacks the cacophonous bustle of Devon Avenue in general. That's not necessarily a bad thing, though. Instead, it gives visitors the opportunity to sample one small taste of one of the many cultures that help make West Ridge so vibrant, spirited, and entirely distinctive. "[Hema's Kitchen] is a great reflection of what we have to offer here," Amie Zander said. "If you're only going to go to one place on Devon, to me, it would be a good place."
Photos by Timothy Burkhart, Groupon