How Ada Street Is Using Restaurant Week to Honor Female Chefs
BY: Hillary Proctor |
Jan 29, 2014
When Chicago Restaurant Week rolls around, many overworked chefs choose to recycle an old prix fixe menu or serve only dishes that can be easily produced for large crowds even if they aren't representative of a typical experience at that restaurant.
But Ada Street (1664 N. Ada St.) executive chef Zoë Schor decided to take a more creative approach for the restaurant's first year participating in the promotion.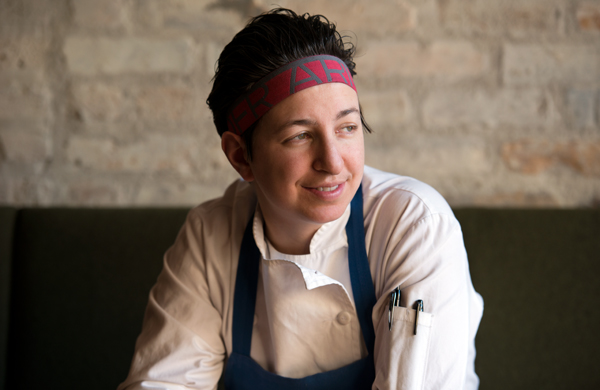 "We just wanted to see what we could do to spark it up," Schor said. "It's not just about packing the seats Monday–Thursday for these two weeks. … It's about exposure; it's about doing fun and interesting things and having as good a time with it as our guests are having."
It seemed especially fitting for Ada Street to celebrate women in its Restaurant Week debut: its executive chef, sous-chef, general manager, director of operations, and other leadership roles are all held by women.
The special menu pays tribute to greats like Alice Waters and Julia Child, women who had to overcome major obstacles to advance their culinary careers. "They had to work three times as hard for half the recognition," Schor said. "That's really what this is about for us: honoring those women who were pioneers in their field and changed the face of dining out through much more adversity than we have to deal with today."
So far in her own career, Schor has seen the attitude toward women vary greatly from kitchen to kitchen. "In restaurants I worked in in Los Angeles, there was definitely a boys'-club feel, and I was often the only woman on the line at any given time," said Schor, who's cooked under renowned chefs such as Thomas Keller, Tom Colicchio, and Todd English. Although Schor said she believes that being a woman in the kitchen has become less of an issue, especially over the last 10 years or so, "there's still an element of [bias], and there probably always will be."
To put together the menu, the Ada Street team researched published recipes, scanned menus, remembered notable meals in these chefs' restaurants, and generally tried to capture their most iconic dishes. "We've tried to take dishes that we think represent the chefs pretty well," Schor said.
So will themed Restaurant Week menus now become an annual tradition at Ada Street? "I think we're setting the bar high now for what we're going to do in the future," Schor said. "I think that's something that's going to be a challenge but is going to be fun, and it'll force us to be more ambitious and be more energized about the process."
Here's the menu, dish by dish:
First Course
Scrumpets, inspired by April Bloomfield: Schor first tasted scrumpets at The Breslin, one of Chef April Bloomfield's New York restaurants, and though she admits "there's been a little bit of contention about whether or not it's actually is a traditional British dish," they've become a mainstay on Ada Street's regular menu, and the female-chef theme partially originated from this dish. Lamb is braised overnight, then shredded, pressed, panko-breaded, and fried to look almost like mozzarella sticks. The lamb flavor really came through, but in a uniquely crispy texture that made it truly memorable. I was skeptical at first at how well malt vinegar would work as a dipping sauce, but the acid cut cleanly through the fried richness—I guess I need to take the hint and start eating fish and chips that way too.
Bagna càuda, inspired by Nancy Silverton: While there are many versions of bagna càuda ("hot bath" in Italian) that fall somewhere along the lines of a dip or fondue, Schor explained, "we use a variation that Nancy Silverton's used and published [but] obviously our twist on it. It' s a little bit more like a sauce." Fresh mozzarella is marinated in olive oil, anchovies, and garlic, and then served on a toasted baguette and crowned by a large pile of micro greens. The best mozzarella dish I've ever had was actually at Silverton's Osteria Mozza in Los Angeles, and this dish mirrored the same luxurious creaminess from the cheese in contrast with crusty bread.
Moroccan carrot salad, inspired by Alice Waters: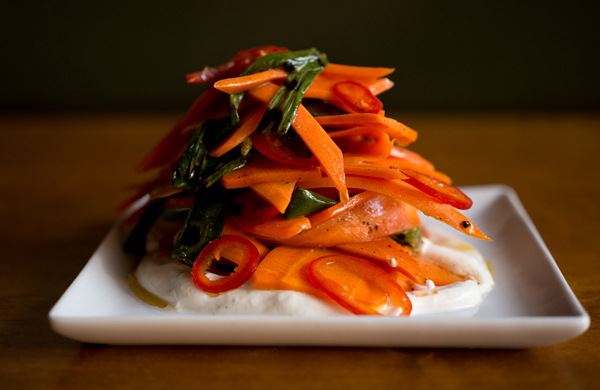 Northern California–based Waters is known for very simple preparations that showcase fresh, local ingredients. Here, local carrots are shaved and barely blanched—"literally as long as it takes to drop them in and pull them out again"—before being bathed in a Moroccan-inspired marinade of ginger, coriander, cumin, and lime juice. "The carrot salad is probably going to be the least popular," Schor said. "But it's one of my favorite dishes on the whole thing." And our table wholeheartedly agreed: the carrot salad emerged a clear favorite among the starters. The carrot ribbons were bright and herbaceous, with heat from red chilis and added acidity from a luscious greek-yogurt sauce.
Second Course
Bouillabaisse, inspired by Julia Child: Among Child's many, many famous dishes is this classic French seafood stew. "Bouillabaisse is fairly simple but has complex flavors, and we really love it, so we're doing our interpretation of that," Schor said. The bowl held a mixture of mussels, clams, shrimp, and cobia (also known as black salmon) swimming in a pleasantly spicy fennel- and saffron-laced broth. I also appreciated that, rather than throwing on a couple of toast points as an afterthought, the serving of bread on the side was actually large enough to sop up all the extra broth,. That kind of thoughtful detail was evident throughout the meal.
Soft polenta, inspired by Suzanne Goin: Schor spent the early part of her career in Los Angeles, where Goin's many restaurants are located. The Hungry Cat was a particular favorite of Schor's, especially for postshift libations—a personal connection that led to further menu research. They eventually selected this soft polenta and mushroom dish as the vegetarian entree, substituting kale for out-of-season spigarello. The polenta was extra creamy from mascarpone, and the mushroom lent hearty textural contrast.
Roasted pork loin, inspired by Barbara Lynch: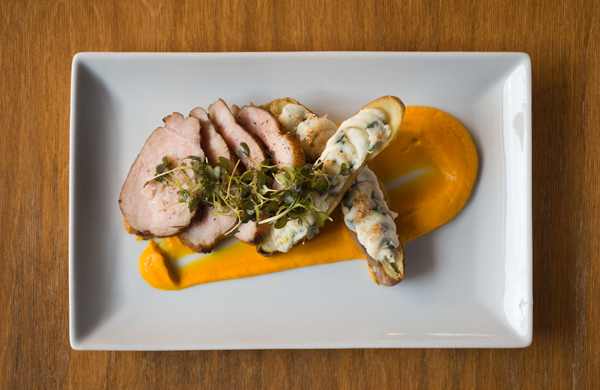 This meat entree was inspired by a simple menu item from Lynch's Butcher Shop in Boston that sous-chef Joanna Stachon selected. A classic pork tenderloin is accompanied by carrots, spinach, and twice-baked fingerling potatoes, which Schor described as "small and a pain in the butt to make but absolutely delicious." The spinach from the original dish was instead incorporated into the potato filling. Although the whole dish was a success—the pork and potatoes were both cooked to the perfect doneness (and let's face it, those potatoes were adorable)—it was the smoked carrot purée that stole the show. It was smoky, bacon-esque indulgence in silken orange form. Between that and the salad, I definitely gained a newfound respect for the humble carrot.
Third Course
Citrus pound cake, inspired by Lisa Bonjour: The final course had roots closest to home: it was inspired and custom-designed by the executive pastry chef at Chicago's MK, a sister restaurant to Ada Street. "'I find her desserts to be really thoughtful and balanced, and every bite is a complete bite," Schor said, calling herself a huge fan of Bonjour's work. "To actually involve one of the chefs [we were honoring] was great." Dense pound cake was encircled by segments of orange, blood orange, and grapefruit and drizzled with a tart citrus gastrique. The unanimous favorite element of this dish, though, was the cornflakes, which had a salty crunch that worked beautifully with the not-too-sweet vanilla crème fraîche.
Photos by Andrew Nawrocki, Groupon