How Mexique and Chef Gaytan Helped Me Not Hate Fusion Cuisine
BY: Halley Lawrence |
Jan 23, 2014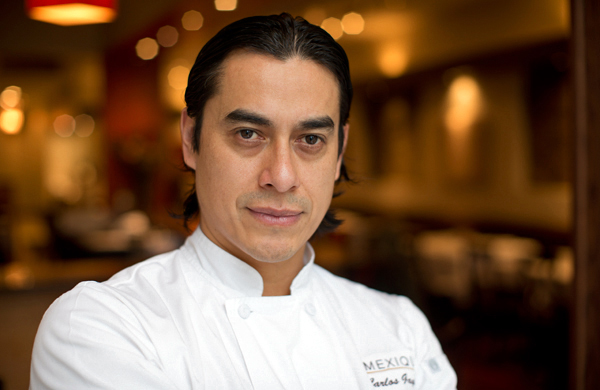 Top Chef contestant and Michelin-starred chef Carlos Gaytan tells us what to expect from Mexique (1529 W. Chicago Ave.) during Restaurant Week—and why you shouldn't shy away from fusion cuisine.
It's often trendier to be a hater than an enthusiast. This is certainly true in the fickle world of restaurant reviews and celebrity chefs, where trends quickly shift from avant-garde to passé. For reference: "I just dislike—really dislike—the idea that somebody would put Texas-style barbecue inside a fucking nori roll."
– Anthony Bourdain
"I hate fusion food, hate it with a passion. In its trauma and enthusiasm it's like a gangly youth with pimples…Hopefully it is a fad."
– Australian chef David Thompson
For years, I harbored my own aversion to fusion food. Though I was ignorant of the anti-fusion sentiment en vogue among culinary bigwigs, I was soured to the concept by sickening visions of teriyaki-alfredo mash-ups. It was this generalized dislike that kept me away from Mexique, Chicago's Mexican-French eatery. But I can admit when I'm wrong. I have Chef Carlos Gaytan to thank for my conversion. My first trip to Mexique was during Restaurant Week 2013, and I was taken aback by the delicacy with which he brought together French and Mexican flavors. An infusion of roasted poblano peppers lent depth to gruyère-topped french onion soup, and a pleasingly tart goat-cheese fondue dressed up a second course of flank-steak asada. Though these flavors were new to me, French-Mexican cuisine is not a new phenomenon. According to Gaytan, France's occupation of Mexico in the 1860s led to the melding of the two culinary worlds. Born in the Mexican state of Guerrero, Gaytan is riffing on this history. However, his gift for subtlety and delicate preparation is what sets Mexique's menu apart. I'm not the only one who thinks so. This year
Top Chef
recruited Gaytan for its Season 11 in New Orleans [at publication, he was among the final four contestants], and the
Michelin Guide
awarded Mexique a Michelin star. I talked with Gaytan about the theory behind his cooking, and asked him what to expect from Mexique during Restaurant Week 2014.
GROUPON: I loved your Restaurant Week menu in 2013. What's in the cards for 2014?
CARLOS GAYTAN: We're going to do a soup of the day, maybe a creamy soup with foie gras. We'll be doing a ceviche, which we change everyday. For the main course, [one of the choices is] pork belly with sweet-potato purée and spicy mole.
G: How do you make French and Mexican techniques and flavors work so well together?
CG: We don't have any strict balances or percentages, no 50-50 balance. It's about the ingredients; whatever ingredients I find on the market, I make whatever recipes and preparations bring out the best flavors. I call it modern Mexican with a French influence. That gives me room to be creative.
G: At Sheraton, you discovered your talent for carving ice and fruit. What was the most unusual carving you ever made?
CG: I used to do a lot of carvings for seafood displays. A swordfish, a seahorse…at the
Union League Club
(65 W. Jackson Blvd.), I carved shells and put some sorbet in the shells with caviar.
G: Congratulations on earning a Michelin star in 2013. If you could bestow a Michelin star upon another Chicago restaurant, which would it be?
CG:
Avec
(615 W. Randolph St.). They don't have one yet, but I would recommend.
G: If you weren't going to be cooking at Mexique during Restaurant Week, what restaurant would you eat at?
CG: I would go to
May St. Cafe
(1146 W. Cermak Rd.) …a really small restaurant. Chef Mario [Santiago] does a really good job. If not May St. Cafe, probably
Blackbird
(619 W. Randolph St.). Really good. [And] I would see what Stephanie [Izard] was doing.
G: How has being on Top Chef changed your life?
CG: It's changed my life a lot…people now see me on the street. Everywhere that I go, people want to pose for a picture, or just say hi. I try to be nice about it.
Photo credit: Andrew Nawrocki, Groupon