How to Enjoy State-Fair Foods Without Leaving Chicago
BY: Kevin Moore |
Aug 6, 2013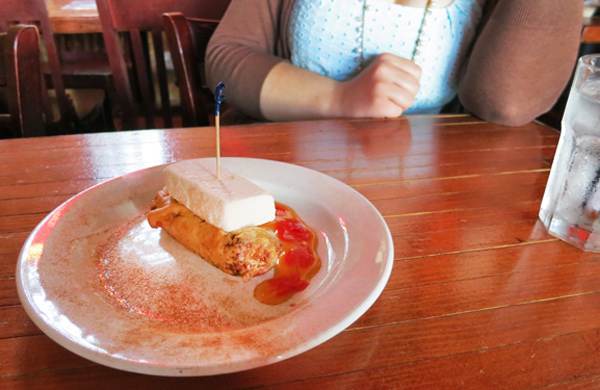 Rides and prize-winning produce are important parts of any state fair. However, the unbridled hedonism of enjoying some new comfort food that has been deep-fried, coated with chocolate, or stuffed inside a croissant is at least half the fun. If you're looking to make that indulgence more than a once-a-year treat—or if you can't make it to Springfield or Du Quoin this time around—here are a handful of Chicago places that bring fair food a bit closer to home:
Corn dogs at Franks 'n' Dawgs
(Lincoln Park | 1863 N. Clybourn Ave.) The corn dog is an underappreciated food with loads of potential. That's obvious from the Mystery Corn Dawg Platter at Franks 'n' Dawgs. Four artisanal sausages emerge from the fryer inside a golden-brown shell of polenta batter. The mystery stems from the fact that the lineup of sausages can change daily.
Funnel cake at Sugar Shack
(Bridgeport | 630 W. 26th St.) The funnel cake can take many forms at Sugar Shack. In addition to recreating the dessert's traditional fairground look by adding a layer of powdered sugar, the shop's confectionery specialists also use funnel cakes as the base for sundaes, layering vanilla soft serve, toppings, and whipped cream on top of the fried dough.
Caramel apples at Andrews Caramel Apples
(Belmont Cragin | 5001 W. Belmont Ave.) For more than 55 years, Andrews Caramel Apples has committed to one kind of treat, and the current lineup includes eight variations of said treat. Those variations start with a basic form, a granny smith apple dipped in caramel. From there, the team finishes by rolling the apple in toppings such as fresh peanuts or chopped pecans or by adding a drizzle of white chocolate.
Deep-fried candy bars at Square Bar & Grill
(Avondale | 2849 W. Belmont Ave.) Melty chocolate meets percolating oil as Square Bar & Grill's cooks fry Milky Ways, Snickers bars, and Reese's peanut-butter cups. To generate an immensely satisfying sensory whiplash, the piping-hot candy bars are served beneath a slab of frosty vanilla ice cream.
Cotton candy at Flav-O-Ricious
(Navy Pier | 600 E. Grand Ave.) Skip the pre-bagged versions so often seen in ballparks and NASA space shuttles and visit Navy Pier for a bite of freshly spooled cotton candy right off the stick. As an added bonus, you can feel free to complete your faux-fair experience by pretending to be a tourist and finally riding the ferris wheel.
BY: Kevin Moore
Iowa-born, Arizona-raised, and Illinois-tax-paying writer who can answer any Trivial Pursuit question about wine or snakes.