How to Make Deep-Fried Sweet-Potato Fries and a Much-Needed Salad for Thanksgiving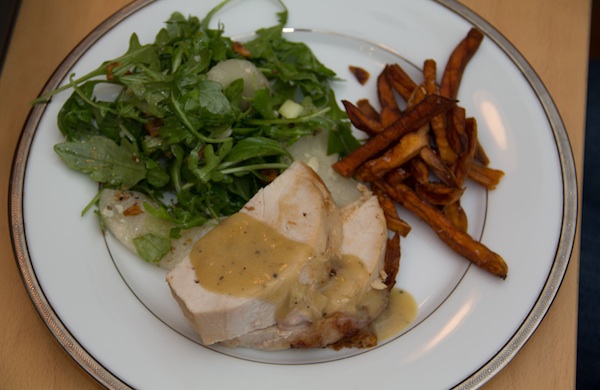 Part Two in a three-part series about "How to Deep-Fry a Turkey and (Hopefully) Not Burn Down Your House." 
Mmmm, sides. Without them, we'd just be eating deep-fried turkey. Hmm …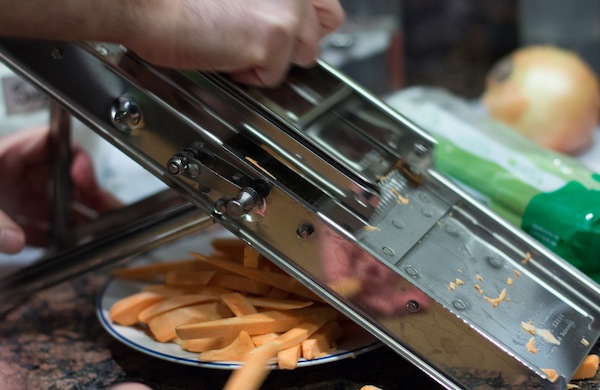 In the continued spirit of culinary danger, we used a mandoline to slice sweet potatoes (and, greedily, the last red potatoes in our host's kitchen).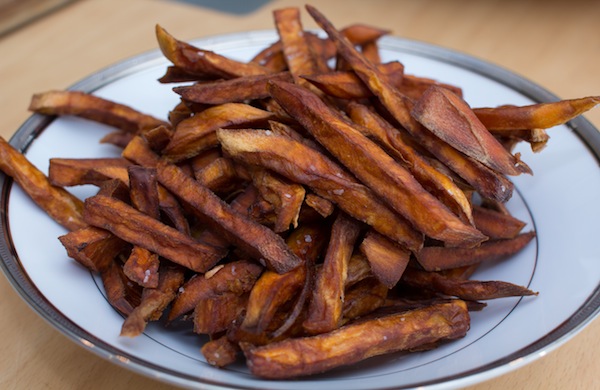 With the oil's temperature back at 350 degrees, we deep-fried the potato slices for about five minutes to get them to this gorgeous state: crunchy outside, meaty inside. A sprinkle of kosher salt. A drop of gravy. Heaven.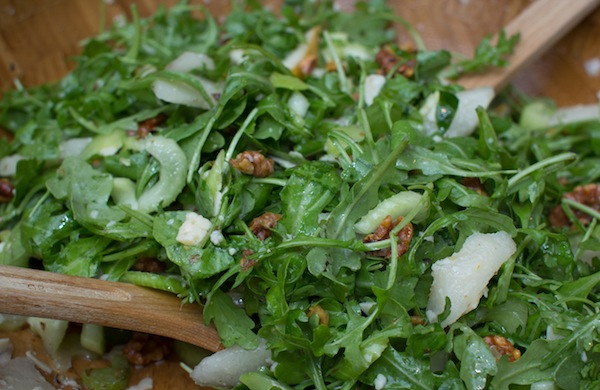 Photo credit: Arlie Nuetzel and Tawny Lane
As delicious as fries and fried turkey are, we wanted something fresh. This light, slightly acidic salad (adapted from Alice Waters's
The Art of Simple Food II
) balanced the rich dishes. As promised in Waters's title, the salad is simplicity itself: half-moons of celery, toasted walnuts, slivered pears, and parmesan shavings. We added a lively bunch of arugula and finished with a sprinkle of olive oil and lemon juice.
Click here for a recipe for desserts: another Waters dish and another deep-fried treat.
Click here for the recipe for the crispiest, juiciest turkey and its resulting glamour shots.
If you're cooking at home, shop Goods for kitchen and dining accessories:
BY: Kelsey Mueller, Leah Nuetzel, and Peter Papachronopoulos
Kelsey Mueller, Leah Nuetzel, and Peter Papachronopoulos