How to Pour the Perfect Pint of Guinness
BY: John Flaherty |
Mar 15, 2013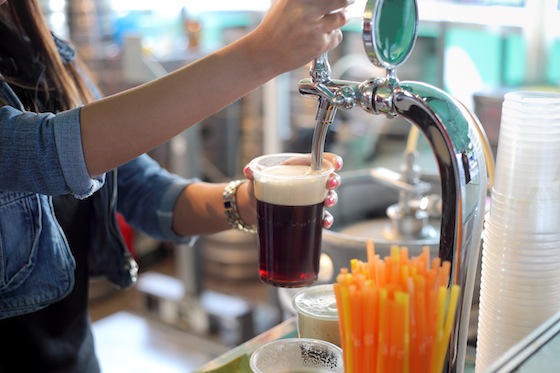 Guinness is everywhere in Ireland. More than omnipresent, it's almost omniscient. The label is more than a beer brand—it's nearly a national identity. As such, its image and product are closely protected.I didn't need to work in a pub in west Ireland to learn this. However, it was working at a pub in Galway city when I was the unsuspecting object of a sting conducted by undercover Guinness quality-control agents. Similar to how national parks have park rangers and museums its docents, Guinness has QC agents.
It was on a quiet Tuesday night when I unknowingly met my agent. He was a neat, normal-looking, 30-something Irish guy who took a seat at the bar right next to the beer taps. He ordered a pint of Guinness, then proceeded to watch me—perhaps more closely because of my American accent—as I underwent the stout's ritual.
Step one: Take a 20-ounce tulip pint glass from the shelf.
Step two: Place it under the Guinness cylindrical tap nozzle at a 45-degree angle.
Step three: Pull the tap completely down to pour the beer at full pressure.
Step four: As the beer reaches the pint's edge, straighten the glass and push back the tap when the beer hits the middle of the glass's harp logo.
Step five: Allow the Guinness to settle for several minutes. A storm of black and cream will cascade inside the glass, slowly darkening to a deep, dark black from the bottom up. This ¾-filled beer is not finished.
Step six: Once the beer settles, top it off by placing the pint under the tap and pulling it completely forward at full pressure. If performed correctly, the pint should finish with a soft, quarter-inch head of cream that barely rises above the pint glass.
With this perfect pint in hand, I tossed a coaster (beer mat in Ireland) in front of this hawkish customer and presented him with his Guinness. He took a sip, handed me a €5 bill, and asked for a receipt. Then, he requested my signature on the back of the receipt. When I did, he handed me a business card, which identified him as a member of the Guinness quality-control team. He told me to expect the results of my field test in the next few weeks.
I never saw the results.
Presumably, they were sent to the bar but never passed along to me. Perhaps the bar was embarrassed? Perhaps they feared they would have to give me a raise? I never did find out, and I left Ireland a few months later. But even now, years later, I sometimes wonder how well I fared in that pint-pouring pop quiz.