GROUPON GUIDE TO FAIRFIELD-COUNTY
How to Wear Denim on Denim
BY: Kelly MacDowell |
Dec 5, 2014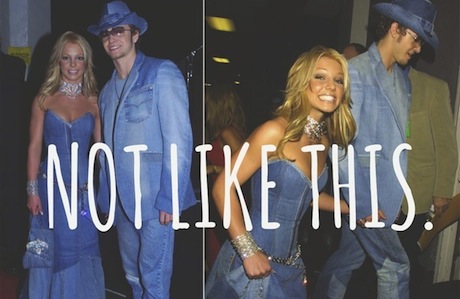 It was one of the best worst fashion moments of all time. The scene: the 2001 American Music Awards. The culprits: Justin Timberlake and Britney Spears, the era's reigning Prince and Princess of Pop Music and Everything Else. The fashion faux pas: his-and-hers patchwork denim outfits. Despite the absolute awfulness of it (sorry, but, that hat), the look was immediately A Thing. A Thing people haven't forgotten about—13 years later, Katy Perry and Riff Raff parodied it at the 2014 MTV Video Music Awards.
But let's not let two bad outfits spoil the trend.
Head-to-toe denim doesn't have to be a complete disaster. For proof, we consulted Cate Ryan of The Blues Jean Bar, who wholeheartedly agreed. "[Denim is] just that—an everyday staple," she said. She finds the key to pulling off the look is to combine old favorites with modern fits and accessories.
Here, Cate's created three looks (two for women, one for men) that illustrate the right ways to go all denim. And don't worry, none involve a denim cowboy hat.
Look 1: Boy(friend Jeans) Meets Girl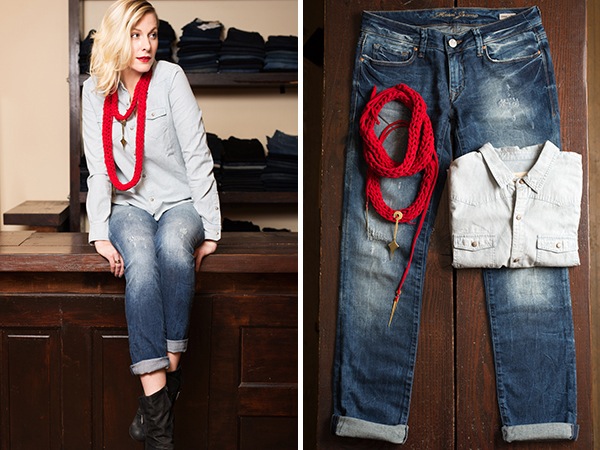 Jenni is wearing a Joe's Jeans bleached-out indigo top ($146); Mavi boyfriend jeans ($125); and Cheryl Rain Designs woven necklaces in red ($30–$44).
As it turns out, Justin and Britney were actually headed in the right direction—sort of. One of Cate's tips for nailing denim-on-denim is to juxtapose masculine and feminine pieces. "Strive for some imperfection," she said, which in this case means wearing a boyfriend jean. "The comfortable [pair] that may have a few holes, probably numerous wrinkles, and a perfect, washed-out sky-blue hue."
To keep Jenni from looking too imperfect, she chose a pair that fit snugly. "Don't buy a boyfriend jean so big you have to puncture additional belt holes [in your belt]." (Need fit help? The Blues Jean Bar's "jeantenders" can measure you at its six national locations.) She also introduced "bold, feminine piece[s] of jewelry" (the ones used here are actually upcycled from vintage tees) and heeled ankle booties.
Look 2: Minimalist Menswear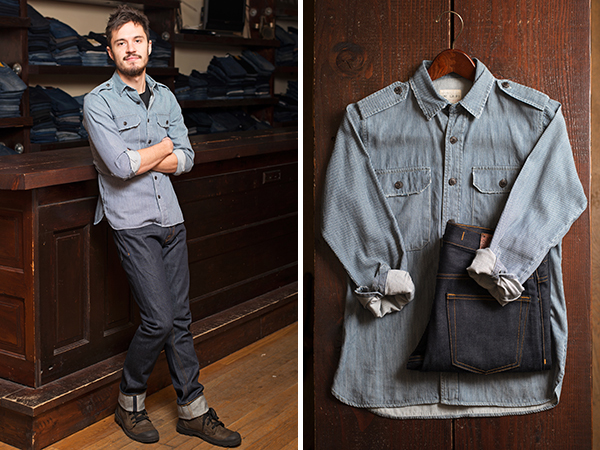 Collin is wearing a Joe's Jeans military shirt in indigo stripe ($185) and Asbury Park Monte Carlo raw jeans ($209).
One of BJB's recommendations for men is raw denim. "Raw denim honors the passage of time," Cate said. She loves how the "once stiff, unbreakable fabric" softens with wear and how the jeans eventually acquire a wallet outline in the back pocket and crease marks in the hip. For the best fit, she likes jeans that are "looser in the thigh and hip. That way [you] don't have to hang on for dear life every time [you] sit down."
Cuffing the jeans creates a more polished look, as do the buttoned shoulder straps on the military-style shirt. Choosing a top in a different wash adds visual interest, and keeps the outfit from looking anything like Justin's Canadian tuxedo.
Look 3: High-Contrast Colorblocking
Zoe is wearing a Mavi Samantha jacket in dark Nolita ($108) and Henry & Belle super-skinny ankle jeans in white ($161). Tank and shoes are her own.
"Denim on denim is palatable when you have a contrast in denim colors," Cate said. We see this idea in the first two ensembles, but Cate has exaggerated the effect by pairing a dark-rinse jacket and dark tank with white jeans. The leopard-print flats deliver a welcome pop of color.
Cate feels that white denim "will always be a classic" but acknowledges that some women are hesitant to wear it. Her best advice? Be proud of your figure. "Definitely find a white pair that doesn't cling to your thigh, but do accept your shape in a white jean. So many women are critical of themselves in lighter denim. Form a little friendship with the white pair. They deserve you and you deserve them."
Photos by Andrew Nawrocki, Groupon. All listed prices are from The Blues Jean Bar; manufacturer's prices may vary according to retailer.
---
Shop ideel and Goods for denim fashions:
| | | |
| --- | --- | --- |
| | | |
| Request Women's Skinny Jeans | Henry & Belle Women's Boyfriend Jeans | WeSC Men's Denim Shirt |
The The Guide solves your other clothing conundrums:
| | |
| --- | --- |
| | |
| Three Ways to Never Wash Your Jeans, Investigated | How to Wash a Cashmere Sweater Without Totally Ruining It |
BY: Kelly MacDowell
Kelly's first concert was Fleetwood Mac and her first career was in the beauty industry. Now a style and music writer, she loves Project Runway and her dog, Watson.