Mom Jeans Are, Like, Totally Cool Now
BY: Kelly MacDowell |
Apr 15, 2015
It seems like "mom jeans" have been a punchline forever. Or at least since 2003, when Tina Fey and Amy Poehler danced (and gardened! and soccer-mommed!) in them for an SNL parody commercial.
High-waisted jeans are trending hard right now, though. And if you think about it, they're just mom jeans with a more modern fit. In other words, mom jeans are cool now. Here are two ways to wear them—one casual, one more dressed-up.
Crop-Topped and Casual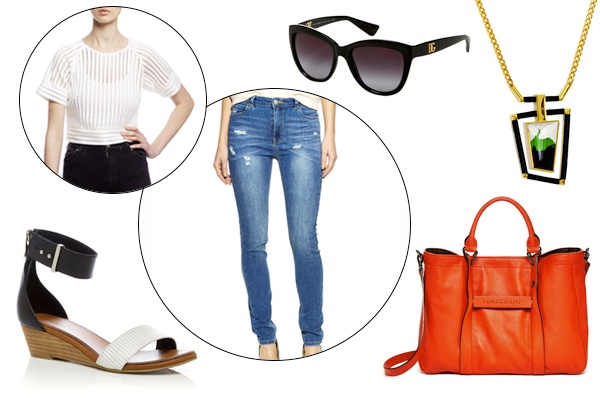 Clockwise from top left: Mesh striped top, Gracia ($49.99); Cat-eye sunglasses, Dolce & Gabbana ($149.99); Drama statement pendant necklace, Vince Camuto ($49.99); Leather 3D tote, Longchamp ($679.99); High-waisted skinny jeans, Just USA ($39.99); Kalifornia kitten wedges, Chinese Laundry ($39.99)
The question of how to wear high-waisted jeans has more than one answer. If you want to show them off, though, pairing them with a cropped top is a great way to go. The look will feel more modern than matronly, especially if you pair it with a sleek sandal, classic cat-eye sunglasses, and bright accessories.
Fancy and Figure-Flattering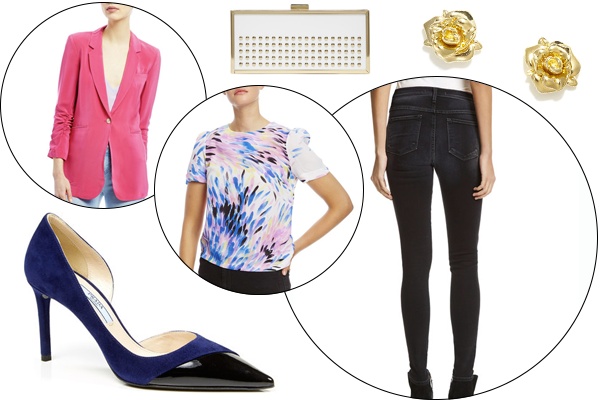 Clockwise from top left: Three-quarter sleeve blazer, Elizabeth and James ($89.99); Studded clutch, La Regale ($59.99); Rose stud earrings, Marc by Marc Jacobs ($39.99); High-waisted skinny jeans, Flying Monkey ($39.99); Short-sleeve graphic top, Miss Finch ($34.99); Two-tone pump, Prada ($549.99)
If you're into high waistlines for their figure-flattering properties, a darker rinse will work best. You could also consider some light layering—a boxy top falls away from the tummy, and a long blazer covers the hips and rear. Pair it all with high-heels that lengthen your legs, and add gold accessories for an outfit glam enough for an evening out.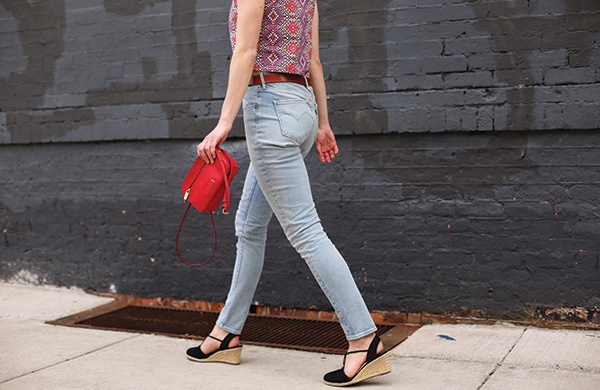 More denim-related reads: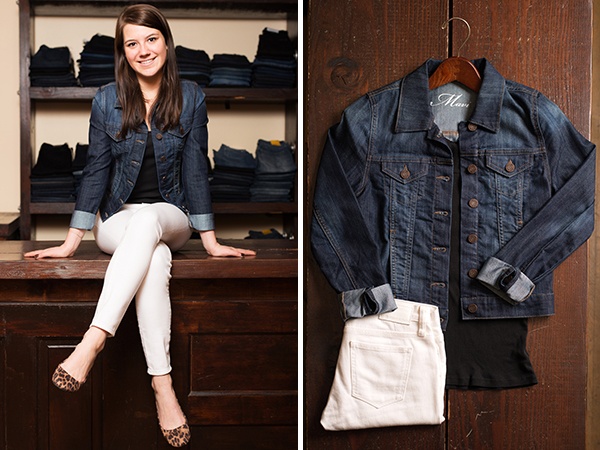 These three outfits look so good, they won't elicit a single Canadian tuxedo joke.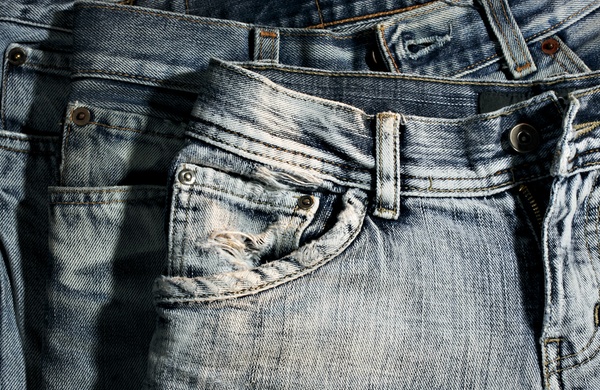 We investigated three cleaning methods, none of which involve the dreaded washing machine. Find out which one our editors approved.
BY: Kelly MacDowell
Kelly's first concert was Fleetwood Mac and her first career was in the beauty industry. Now a style and music writer, she loves Project Runway and her dog, Watson.