I Eat SPAM: A Confession
BY: Aimee Algas Alker |
Oct 28, 2013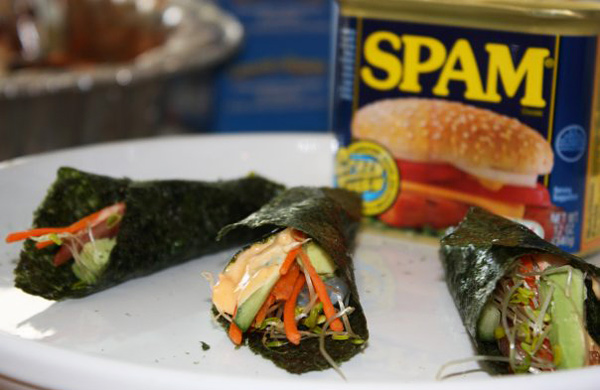 Yes, I grew up eating SPAM. I also grew up in a Filipino household, where SPAM has a culinary legacy. During WWII, Americans air-dropped canned goods to Filipinos during the Japanese occupation. And Filipinos, being culinarily creative, found some delicious ways to cook with the stuff. It's the reason why a good Filipino breakfast can include eggs, garlic fried rice, and SPAM, sliced thin and fried till the edges are crispy. Every time my best friends and our families get together for a weekend, on at least one of the mornings, we make that Filipino breakfast. In fact, we love SPAM so much, that one of my co-best-friends, Charity, hosted a SPAM cookoff, which yielded such SPAMMY delights as: * Tempura SPAM fries * SPAM cornbread * SPAM egg rolls * SPAM quiche * Barbecue SPAM on a stick * SPAM sausage * SPAM hand rolls My other co-best-friend, Donna, serves SPAM to her husband and kids regularly. She's known to fry it in bacon grease or swap it for the B in BLTs. Her recipe for SPAM fried rice is below, along with Char's recipe for SPAM hand rolls. One thing I know is true, SPAM is always a crowd-pleaser, and even the pickiest of kids love the taste. A SPAM recipe is always kid-friendly.
Make These SPAM-Centric, Kid-Friendly Recipes
Charity's Spam Hand Rolls (pictured above)
Note from Char:
This is our version of SPAM Musubi. We call it "Spalmon hand rolls."
Kids can help with most aspects of this recipe.
What You Need:
1 can of SPAM 1 pot of cooked rice 2 peeled carrots 1 bunch alfalfa sprouts 1 cucumber 1 package of nori Sesame seeds (optional) For the sauce, whisk together: 3 tablespoons mayo 2 tablespoons sesame-seed oil Dash of sriracha
What You Do:
Julienne the SPAM, then fry it lightly or to a crisp. We like it to a crisp. Also julienne the carrots and cucumber. Cut those sheets of nori in half. On each half, spread (as well as you can) 1 tablespoon of cooked rice, then place those strips of SPAM, carrots, and cucumber on top. Add a clump of alfalfa sprouts and a dollop of the sauce. Sprinkle with sesame seeds. Then roll it in a cone-like shape, so it looks like a hand-rolled sushi roll, or at least as close to one as possible. It doesn't matter if it's perfect, which is what makes it great to make with kids.
Donna's SPAM Fried Rice
Donna's note:
This is the amount I make for my family—two older kids, one toddler, one husband, and me.
Kids can beat the eggs and help with stirring and garnishing in the recipe's final steps.
What You Need:
1 can SPAM, diced 2 tablespoons olive oil 2 eggs, beaten 5 cups cooked white or brown rice 1 bunch green onions, diced 3–4 cloves garlic, minced 1 teaspoon garlic salt 1/2 teaspoon black pepper
What You Do:
Heat 1 tablespoon of the olive oil in a large skillet or wok. A wok is just more fun if you have it. Sauté the SPAM on medium-high heat until golden brown, about 10 minutes. Longer if you like it crispier, like most of us do. Scoop it out of the pan with a slotted spoon and drain it on a paper-towel lined plate. Cook the beaten eggs in the same pan for 2–3 minutes, then set aside. Heat the remaining 1 tablespoon of olive oil, in the same pan you've been using all along if you want, or you can use a fresh, clean one. Add the green onions and garlic. Sauté for 1–2 minutes, stirring constantly to prevent the garlic from burning, because burnt garlic sucks. Add the cooked rice, breaking down any clumps with the back of the wooden spoon. Heat until warm. (At this point, if you're cooking with kids, you can transfer the rice into a large bowl, and continue with the rest of the recipe.) While stirring, sprinkle with the garlic salt and pepper. Add the SPAM and stir. Add the egg, breaking the patty into smaller pieces with a wooden spoon. Before serving, garnish with chopped green-onion tops.
Or Go Here:
Don't feel like turning the key to open up that can? Check out these spots where you can get a taste of SPAM:
Aloha Cafe
(Lincoln Park, 2534 N. Clark St.): This Hawaiian eatery serves SPAM in no fewer than six of its dishes, including a SPAM Loco Moco and the classic Hawaiian treat, SPAM musubi, a block of teriyaki-seasoned rice and SPAM wrapped in a strip of nori.
Uncle Mike's Place
 (Ukranian Village, 1700 W. Grand Ave.): For the traditional Filipino breakfast that my BFFs and I enjoy, the cooks fry up sliced SPAM and serve it with eggs and garlic fried rice. SPAM can also be sliced for breakfast sandwiches or omelets.
Yeowoosai
(Rogers Park, 6248 N. California Ave.): This Korean karaoke lounge serves up morsels of SPAM in the garlic fried rice dish bokkeumbap.
Photo: © Aimee Algas Alker, Groupon
BY: Aimee Algas Alker
Guide Staff Writer
Though Aimee stays up to date on the latest food trends for the Guide, most of her meals are served cold and cut into tiny, toddler-sized bites.