I Have a Wedding in Vegas and Nothing to Wear. Trunk Club, Help.
BY: Scott Hirsch |
Jun 13, 2014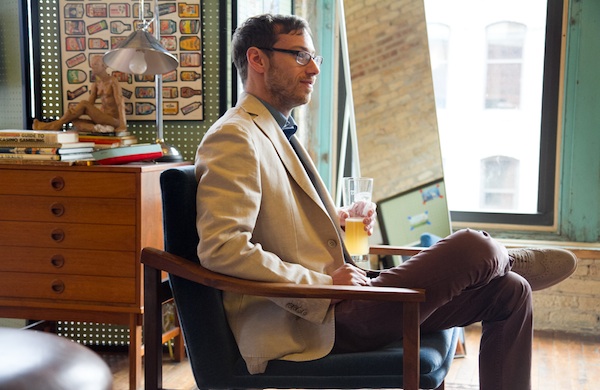 The male-focused clothier Trunk Club makes a killer pitch: grab a complimentary microbrew or cocktail from the bar, follow your personal stylist to a furnished styling room, tell her where you work, where you play, and what your style is, and let her bring the designer fashions to you. They bill it as a "personalized high-end shopping service." I'd settle for "brilliant."
I show up for Trunk Club's specialized problem/solution consultation with my problem ready. I have a wedding coming up, and I need a new suit, something fresh and hip (though while I'm here, I figure I may as well upgrade the rest of my wardrobe too). That's part one of the problem. Part two? I'm colorblind—a get-out-of-jail-free card I've often played to justify prior fashion faux pas.

But today, colorblindness isn't an excuse; it's a catalyst. It's one of the reasons I'm sitting with Tara Jones, my personal stylist for the day. Tara is all smiles as we kick back on a plush velvet couch inside Trunk Club's 45,000-square-foot loft in Chicago's River North neighborhood. We have a casual chat over beers; she asks about my lifestyle, my work culture, and how I want to look.
So I tell her everything. Tara listens, smiles, and nods. It's clear she's heard it all before. "A lot of my clients are busy professionals who don't have time to scour the racks," she says. "Others appreciate the input from a professional. And a lot of them come for the experience."
Check, check, and check. Part boutique, part style clinic, part upscale man cave (think exposed-brick walls, a 40-foot bar, and a 5,000-square-foot rooftop deck), Trunk Club is worlds away from the department stores and retail shops I usually frequent. I take another sip of beer and we get to work.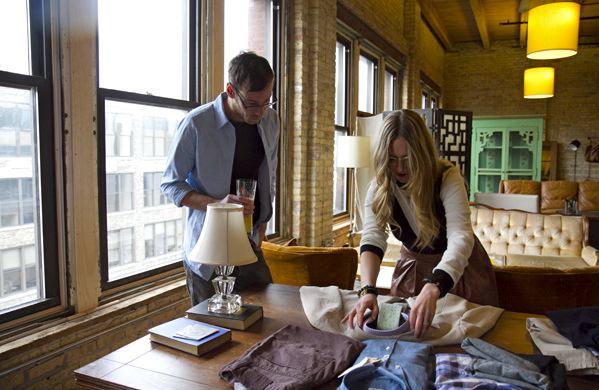 Our first project is the suit. Since the wedding is in Vegas, Tara picks out an Italian-made linen number by L.B.M. 1911, a lightweight selection that will keep me cool and comfortable in the desert heat. She also brings out some work clothes that can be mixed and matched with the suit. "Since guys pay a lot for suits, I figured we could make this versatile, so you can integrate the jacket, or the slacks, into your casual wardrobes. That way, the suit can be multi-purpose, and you can get the most use out of it."
My enthusiasm wavers a bit when Tara points out the pink accents in the tie, and she sees the doubt in my expression. "Let's just give it a shot and see how it looks," she says. "Our goal is to slowly ease you out of your comfort zone." She's reassuring, and she's equally adept at introducing me to new styles and making sure I'm comfortable letting go of my old ones. "I think this will be a great look for you!"
OK, I'm convinced. Let's do this.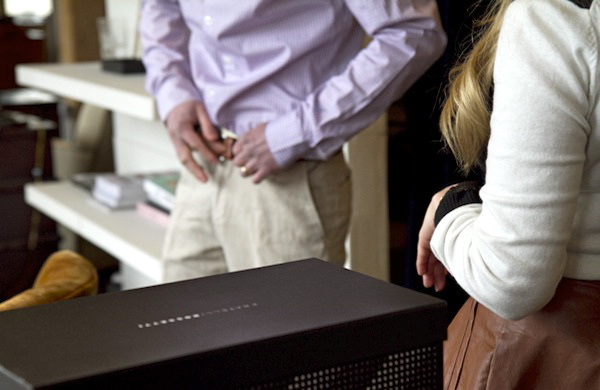 I duck into the dressing room, slip into the linen pants, and don a light-blue gingham shirt. "How should I do the tuck?" I ask her, letting the shirt poof out a bit at the waist, as is my habit. "All the way in," she says. "Streamlined."
The pants run a bit big, so she runs into the back and fetches a smaller size. "Much better," she says when I try them on. "Slim-fit pants work best for you, since you're skinny."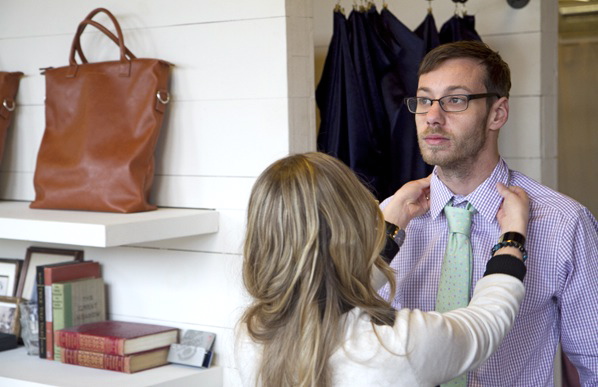 Next, I put on the silk, floral-patterned Eton tie. Tara helps me with the jacket and immediately begins fussing with the sleeves, collar, and slacks. "You want the jacket sleeves to end at your wrist, so that the shirt sleeves show a little bit." Trunk Club has in-house tailors to tend to such particulars.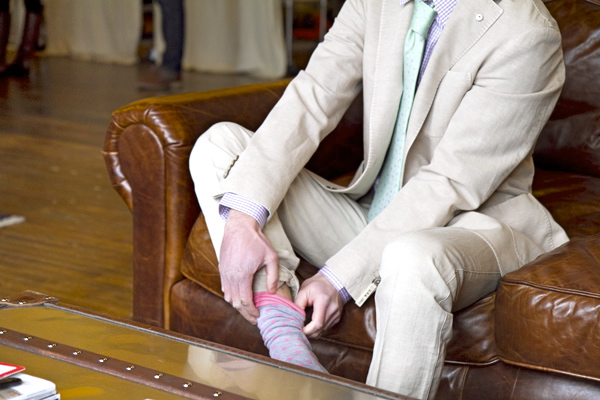 Then she hands me John Varvatos dress shoes and a pair of socks with pink flourishes—you know, to match the tie. Tara fusses around some more and steps back to evaluate, and we both study my reflection in the large wood-bordered mirror. "I think it looks great!" she says. "It complements your skin tone, it fits your body, it brings out your best features. Very dapper!"
I raise my beer to hide my blushing.
We move on to the work clothes. "Keep the pants on, and try this," she says, handing me a plaid shirt by Culturata and a blue V-neck Theory sweater. Then she sets down a pair of Fratelli Rossetti shoes. "This is a great business-casual outfit, a little conservative yet fashionable and comfortable. You can wear this to happy hour or to an after-hours work event."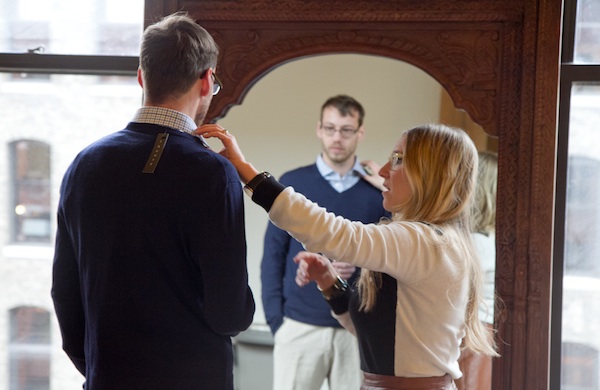 I try it on and look in the mirror. "I never would have picked this out for myself," I say, "but it looks great."
"And how does it feel?" Tara asks me.
Looking good is top priority here, but feeling comfortable is a close second. And I feel great. The pants are light and breezy, the shirt is soft and snug, and the cashmere-blend sweater feels like a warm embrace. We move on to a casual "guys' night out" outfit—a pair of 5-pocket twill pants by J Brand and a light-blue chambray Gant button-down.
I put the pants on and tuck the shirt all the way in. Streamlined. I'm getting the hang of this.
Photo: Michelle Klosinski, Groupon
BY: Scott Hirsch
Scott Hirsch is a published poet, an amateur boxer, and a devout reader and writer of fiction. He dedicates his accomplishments to the memory of his mother and attributes his many failures to colorblindness.