I Watched My Friend Get Fabulous Fusion Hair Extensions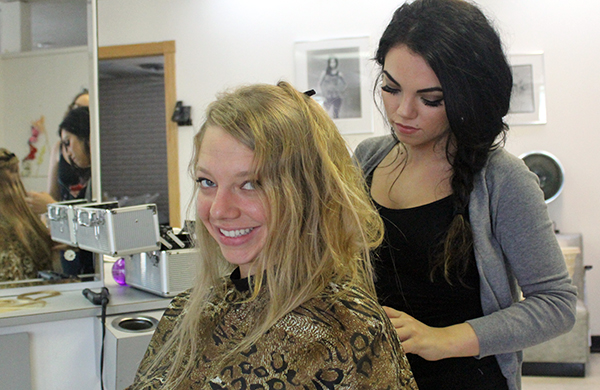 My friend and coworker Katie has become my most trusted partner in crime for blog projects. Or partner in beauty, I guess. For past posts, she's volunteered her eyebrows for a
makeover
,
tried aerial yoga
, and even given up her cell phone for a
full five days
. For this post, she undertook her most intense mission yet: fusion hair extensions. My hair is a bit too curly and long for me to be adding anything to it. Katie, on the other hand, said that she was tired of her hair feeling thin and limp. So, I went with her to
Franz Salon of Hairdressing
, where we met stylist and makeup artist
Amra Boloban
.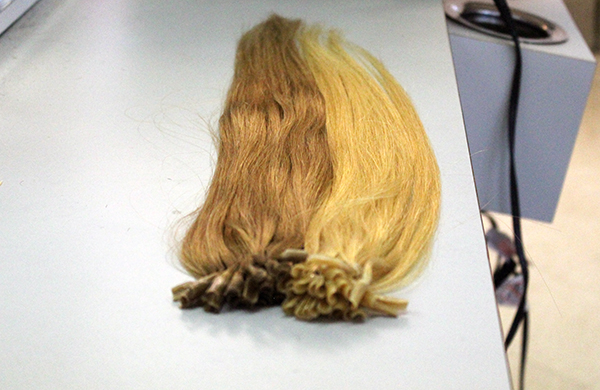 The Game Plan (and a Quick Glossary)
At an earlier consultation, Katie and Amra had decided to do a half-head of 18-inch extensions that would give Katie's blonde hair some highlights, lowlights, and volume. (A full head of extensions would have added length, too, but Katie didn't want anything too heavy for summer.) Before Amra got started, she explained what type of extensions she would be using: hot fusion ones from Glamour, a.k.a., lengths of Remy-grade human hair with keratin tips. I didn't really get what that meant, so she broke it down even further for me, and I made a quick glossary for you guys.
Remy-grade: This means that the extensions' hairs are all oriented in the same direction, from root to tip, so that their cuticle layers won't snag on each other.
Human hair: This is what all extensions that aren't clip-ins should be, so they don't melt when you heat style them. They're not just regular ol' hair clippings, though—they're treated first, so that they're super soft and never get split ends.
Keratin tips: Each section of extensions has a trough-shaped keratin tip, and when it's heated with Amra's special clamp, it bonds the extensions to real hair. Like glue, but subtler.
The bottom line is, these look real. Amra assured me that once the extensions were in place, no one would be able to tell Katie hadn't grown them herself.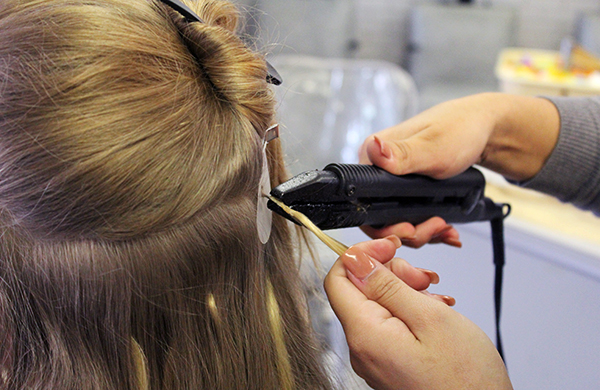 The Process, Which Took Almost Three Hours
To start, Amra pinned the top layer of Katie's hair up, and gathered some strands from the bottom layer. Next, she fitted an extension tip under and around the tiny section of hair, about an inch and a half away from the scalp. The distance is key—too close to the scalp, and the bond will stick straight out and be noticeable. When heated and clamped, the keratin melted and bonded to Katie's hair. Voila! Amra just had to do that … 70 more times. Luckily, she has the patience of a saint. Once, she spent five hours straight adding 22-inch extensions to a short bob! As she worked, Amra alternated between the two colors of extensions, and switched between sections of Katie's head. She explained that with her strategic placement, the bonds won't be visible, even if Katie puts her hair up into a ponytail.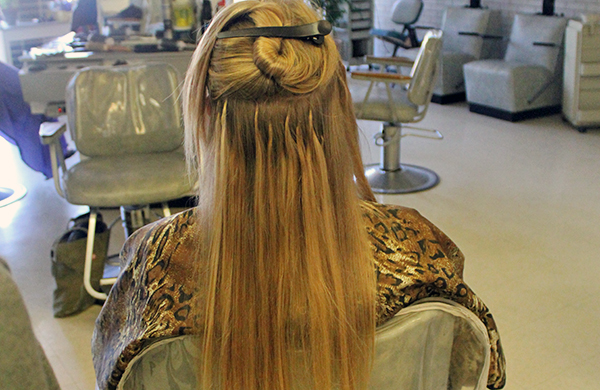 The Final Product and the (Chill) Aftercare Plan
When Amra was done, I was floored—Katie had lustrous, celeb-quality hair. Check out these before and after pictures: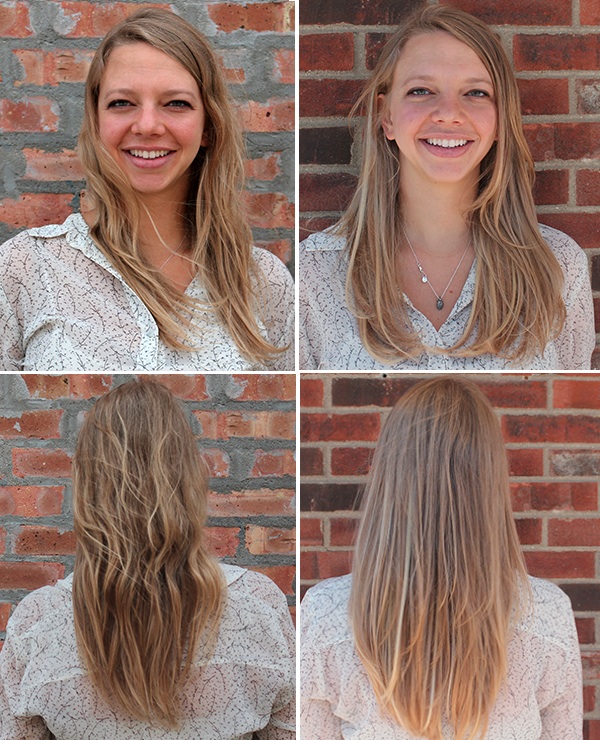 Before Katie left, Amra shared some pretty minor aftercare suggestions. Katie can only condition the very ends of her hair, or she'll loosen the extension bonds. To keep the extensions from tangling, she's supposed to sleep in a loose braid, and finger comb them when she showers. Amra's final piece of advice? Katie should make a removal appointment
as soon
as the extensions loosen or the bonds become visible. Fusion extensions can last up to six months, but they aren't forever.
Photo: Mel Kassel, Groupon