GROUPON GUIDE TO WASHINGTON-DC
Next Time You Want to Work Out in a Hammock, Try Aerial Fitness
BY: Favin the Maven |
Sep 10, 2015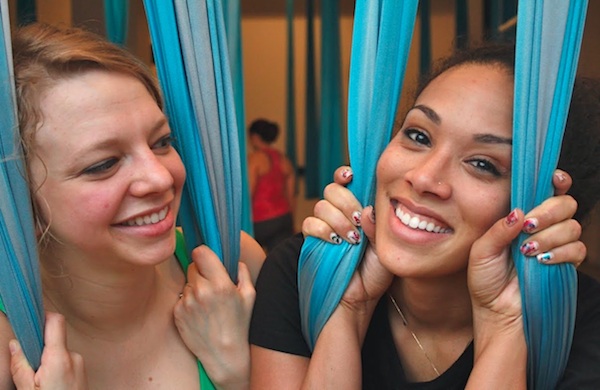 When I went to Lincoln Park's Air Aerial Fitness (2217 N. Clybourn Ave.), operations director Cat Aldana assuaged my biggest worry right out of the gate: the studio's turquoise hammocks, she said, would definitely hold my weight. I weigh less than 1,000 pounds—not to brag or anything—and that's what the hammocks are designed to hold. They can handle dynamic weight, too, which means that even when you're swinging (or flailing), the fabric will support you.
I did plenty of swinging and flailing in my first class, a 50-minute Air Fundamentals session that I took with my friend Katie. It's an introduction to the studio's aerial workouts, which are a mix of pretty much every way of sweating I've heard of: cardio, yoga, Pilates, strength training, and barre moves.
And then, of course, there are the hammocks. "I think [a hammock] makes movements that are normally just okay even cooler, because you're just finessed by this fabric," Cat said. It can also provide support during tough moves.
That doesn't mean these workouts are easy—I definitely did some accidental grunting. But it was also really fun, mostly for the following five reasons:
1. You get to try new twists on old moves.
If you've ever gotten bored doing (or even thinking about doing) crunches, you should try this class. At Air, you do your crunches upside down in a hammock. It really stretches out your back, and makes you feel like an adorable koala.
Same deal with lunges. We did them while holding onto our hammocks for support, which aren't exactly stable—they're loops of fabric hanging from the ceiling. The instability makes lunging extra intense and, at times, wiggly.
2. You're airborne but not in a daredevil way.
If you fall out of your hammock, you only fall about 2 feet. So you get the sensation of swinging and climbing, without the fear that if you mess up you'll be skydiving without a parachute. (Cat said that when people fall out of their hammocks, they usually fall really slowly, and it's more funny than scary.)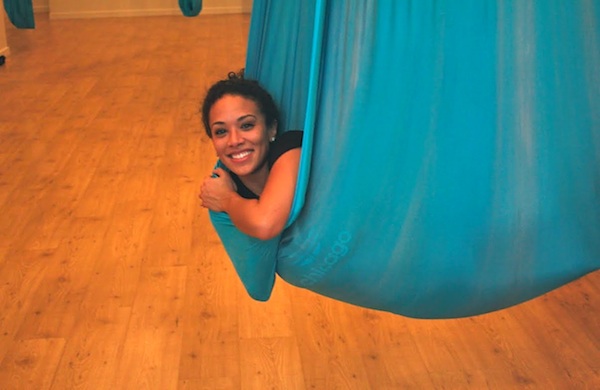 3. It's pretty comfy in and out of the hammock.
The hammock fabric is soft and supportive, but there are also workout mats Air must be getting from NASA. They're thick and squishy, like flattened stress balls, and they make plank positions a little easier on your wrists. They would also be great for taking a 50-minute nap while everyone around you works out, but I wasn't even tempted—class is set to a pump-up soundtrack. Expect Beyoncé jams.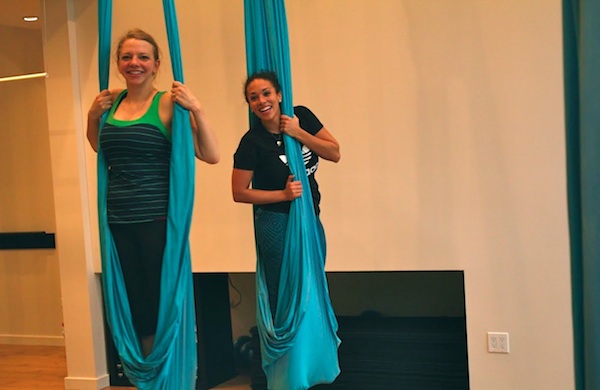 4. Some things that look hard aren't.
Pretty much anytime you're standing in your hammock, you look like a superhero. But some moves require no superpowers, like this one where you press against the inside of the hammock with one hand, then extend your arm by leaning into the hammock's other side. I almost fell asleep (leaning sideways in a hammock is comfy!), but I looked like an Olympian.
5. Some things are too hard, and you can skip them.
There was one move we tried that I would describe as "a pull-up headstand." I would also describe it as "not possible," even with the hammock there for support. I did a lot of hopeful jumping, but I never pulled it off—and that was fine! Everyone in the class was totally supportive. I think it takes people a little while to master the workout.
Photos by Mae Rice, Groupon