I Went Raw Vegan, Dropped 5 Pounds, and Dreamed About Cheeseburgers
BY: Rachel Matuch |
Feb 20, 2014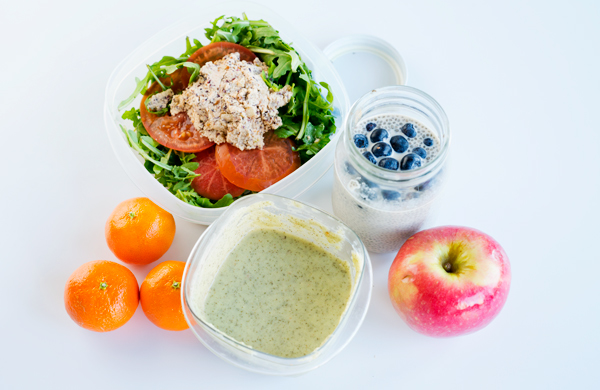 New diet fads are everywhere at the dawn of each new year. Is the raw vegan diet just another fad? Or is there more to it? Our writer sought to find out by adopting the raw vegan diet for five days. She learned some recipes and tips from a raw vegan cooking class at Green Spirit—found on Groupon—and also gained the firsthand knowledge that comes only from eating buckets of vegetables.
The holidays came and went with their usual overload of Christmas cookies and dinners out with friends visiting town. In January, I buckled down and hit the gym. But all I wanted was warm comfort foods, washed down with hot chocolate, to brace myself against the polar vortex.
So when I see a raw vegan cooking class through Green Spirit offered on Groupon, an idea begins to sprout. Wouldn't eating raw vegan for a week kind of be like an edible juice cleanse? One where I might actually learn how to get more veggies into my normal diet?
I sign up for the class and give myself a challenge: stick to a raw vegan diet for five days. Five days—not so bad, right?
When I tell my husband what I'm going to do, he's silent. I think he's going to raise some nutritional objection, but instead, he finally asks, "Did you know Oreo filling is vegan?"
"I'm going raw vegan, not just regular vegan. I can't eat anything cooked."
"How is Oreo filling cooked?"
"It's ... you know ... processed … with things?"
Realizing I don't know much more about raw food than he does, I do some research. There's a lot of back-and-forth between raw foodists, who believe that cooking food destroys natural nutrients, and others who argue cooking "unlocks" other nutrients (such as lycopene in tomatoes).
But since everyone can agree that fresh fruits and vegetables are an important part of a balanced breakfast (and lunch and dinner), I'm sure I'll be fine for five days.
I feel less confident as I start to research "detox symptoms" of going raw. In a video, chipper raw-foods advocate Fully Raw Kristina assures me I can "easily overcome" the effects of going raw. But then she lists some possible effects, which can apparently include flu-like symptoms and having your hair fall out. Wonderful. I give myself permission to put the kibosh on this whole thing if I start balding.
At night, I dream that I'm about to eat a delicious, rare cheeseburger, but people keep showing up at the restaurant and I have to keep greeting them so I can't dig in.
It's like my subconscious hates me.
Day 1: Learning to "Cook"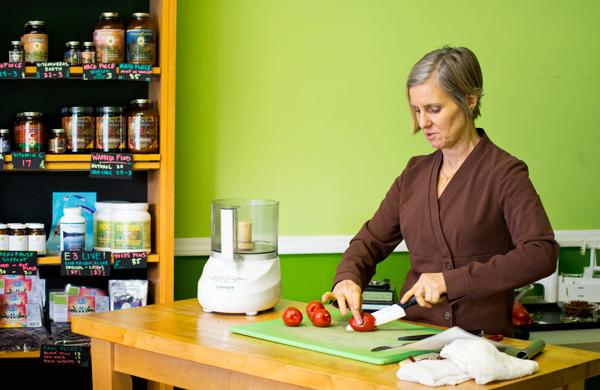 When I get to Green Spirit (7551 N. Ridge Blvd.) for the class, I'm nervous. Will everyone be hard-core vegan? Will they somehow sense that I had Pizza Hut for dinner last night? But the instructor, Green Spirit owner Linda Szarkowski, sets me at ease.
She tells us that she grew up in a meat-and-potatoes North Dakota family and never tried spinach until college. Growing up, "most of our vegetables came from a can," she says. Now, she eats raw foods about 85% of the time—making some exceptions for exploring Chicago's restaurant scene.
"I'm not militant about it," she says. And she doesn't expect us to be, either—but who couldn't stand to eat more fresh vegetables?
I relax. And then I eat. Linda whips up dish after dish in rapid succession—almond milk, a creamy zucchini soup, kale salad, "not tuna" salad, zucchini-noodles marinara, even chocolate mousse. Her weapons? A kitchen knife and a blender.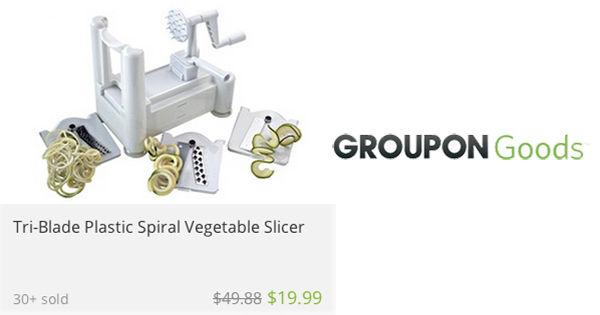 Honestly, I expect to hate everything, especially when she claims that her raw marinara sauce will taste like it's "been cooking all day," thanks to the addition of sun-dried tomatoes.
But it's actually all really good. I still don't love kale—it reminds me of the time my big brother dared me to eat a leaf—but even that gets tastier as I munch on. I really love the soup and, of course, the chocolate mousse (secret ingredient: avocado).
I'm not so sure my own attempts in my own kitchen will go quite so well. At least I can't burn anything?
When I get home, I'm inspired. I get to work making my own almond milk, salad dressing, and chia-seed pudding (yes, as in, ch-ch-ch-chia!).
Day 2: Revenge of the Green Smoothie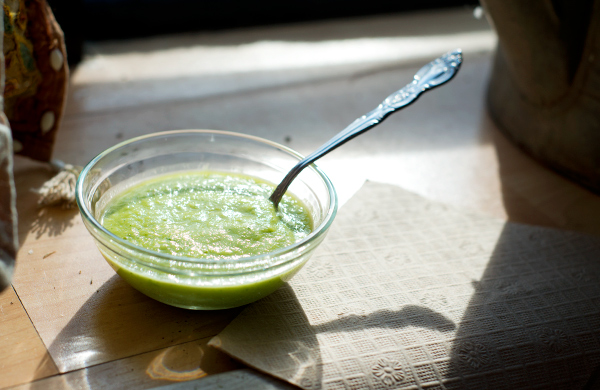 I blend up a green smoothie for breakfast: spinach, pineapple, and almond milk. It's jarringly vibrant but good, and I drink the whole thing while I'm waiting for my train. Mistake. I've basically consumed a spinach salad and tub of chopped pineapple in two minutes. Whoops. My stomach protests.
For lunch: a salad, fresh fruit, baby carrots, nuts. I miss croutons and cheese, but the sesame-garlic dressing is delicious.
As the day wears on, everything begins to break down. My head hurts. I have little to no idea if I've eaten enough or too much.
Am I hungry? Am I full? I have no idea.
For dinner, I recreate the creamy zucchini soup from class. My crazy-nice husband has agreed to eat raw vegan dinners this week in solidarity with me. He politely eats with me and then thinks I don't notice when he sneaks back into the kitchen to ravenously eat deli turkey straight from the package.
Traitor.
Day 3: Forget You, Girl Scouts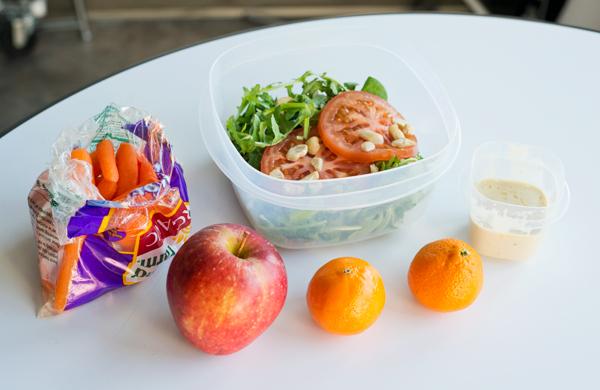 I feel pretty good in the morning as I blend up a smoothie and put lunch together. That's right, who's eating healthy? THIS GIRL.
At work, Girls Scouts are selling cookies in the lobby. I steel my reserve and walk past, but then a coworker brings Thin Mints to share in a meeting. I resist temptation and hunt for my salad in the cafeteria, only to see folks from Taco Joint (Lincoln Park and River North locations) selling their delicious, non-raw, non-vegan wares.
Today is out to get me.
Which is a shame because I actually feel just fine. I'm not starving, I'm not going through weird detox symptoms (yay hair!), and I haven't even been too tempted to cheat. I start to think I could keep this up, most of the time at least—if I didn't live in a world with Thin Mints. My lunch also includes vanilla chia-seed pudding with fresh blueberries, and it really hits the spot.
Dinner is even better. I live right by Borrowed Earth Café (970 Warren Ave.) in Downers Grove, and when you live a block away from a Michelin-recommended raw vegan restaurant and you're eating raw vegan—well, clearly we had no option but to go.
My burrito, sandwiched in dehydrated flatbread, is the best thing I've eaten all week. Heck, all month. The creamy avocado, Mexican spices, and cashew "sour cream" are incredible. And for dessert, there's (cashew) cheesecake with strawberry topping.
Day 4: Home Alone with Fake Tuna
It's fortunate I'm working from home today because vegetable-induced gastrointestinal distress has set in. I'm not in the mood to eat vegetables in between bathroom visits, but I do. Blergh.
My saving grace is Lemon Tree Grocer (935 W. Burlington Ave.) down the street, which stocks goodies from Chicago's Karyn's Raw Cafe (1901 N. Halsted Ave.). After some tasty fake tuna, I'm feeling better.
Tonight, a friend from California is in Chicago and obviously wants deep-dish pizza. I can't deny her this chance, so I decide to eat before I go (guacamole wrapped in lettuce).
Everyone feels bad for me, but when I insist that really, I'm glad my willpower is being tested, the tables turn. "Convince her she needs to eat pizza," my friend demands of our server.

Sensing I've brought this upon myself (and that I'm not allergic to pizza), the server shakes his head.
"If this can't convince her," he says, sumptuously breaking the strings of melting cheese with the pizza-server, "then I sure can't."
For good measure, he places the whole pizza riiiight in front of me—"Since I don't need a plate, after all," as one of my friends remarks, nudging it closer. My mouth is watering. I'm really tempted to lean forward 6 inches and nibble the buttery, flaky crust.
But I don't.
Day 5: The Final Lap
I wake up late, with barely enough time to whir my morning meal through the blender and throw my lunch into a bag. I realize I have exactly no clean pants and panic.
Then an idea occurs to me. There's a pair of jeans buried in a drawer, banished for their crime: being way too tight. I'd stuffed them out of sight because, on days like today, I'd unsuccessfully try them on and end up depressed and/or full of rage.
But today is different. They are a bit snug—but they zip.
Now, I'm ready to blast through my last day, loving raw foods and how they've allowed me to fit into my fat-shaming jeans. Maybe I'll do this forever. I love life. I love vegetables.
That is, until lunch. This is the only thing I've eaten this week that has truly been bad.
It's my own fault—I decided to make Linda's marinara sauce even though I was missing essential ingredients, including those sun-dried tomatoes. Basically I blended raw tomatoes with herbs, and the "sauce" separates into globs of pureed tomatoes and puddles of water. Linda had used a tool called a "spiralizer" to create beautiful curls of zucchini noodles. My own vegetable-peeler "linguine" is not so convincing.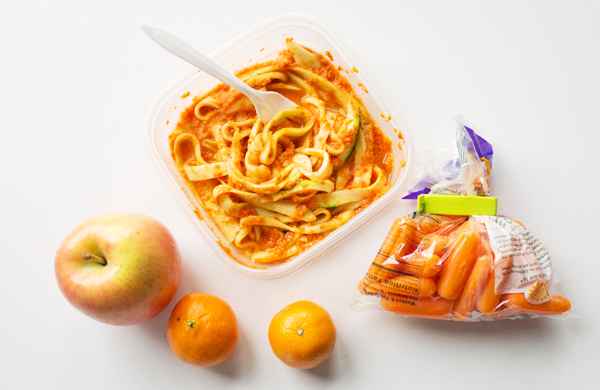 Nailed it.
Discouragingly, my coworkers don't feel bad for me. At all. The writer who sits next to me starts eating Tagalongs and facetiously offering them to me. "Want one? OH, sorry, totally forgot."
I pretend I'm really into my raw cashews. "Want one? TOO BAD THEY'RE ALL MINE YOU CAN'T HAVE EVEN ONE." He just laughs at me and I check the clock. Eight more hours ...
With so little time left, I start getting lazy and just eat some bananas and mandarin oranges for dinner. I wonder whether I could get away with just wearing a Carmen Miranda–style fruit hat and eating from it throughout the day. Fewer dishes, right?
Aftermath
I have to admit that I honestly expected this to be horrible.
It wasn't!
I didn't feel sparkly and amazing, but I didn't feel all that bad either. I also dropped 5 of the holiday pounds I'd packed on, which was pretty surprising for just five days. Thanks, vegetables!
I'll definitely make some of these recipes again, and even though a 100% raw-food diet is not for me, I'll definitely integrate more raw foods into my life. In fact, this morning, I made myself a green smoothie.
For lunch—well, I had that cheeseburger I'd been dreaming of.
Photo credit: Timothy Burkhart, Groupon
Check Groupon for deals on vegetarian restaurants, or go vegan at home with our help: