GROUPON GUIDE TO WASHINGTON-DC
The Sexy Vegan on the Sexiest Foods Around
BY: Katie Cortese |
Aug 6, 2014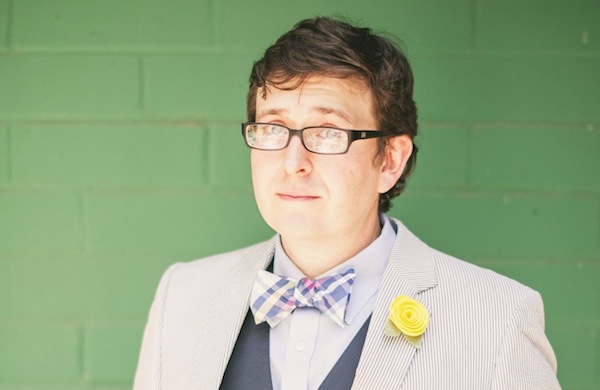 Brian L. Patton is a self-described "pasty, schlubby, goofball type dude." He is also the Sexy Vegan. A sexy goofball? That's right.
Patton came up with the moniker hoping that the word "sex" would drive more traffic to the cooking videos he first posted years ago on YouTube. It worked. After years of his popular tutorials, Patton was contacted by a publisher, and he penned two cookbooks: The Sexy Vegan Cookbook: Extraordinary Food from an Ordinary Dude and The Sexy Vegan's Happy Hour at Home.
Shortly after making those videos, the meaningless "Sexy Vegan" title started to take on some meaning. And it wasn't the fact that eliminating animal products from his diet helped Patton lose 60 pounds.
"I experienced more physical energy and fitness, but I also found my thoughts to be clearer, and I was more confident in my ideas and actions," Patton said of his total transformation. "A fit, energetic, compassionate guy who is confident in what he says and does? I think that is the definition of 'sexy.' … I'll be doing my headshot for Merriam-Webster next week."
The busy Patton splits his time among multiple meat-free pursuits. Besides his blog The Sexy Vegan, he also runs a podcast, Sexy Vegan Radio, and works as the executive chef of the LA vegan delivery service Vegin' Out. Recently, he put down the frying pan for a bit to talk with us about a topic near and dear to his heart: how to woo a date through their stomach using the sexiest vegan foods out there.
He answered our questions gamely, but not without a small caveat. "While I plan to completely (or at least partially) avoid going with the obvious dirty, double-entendre answers, a few of these are going to be really tough," he said. "Remember, you asked me the 'sexy' questions. I shall do my best."
SEXIEST VEGETABLE TO COOK WITH:
"Leeks. They have a fresh, clean aroma when they hit the pan. Then they get almost buttery when they're cooked down, and they are mild and delicate in flavor."
SEXIEST FRUIT TO EAT ON A BRUNCH DATE:
"Gotta go with strawberries topped with some whipped coconut cream."
SEXIEST SPICE OR HERB:
"Saffron. It's unique, complicated, exotic, and expensive. Need I say more?"
SEXIEST RECIPE FROM HIS OWN BLOG:
"The Ultimate Chicken-Fried Seitan and Gravy. It's sex in a pan. Just look at it" (or the finished product, below).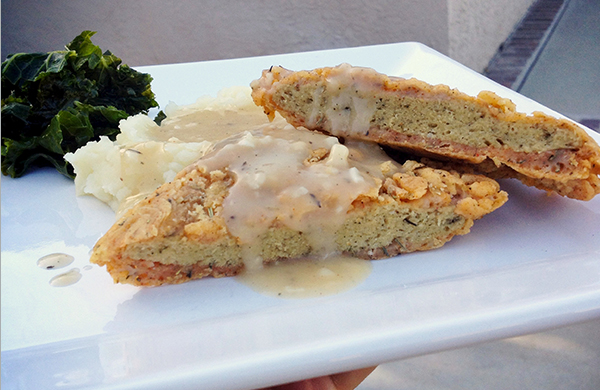 SEXIEST EATING UTENSIL:
"I enjoy edible utensils. Tortillas, naan, chapati, socca, injera … there's something … sexy about eating food using other food. Plus, that's less cleaning time and more sexy time."
SEXIEST COOKING METHOD:
"Braising. Because it's hot, wet, and steamy. OK, and it infuses great flavor into whatever you're braising."
SEXIEST PLACE FOR A DINNER DATE:
"Your own kitchen, because your date gets to watch all the hot action. Plus your bed is, like, right there."
SEXIEST DESSERT:
"This is an easy one. Anything chocolate. Because chocolate."
SEXIEST PICNIC:
"Picnics are great for finger foods. Breads, spreads, olives, dips, grapes, berries—anything you could potentially feed to each other is a winner. For blanket-pattern suggestions, you are asking a guy who believes flip-flops are appropriate at all times and for all events, so I'm not going to be any help here. I just make sure whatever blanket I'm using has wicking properties because I am gonna spill some wine—I can guarantee you that.
As far as location goes: I'm not that big a fan of the beach because sand is my mortal enemy—it gets into places that I didn't even know were places, as well as in my food and wine. Anywhere shaded is good, you don't want to be squinting into each other's eyes.
Heck, if you've got a backyard with some grass, that'll do. … Plus your bed is, like, right there."
Food photo by Brian L. Patton; headshot by Paul Von Rieter.
Hungry for more? Check Groupon for deals on vegan and vegetarian restaurants in your city, or take a look at these other animal-free stories.