The Vegan Chef Changing the Weird, Sexist Notion That Men Cannot Enjoy a Salad
BY: Katie Cortese |
Jun 11, 2014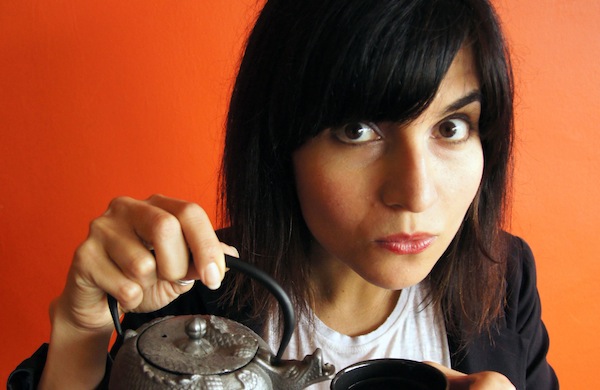 When Terry Hope Romero became a vegetarian at age 16, her father, Nerio, wasn't too happy about it. He had raised his daughter on traditional Venezuelan dishes, including meat-stuffed arepas, and all that was about to change. It took some time for her father to warm up to her new eating habits, but that doesn't stop Romero from naming him as her biggest inspiration for becoming a chef—and a vegan chef at that.
"My dad has always been an enthusiastic baker and into experimenting," Romero said. "He doesn't just follow a recipe—he makes it how he wants to." Nerio passed his passion for building new dishes along to his daughter, who just released her seventh cookbook, Salad Samurai, this month.
"I have already done baking and international dishes," Romero said of her book. "This time around I wanted to make it very simple."
Romero's fascination with making a whole meal out of salad led her to include ingredients beyond the usual lettuce and tomatoes. She crafts recipes that mimic buffalo chicken and pepperoni and all the ingredients in a reuben sandwich. She was so enthusiastic for the project that she also took up the challenge of creating 100 recipes in a year—a short period for a chef who also works full time.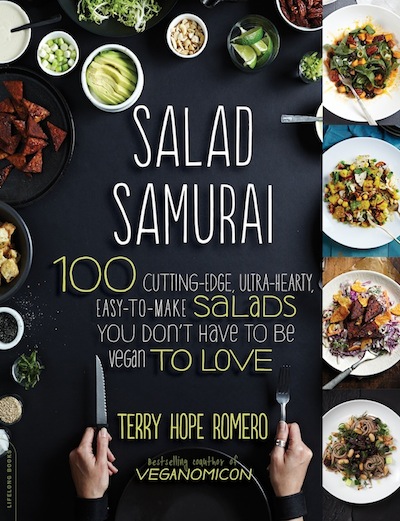 In fact, some of the recipes in Salad Samurai were crafted with her father in mind. "He is very much an adventurous eater and loves to barbecue," Romero said. She even veganized the classic sports-bar salad that's made with a wedge of lettuce, some bacon bits, and horseradish sauce. Her version, with bacon-flavored seitan, can be cut with a steak knife.
"A lot of men in my life have eaten my salads and love them, and they are not vegan," she said. "It's really about changing your attitude about salad, that weird sexist thing that men cannot enjoy a salad. They can."
As for the first man in Romero's life, Nerio's love of food has even grown to embrace his daughter's cooking. "He makes very traditional Venezuelan food, and I veganized a recipe for arepas," Romero said. "He now makes vegan arepas following my recipe whenever I visit!"
Just in time for Father's Day, Romero shared a recipe that is both healthy and hearty enough for your dad to forget about the grill for a day. Romero created the Backyard Buffalo Ranch Caesar Salad because she "wanted to put this hearty barbecue thing on top of crispy greens." The result is a pleasing combination of flavors and textures that definitely feels like a full meal.
Shop for local deals on vegetarian restaurants in your city.
---
Backyard Buffalo Ranch Caesar Salad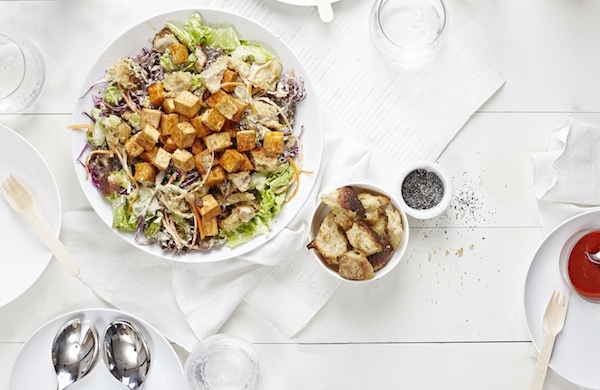 Serves: 2 to 3
Time: 30 minutes
You don't need a backyard to enjoy every juicy bite of summertime slaw meets caesar salad, topped with chewy tofu drenched in a buffalo-style hot sauce. A bold, bountiful salad that tastes even better kicking back with friends and a cold beer any late summer afternoon.
1 recipe Back at the Ranch Dressing (see below)
1 recipe Red-Hot Saucy Tofu (see below)
1 large head romaine lettuce
2 cups thinly shredded red cabbage
1/2 cup shredded carrots
1/2 cup thinly sliced celery (sliced on a diagonal)
2 cups Classic Croutons (see below)
1. Prepare the dressing first and chill it until ready to serve.
2. Prepare the tofu (I suggest pressing the tofu while the cashews soak for the dressing) and keep covered until ready to serve the salad.
3. Remove and discard the root end of the lettuce, then chop the leaves into bite-size chunks. Wash and dry the lettuce and transfer to a large mixing bowl. Add the cabbage, carrots, celery, and croutons. Add the dressing and use tongs to thoroughly coat with dressing. Arrange the salad in large serving bowls and top with the tofu.
Back at the Ranch Dressing
Makes: About 1 1/2 cups
Time: Less than 10 minutes, not including soaking the cashews
1/2 cup unroasted cashews
3/4 cup hot water
2 tablespoons freshly squeezed lemon juice
1 tablespoon olive oil
1 clove garlic, peeled
2 teaspoons white (shiro) miso
2 teaspoons dijon mustard
1 teaspoon garlic powder
1 teaspoon onion powder
3 tablespoons chopped fresh herbs, such as dill, basil, or tarragon
1. Soak the cashews in the hot water for 30 minutes. Then pour into a blender (including the soaking water) and blend until very smooth. Alternatively, if you have a high-powered blender (like a Vitamix or Blendtec), no soaking is required: just pulse the cashews into a fine powder, add the hot water, and pulse again until very smooth.
2. Add the remaining ingredients and pulse until smooth. Chill the dressing in a tightly covered container until ready to use, or at least 20 minutes for the flavors to blend. Store chilled and use within 2 days.
Red-Hot Saucy Tofu
Serves: 2 as a salad topping
Time: 30 minutes
1 pound extra-firm tofu or super-firm tofu (no pressing needed)*
1 tablespoon refined or virgin organic coconut oil
3 tablespoons sriracha or Frank's RedHot sauce
1 tablespoon freshly squeezed lemon juice
1 tablespoon agave nectar
1. If using extra-firm tofu, press the tofu first. Dice the tofu into 1/2-inch cubes. In a wok or cast-iron skillet, melt the coconut oil over medium heat. Add the tofu and sauté until golden on all sides, about 5 minutes.
2. In a mixing bowl, whisk together the hot sauce, lemon juice, and agave. Add the hot tofu cubes and toss them in the sauce. Serve hot or at room temperature.
* You can substitute tempeh by cutting 8 ounces of tempeh into 1/2-inch cubes. Sauté in the pan and coat as you would the tofu.
Classic Croutons
Makes: About 4 cups
Time: 45 minutes
4 cups cubed, day-old bread
3 tablespoon olive oil
2 tablespoons freshly squeezed lemon juice
3 cloves garlic, minced
1 tablespoon dried herb blend (Italian, French, or Cajun spice) or single dried herb of your choice
1/4 teaspoon salt
1. Preheat the oven to 350 degrees. Pour the bread cubes in a large mixing bowl. Whisk together the remaining ingredients in a separate bowl.
2. Drizzle a little bit of the dressing at a time over the bread cubes, stir well, drizzle more dressing, stir again, and repeat until the bread cubes are coating in dressing. Spread the cubes in a single layer on a large baking sheet (use two sheets if necessary), and bake for 25 to 30 minutes, stirring occasionally, until the bread cubes are completely dry and golden brown.
Chef photo by John Stavropoulos. Food photos by Vanessa K. Rees.
Shop for local deals on vegetarian restaurants in your city.
Read more interviews and tips from noteworthy vegans and vegetarians on the Guide.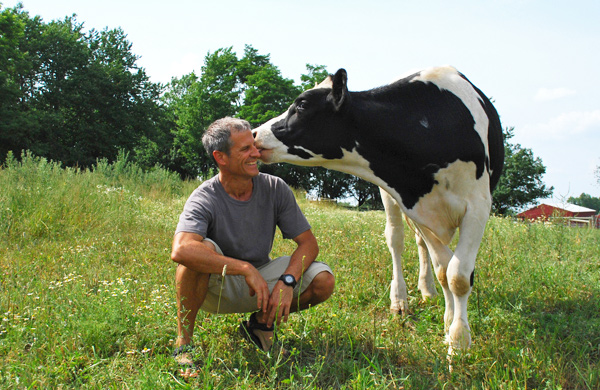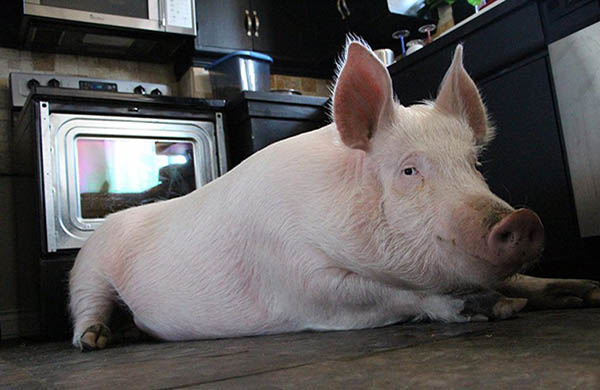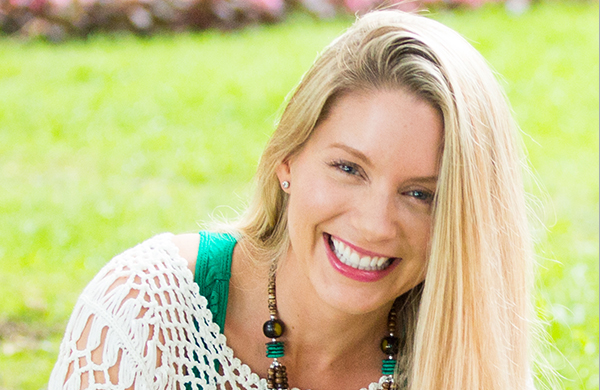 BY: Katie Cortese
Guide Staff Writer
Friend to animals and craft brews.
Vegetarian Restaurants Deals