In the Studio with DesignScout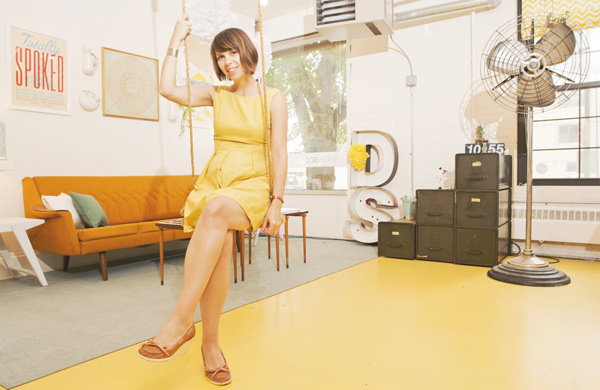 Whether or not you've heard of Scout Driscoll, you've probably encountered her work somewhere in Chicago. In addition to designing
Metropolis Coffee
's ubiquitous blue-and-green coffee cups, she and her boutique agency
DesignScout
have developed the logo for
Hoosier Mama Pie Company
(1618 W. Chicago Ave.), the enormous front awning at
Barn & Company
(950 W. Wrightwood Ave.), and the wrap around the
Southern Mac & Cheese
food truck. Driscoll even designed cover art for Kanye West before he signed to Roc-A-Fella Records. (She gets a shout-out in the video for "All Falls Down" when Stacey Dash boards a flight on Scout Airlines.) When it came to designing the studio for her team of four, Driscoll knew the space had to be "creative, open, and invigorating." This meant being situated at the heart of a creative community—enter Ravenswood's Deagan Factory (1770 W. Berteau Ave). "I really wanted to join a community of businesses à la
Sesame Street
... the butcher, the barber, the local designer," Driscoll says. Today the building houses artists and musical-instrument shops, and Driscoll's agency shares a floor with a saw-blade factory, a fashion designer, and a motion-graphics studio. A few other things Driscoll insisted on: no drop ceilings, fluorescent lights, or carpet. The open loft she found on the ground floor of Deagan Factory had none of these, so she deemed it satisfactory and set about making it her own. The project cost under $10,000 and took her one month to complete during the winter of 2011.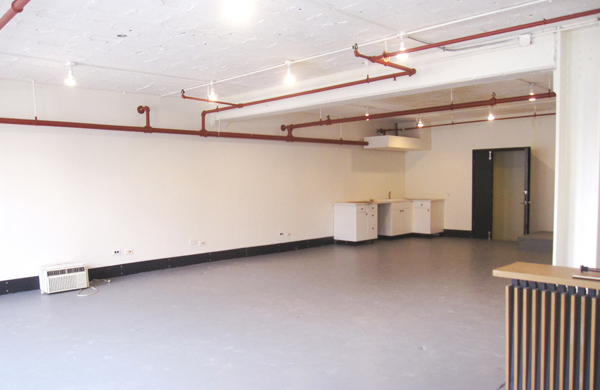 "I designed the studio at the very end of a terrible winter (remember Snowpocalypse?)" she recalls. "All I craved at that time was sunshine, so I designed a studio that felt like summertime all year round." To this end, she chose a palette of sunny yellow and bright turquoise. After whitewashing the walls and ceiling and painting the floor yellow, she moved in a carefully curated selection of midcentury-modern pieces, including a pumpkin-colored hide-a-bed.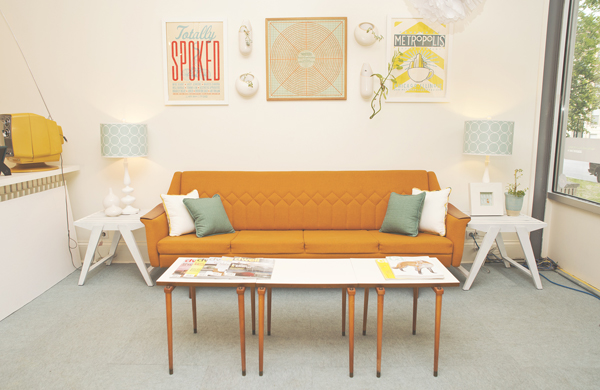 A double pallet from the neighboring saw-blade factory was upcycled into an 8-foot conference table, and Driscoll enlisted
Rebuilding Exchange
(1740 W. Webster Ave.) to build a cunning utility box from salvaged wood.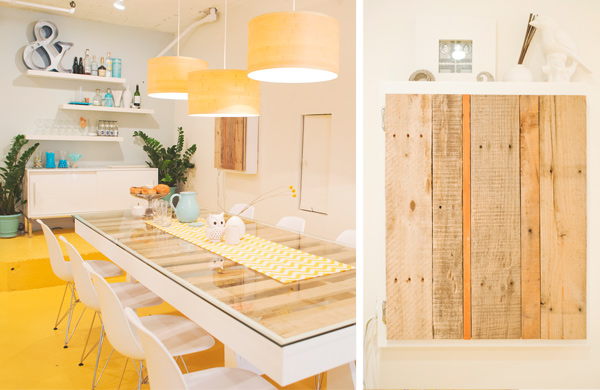 A 1940s refrigerator-turned-kegerator (in honor of new client
Ale Syndicate
), a collection of plants, and cherished artwork were the final touches. The resulting space is bright, open, and perfect for collaboration.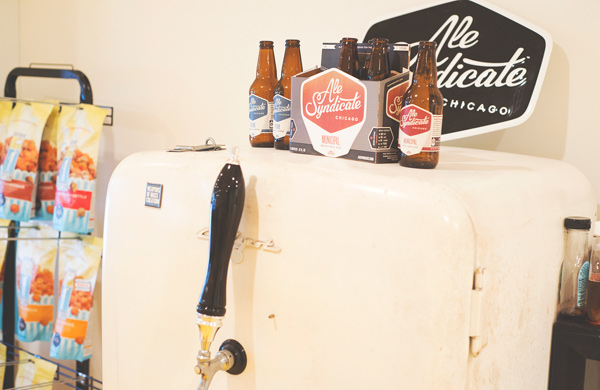 There are also touches of whimsy throughout the studio, chief among them the wooden swing Driscoll had mounted to the ceiling. "I take most of my calls on the swing," she says. "If a client listens closely, they'll hear it squeak or me hop off to dash back to the computer to review something." She jokes about one day leasing the space upstairs and installing a firefighter's pole. But even if you don't share Driscoll's playful sensibility, there's a good chance you can glean something from her experience designing her workspace. Read on for her tips.
Consider a Coworking Space 
Driscoll's first inclination is to advise against a home workspace. She prizes keeping work and home separate and recommends getting a membership at a coworking space like
NextSpace Coop
(230 W. Superior St.) or using the
Desktime
app to find desk space available to rent.
Get Organized 
For those who must work from home, Driscoll suggests focusing on organization first. "A well-planned-out space with ample storage can keep you sane," she says. In the DesignScout studio, she installed cubbies as a place to both keep files and display the team's work.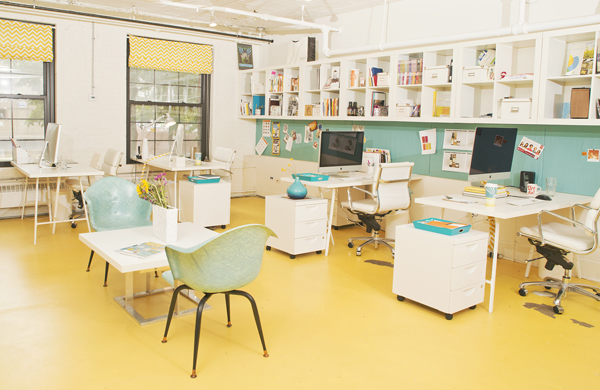 Don't Skimp on Greenery
Driscoll emphasizes the importance of natural light and plenty of greenery for inspiring creativity. She says ZZ plants, which she discovered at
Sprout Home
(745 N. Damen Ave.), require watering only once a month, making them the perfect office plant. She also keeps equally low-maintenance succulents—many from
Gethsemane Garden Center
(5739 N. Clark St.)—all around the office. One in particular dangles from the ceiling in an Ikea silverware caddy, an affordable alternative to a hanging terrarium.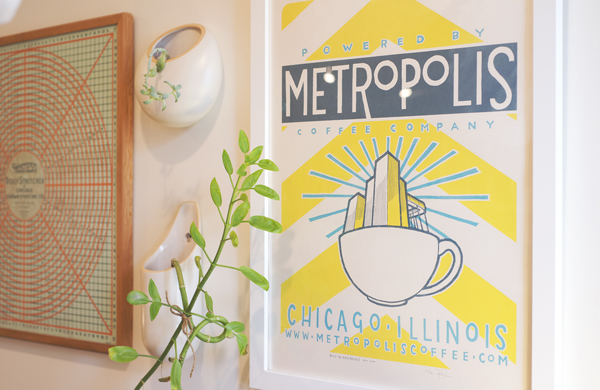 Pick Vintage Designs 
"Pepper your space with things you love and a few vintage pieces and you should be set," Driscoll says. She and her husband are currently converting his home office into a nursery and pushing the office out into the living room. The Mainline Hooker Desk they recently scored makes the transition easier: "Its unique design looks great in our living room and makes me happy every time I see it," Driscoll says. Where does she get such great pieces? Driscoll raves about local vendors
Manly Vintage
and
Circa Modern
(1114 N. Ashland Ave.). She's also a member of the Chicago Mid Century Modern & Retro Marketplace on Facebook, where members often share good leads.
Save Where You Can 
"For affordable 'inspired by' pieces, I head out to
Interior Express Outlet
[971 Supreme Dr., Bensenville] by O'Hare," Driscoll says. "I got all of my Eames-inspired Eiffel chairs there for less than $50 each." To further stay under budget while simultaneously accommodating a growing team, she opted for clean, white Ikea desks. When buying mass-produced items, "I choose pieces that disappear into the environment," she says. "This means pieces that have clean lines and light colors. By keeping mass-produced items simple, you can really showcase your unique finds."
Use Color Wisely
Driscoll suggests using lots of white and choosing no more than two accent colors per room. "I tend to lean toward retro neutrals and bold accents," she adds. "I've had a cool blue-gray wall in every home or studio I've lived in. It's a great neutral that isn't beige. Comfort Gray by Benjamin Moore is my favorite, or anything in the silver-sage family from Restoration Hardware. I love combining that with a rusty orange like Yam from Benjamin Moore."
Photo: © Timothy Burkhart, Groupon