Inside My Beauty Bag
BY: Favin the Maven |
Dec 23, 2013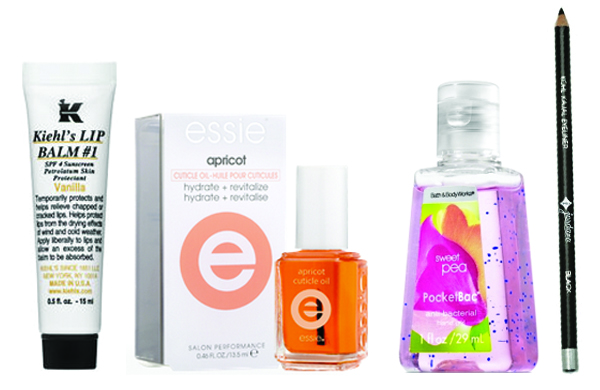 I carry around a huge purse, and sometimes, I wonder what I even keep in it. The other day, I dumped it out on my desk and sorted through the contents—turns out, I'm a walking beauty counter! Here's what I keep in stock.
Lips
* Aquaphor Healing Ointment ($5.99 on
drugstore.com
): This is my go-to when the winter does major damage on my lips. It also works wonders on dry, cracked hands. * Palmer's Cocoa Butter Swivel Stick ($2.39 on
drugstore.com
): Amazingly effective and versatile—you can also put it on your hands, face, and any other place that needs TLC! *
Kiehl's Lip Balm #1 in Mango
($9): I love the tropical scent. *
MAC Cremesheen Glass in You've Got It
($20): I like to layer this creamy, nude gloss over a stain or lipstick, or wear it solo for a subtle sheen.
Hands
* Johnson and Johnson's 24 Hour body lotion: I love the fresh scent, and the travel-size tube fits right in my bag.
[Editor's note: This lotion has been discontinued; try Ahava travel size mineral hand cream ($8) instead.]
*
Essie Apricot cuticle oil
($8.50): My cuticles are moisturized and neat-looking thanks to this all-natural oil, even though secretly, I bite them. Shhhh. *
Bath & Body Works hand sanitizer in Sweet Pea
($1.75): For anytime I ride the train.
Face
*
Jordana Cosmetics' black eyeliner
($1.29): The best less-than-$2 I've ever spent. * MAC bronzer in Bronze: I use this as my all-over powder. *
MAC Studio Finish concealer in NW30
($18): This bad boy is thick enough to cover tattoos. Plus, SPF 35! * Fendi sunglasses model FS5284 003 (a lot, I think): My boyfriend gave me these. I didn't complain.
Back to Favin the Maven
BY: Favin the Maven
For me, both beauty and fashion need to be accessible and not intimidating. I love a great deal and a good DIY beauty treatment. I pride myself on trying new trends, being open minded and getting a great treatment without breaking the bank. In the name of beauty I will try anything once.