How Liquid Nitrogen Ice Cream Cools a Scoop Down to -321 Degrees
BY: Aimee Algas Alker |
Mar 26, 2014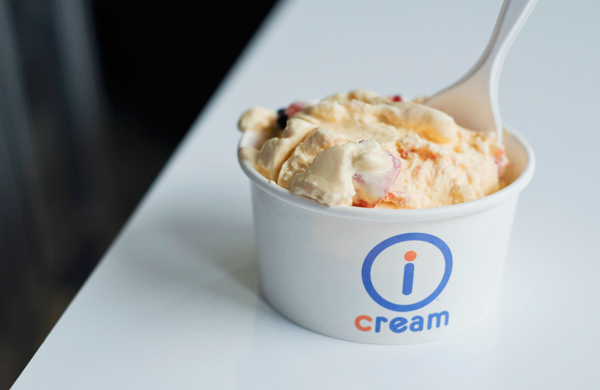 Something was missing at Chicago's iCream Cafe. It had many of the trappings of a traditional ice-cream parlor (tiled floor, cute little tables and chairs). What it did not have were vats of ice cream behind the counter.
At iCream, there's no standing at the counter to mull over flavors, sampling some here and there with a little spoon. Instead, the ice cream is made when it's ordered, not a moment sooner—and it doesn't take a half-hour for it to set.
Traditional ice-cream-making methods require commitments of time and energy—and lots of elbow grease. However, iCream is part of a new breed of ice-cream parlor where science meets sweetness. It features liquid nitrogen ice cream, which almost instantly brings the temperature down to -321 degrees Fahrenheit.
Parlors that use this method have been popping up all over the place: Smitten Ice Cream in San Francisco; Ice Cream Lab in Beverly Hills; Sub Zero Ice Cream in 10 states and counting; and iCream's other locations in Dallas and Dubai.
The reason for their popularity?
Because it sets so quickly, liquid-nitrogen ice cream is also the purest ice cream you'll ever eat. Without stabilizing gums or egg yolks, it's pure cream, milk, and natural flavor.
This means each order is made to order and fully customizable.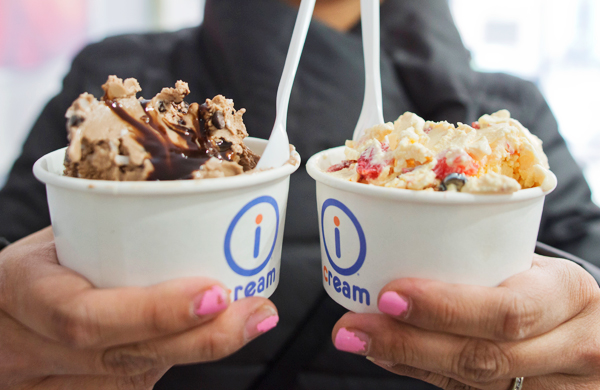 The customization was a key selling point when I visited iCream with my husband and 1-year-old. My husband's order was simple: chocolate-flavored ice cream with chocolate chips and coconut. My order, however, gave iCream staff member Brittany just a second's pause: ice cream with strawberries, blueberries, and no added sweeteners (no sugar, no stevia, no aspartame).
Ultimately, she took it in stride, warning me against setting my berries in plain cream: "Our flavorings don't have any sugar in them, so you might want to add one." Peach, I agreed—peach ice cream with the berries mixed in.
I wasn't ordering sweetener-free ice cream to be picky. I had my reasons.
First, though I love ice cream, it's usually too sweet for me. Second, I'd be sharing with our 1-year-old. This would be her first taste of ice cream, in fact, and being 1 year old, she's extremely sensitive to the energizing effects of sugar. After her first cake at her first-birthday party, she was up until 9 p.m.
With our orders in, we pressed our noses to the glass to watch Brittany pour ingredients into the glossy white blenders. Whirring sounds filled the air. Clouds of white vapor poured from the silver bowls, dissipating above and around her.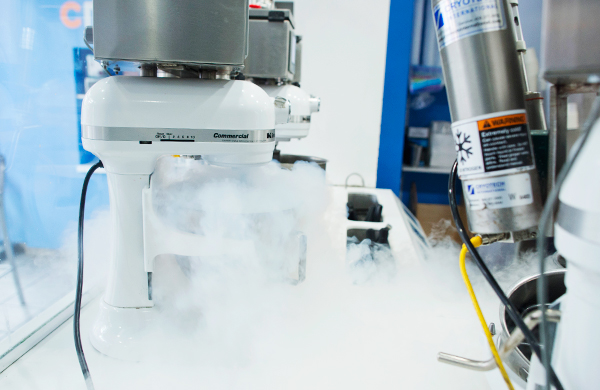 She shook in a few ingredients, and a few stirs later, just like that, our ice cream was done.
My spoon moved through the ice cream smoothly. The texture was creamy yet icy—something between a sorbet and store-bought ice cream. The berries were blended into little chunks that peppered the cream, which was the color of an actual peach, like polka dots.
I could taste the cream, peaches, blueberries, and strawberries, and that's it. No chemicals, no cloying sweeteners. My husband—known to polish off an entire container of Ben & Jerry's Chocolate Fudge Brownie—was nodding in approval of his chocolate-on-chocolate cup.
Then I gave a bite to the baby. As soon as I scooped out another bite, her mouth was open for more.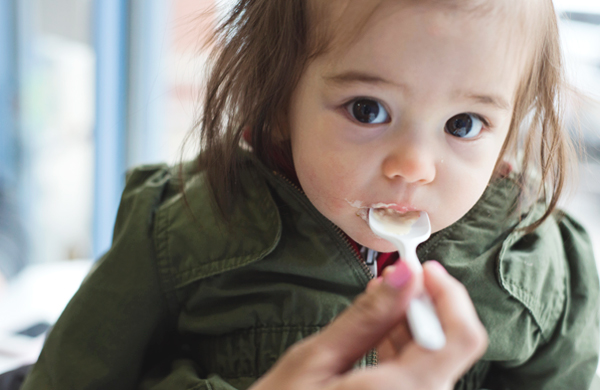 I almost had to order my own serving. So I alternated spoonfuls: a bite for me, a bite for her. When we got to the end, the soupy melted cream at the bottom, I spooned that into her mouth, and when that was gone, she hung her mouth open, waiting for more.
But the ice cream was all gone, and she watched as I threw the cup away and she cried. And cried. And cried.
So I promised her we'd return soon—then distracted her with the wrapper from a straw.
Photos by Timothy Burkhart, Groupon
BY: Aimee Algas Alker
Guide Staff Writer
Though Aimee stays up to date on the latest food trends for the Guide, most of her meals are served cold and cut into tiny, toddler-sized bites.