Jason Narducy Doesn't Need Dave Grohl's Grammy. He's Got New Supergroup Split Single.
BY: Will Landon |
Mar 21, 2014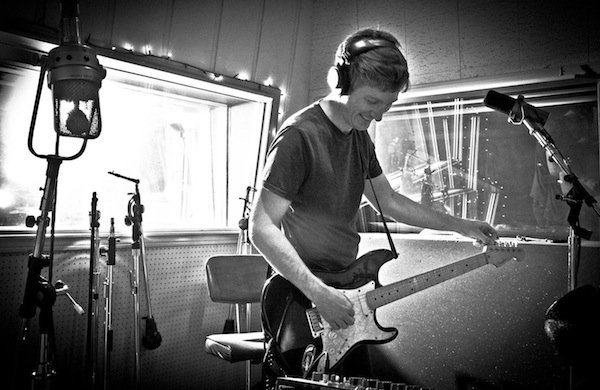 After more than a decade spent rocking with Robert Pollard, Bob Mould, and Superchunk, Jason Narducy returns to crafting his beloved '90s-style power-pop.
Jason Narducy burst onto Chicago's music scene in the late 1990s with
Verbow
, a power-pop band whose punch came from Narducy's punk roots. But that all seems like a lifetime ago, as the guitarist started subbing for the likes of
Bob Mould
and
Superchunk
when Verbow went on hiatus in 2002. Narducy hadn't performed his own material in nearly a decade until December 2011, when he was invited to play solo at an acoustic show. "There was no grand plan," he said, "but I was so happy with how the [new] songs turned out. I started playing them for friends, and it just snowballed." Two of those friends, Superchunk/Bob Mould bandmate Jon Wurster and Britt Daniel of
Spoon
, were so excited that they joined Narducy to form
Split Single
. It's a supergroup of sorts—just don't mistake it for a proper band. "[It's set up as] a solo project where friends play with me," Narducy said. "It's nice to let it be kind of loose. I can't even commit to my own band. Why would I expect someone else to do that?" On Saturday, April 5, Split Single holds a release party for their debut album,
Fragmented World
. It's a searing blend of power-pop and melodic punk, the likes of which haven't been seen around Chicago since, well, Verbow. In preparation for the upcoming show at
Schubas Tavern
(3159 N. Southport Ave.), we spoke with Narducy about his journey.
GROUPON: There are clear sonic similarities between Verbow and Split Single, but they're also very different. How has playing with other bands influenced your work?
JASON NARDUCY: It's still my voice and lyrics, but I learned from [Bob Mould, Bob Pollard, and Superchunk] that I have a tendency to write more complex parts than are needed. If you look at a song like [Verbow's] "River Wish" … it has five different parts. Rock songs don't really need that. So I worked hard to keep it as simple as possible. "Last Goodbye" is three chords; "Waiting for the Sun" has five chords and no bridge. It's almost more epic because of that.
G: What's it been like to balance touring with Bob Mould and Superchunk with your own work?
JN: I've learned how to be more economical with my time. I'm married, I have kids, I have some small businesses that I run in Chicago. I work during the day … and by 8 p.m. I finally have time [to] run down to the basement, pick up my guitar, and write for an hour. And maybe this is from experience, or just from having a better idea of what I want to write, but I get a lot done in that hour. From the moment I started writing these songs to the moment Britt and Jon and I were in the studio, it was only seven months. I have a few months this year where the [touring] is a little slower and I can concentrate on writing. And making videos. We just made a mockumentary about my elbows. Did you see it?
G: I wanted to ask you about that. It's kind of an emotional roller coaster. Can you talk about raising awareness about the objectification of rock stars?
JN: I'm probably not the best spokesperson, but I had a very heavy-handed manager who felt that the way to promote my music was to put my elbows front and center. You go along with it, because you're young and dumb and you wanna play music. But … when those elbows became popular, they became more popular than my music. It was this attention I wasn't prepared for, and I hid for awhile, but then you just embrace it.
G: Dave Grohl credits you with inspiring him to pursue a musical career. Do you feel like you have a claim to his Grammy?
JN: [Laughs] Absolutely not. Dave is so generous and kind, but when he picks up a guitar and sings or … gets behind a drum kit, there's no question about the man's talent.
G: Speaking of famous musicians, who's the weirdest person you've ever toured with?
JN: Verbow toured with Morrissey for a bit in 2000, and it was a great tour. The crowds were amazing, but it was sort of strange in that there were young girls, older men, college kids, 30-somethings, gay guys, straight guys. … I mean it was just the widest demographic I'd ever played for. But Morrissey was never there, never sound-checked. He walked into the building, sang the show, then put down the microphone and was in the car headed back to the hotel before the band had finished playing. But [for me], it was great. I've been fortunate to tour with a lot of great bands.
G: What are the best show you've played?
JN: When
Silver Age
came out and the Bob Mould Band played Minneapolis, it was like everybody was on another plane. Walking off the stage, Jon and I were looking at each other and going, "That's as good as it gets."
G: OK, how about the worst show?
JN: [Verbow] played a show in Boise in 1997 to five people. Four of them were in the opening band, and the fifth guy at the bar, we had no idea who he was. We phoned it in, got drunk, the singer took his shirt off and came up and sang a song. We blew off the gig because we didn't know what we were doing. It turns out the guy at the bar was the cellist in Built to Spill, who is, like, the one cellist in rock we respected. [Laughs]
G: Verbow recorded a live album at Schubas, and you've played there other times before and since. How does it feel to be back?
JN: Schubas is sort of my home. It's one of the places I learned to play my music. It's one of those clubs where they just take care of you. Once, Alison [Chesley] and I were playing an acoustic show there. It sold out, and Mike Schuba, two hours before sound-check, [was] building the stage higher with one of his employees because he feels like not enough people will see us. What club goes to that length?
Split Single isn't all elbows. Narducy is working on a more serious biographical video, which he plans to release just before the show, which is on Saturday, April 5, at 9 p.m. Tickets are $15 and can be purchased here.
Listen to "Monolith" from Split Single's debut album,
Fragmented World.
BY: Will Landon
Will Landon is a Chicago-based writer who sings punk rock songs with the Blue Ribbon Glee Club and occasionally works for free as an assistant stage director.