See It or Skip It: The Blarney Stone in Ireland
BY: Lisa Farver |
Sep 8, 2015
What is the Blarney Stone?
The Blarney Stone is a limestone block at the top of Blarney Castle, in southern Ireland. Legend has it that Robert the Bruce, King of Scots, gifted the stone to Cormac McCarthy (the 14th-century King of Ireland, not the writer). Kissing the Blarney Stone is said to endow people with "the gift of gab," or eloquence.
Why You'd Kiss the Blarney Stone
Ireland is a small country—about the size of Indiana—so it's easy to see all the major sites in one Irish vacation. After hiking over massive stones at Giant's Causeway, gazing out on the Cliffs of Moher, and sipping perfectly poured pints of Guinness at a local pub, many tourists venture south to Blarney and pucker up to the stone that's been kissed by Mick Jagger and Winston Churchill.
What to Expect When Kissing the Blarney Stone
Getting from Dublin to Blarney takes about three hours by car or train. On the castle grounds, soaring towers rise between fairy tale–like gardens and ancient, moss-covered trees. You can see the castle, tour the gardens, and kiss the Blarney Stone for about $15 USD. Be ready to wait in line, though—this is one of Ireland's most popular sites.
To reach the stone, you climb a narrow spiral staircase to the top of the castle. The hallowed rock is indistinguishable from the other limestone blocks, save for a small hand-painted sign that reads "Kissing The Blarney Stone."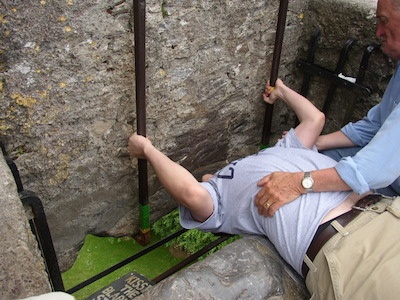 When it's your turn, lie on your back and take hold of a pair of iron railings. A professional spotter helps you lean backwards until your lips make contact with the sacred block. The staff keeps the line moving, so unfortunately, it can be tough to snag a good pic of you and your friends kissing the Blarney Stone. Workers clean the stone's surface with antibacterial spray after several tourists have had their turn.
The Verdict
Skip it. If the Blarney Stone gives the gift of gab, at least those who have kissed it can tell you how anticlimactic the whole thing is. Stick to exploring the gardens, especially if you don't like long lines, heights, or germs. You could also visit the dozens of other castles in Ireland—they're all stunningly medieval. Many even welcome overnight guests.


Photos: Blarney Castle by beyondboundariesphotography under CC BY-SA 2.0 [cropped from original], Kiss the Blarney Stone by Brian Rosner under CC BY 2.0
BY: Lisa Farver
Lisa is a travel writer who once drove from Chicago to Tybee Island in the middle of the night on a whim. In her spare time, she bakes cakes that resemble faces.