Lasting Impression: How 19th-Century Fashion Influenced Today's Trends
BY: ANDREA MARCHIANO | 8.8.2013 |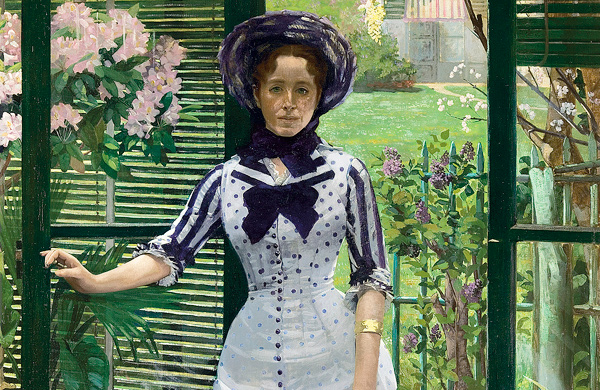 Looking around at the Art Institute of Chicago's latest exhibition, Impressionism, Fashion, and Modernity, I couldn't help but feel a little underdressed. Despite the fact that it was midsummer, all of the women in the room wore floor-length gowns. I wore jeans.
Of course, those finely dressed women were actually the subjects of more than 75 paintings by the likes of Monet, Renoir, Seurat, Manet, and Degas. The 19th century marked the beginning of Paris's reign as the world's fashion capital, a reign that coincided with the rise of the impressionist movement. As a result, the paintings captured not only the trends of the period but also presented them in a whole new light. With the flick of a brush, the artist could make light break through leaves, creating shadows on white summer dresses. They made gold jewelry glimmer, and the delicate fabric surrounding a woman's décolletage look as sheer as it would have been in person.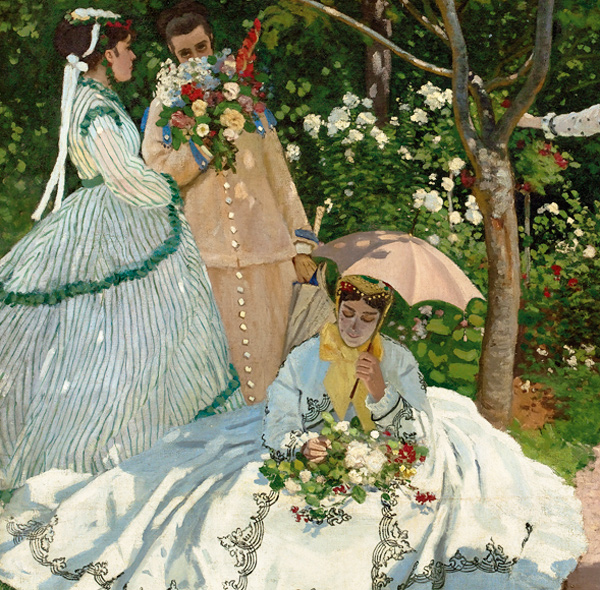 While the exhibit exalted the way that these artists captured the beauty of their time, it also demonstrated just how much of an influence the era continues to have over the fashion trends of today. French novelist Arsène Houssaye seems almost to acknowledge this timelessness in an 1869 quotation painted on one of the exhibit walls: "La Parisienne is not in fashion. She is fashion."
Below are six modern pieces that convey a bit of 19th-century Parisian style in the 21st century.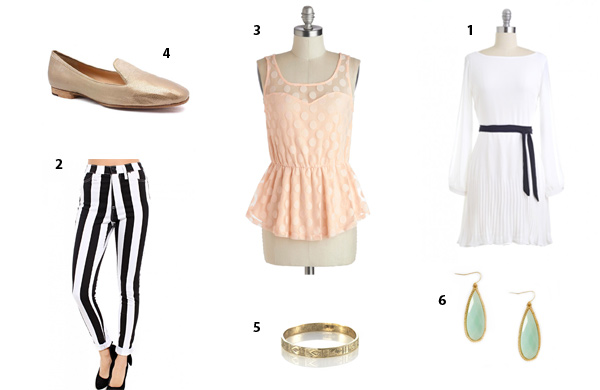 1. Dress; BB Dakota ($84.95)
Summer meant white dresses in the 19th century, especially for the younger ladies of the era. This one lacks old-fashioned frills but still has a waist-accentuating black sash and sheer accents on its flowy sleeves.
2. Pants; Akira ($25)
Bold stripes once lined many a skirt and corseted bodice. This pair of pants translates this trend into a modern wardrobe in a way that is equally flattering but far more comfortable.
3. Top; ModCloth.com ($39.99) 
This top combines a handful of old Parisian trends into one surprisingly fresh piece. The peplum accentuates the natural waist without the pain of a corset. Polka dots were popular then, as was the blush-pink color, which was often the shade of dressing gowns that were worn only at home. Finally, the sheer neckline shows just enough skin without compromising modesty.
4. Shoes; Belle by Sigerson Morrison ($99) 
A low heel was once the shoe of choice for a fashionable lady. These shiny golden loafers put a modern spin on the yellow ones worn by Madame Marie Hubbard in Berthe Morisot's Woman with a Fan (1874).
5. Bangle; Eskell ($58)
Here's one trend that hasn't changed much at all: a bright gold bangle worn not on the wrist, but in the middle of the forearm. This one, plated in 14-karat gold, is etched with an intricate design.
6. Earrings; Francesca's ($16)
Gold jewelry was the most coveted accessory in 19th-century Paris. These drop earrings have an antique shape, but the mint stone at their center provides a modern pop of color.
Catch Impressionism, Fashion, and Modernity at the Art Institute of Chicago through Sunday, September 29.
BY: Andrea Marchiano
Guide Staff Writer
Andrea studied journalism at the University of North Carolina at Chapel Hill. She enjoys pop culture, reality television, and brunch.