I Tried a Soup Cleanse and Only Felt Hungry in My Mind
BY: Favin the Maven |
Dec 16, 2014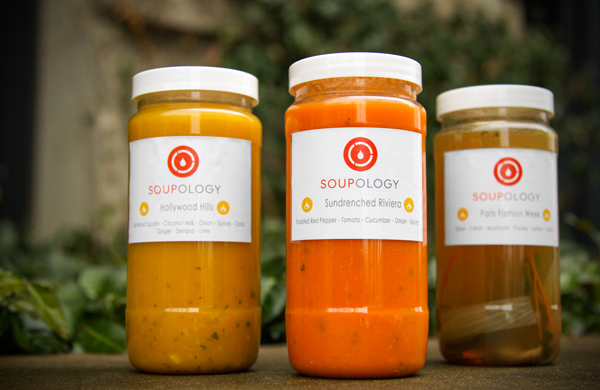 On Fridays, there is more pizza in the office than at a Pizza Hut. This is usually good news. Unless, like I was last Friday, you're on the final day of a three-day soup cleanse and all you want to do is chew.
Sorry. Let's back up for a second. This all started last month when I stumbled upon a Chicago company called Soupology. Created by Alison Velazquez—a fitness instructor, personal chef, and nutritionist—it's a soup cleanse that's basically a heartier version of juicing. I did a juice cleanse last winter, and the thought of a warm, cozy alternative set my heart (stomach?) aflutter. I decided to try the three-day version of the cleanse (there are one-day and five-day programs, too, all of which include six soups per day).

Alison dropped off 18 soups for me at the office. As the instructions explained, they weren't typical canned soups. A lot of those are heavily salted for preservation, but these soups are made with fresh ingredients and no preservatives—just a little sea salt for taste. That makes them healthier; it also means they only last until a week after their arrival date.
I got started the very next day. Here's a rundown of my experience, along with some insights from chatting with Alison.

Morning: It hadn't occurred to me until this point that eating soup for breakfast would be strange. So I was pleasantly surprised to find that the first "soup" of the day was actually alkaline water, a spicy blend of jalapeño and pineapple. Many of the soups turned out to be spicy (but not too spicy), which Alison credited to her Mexican heritage. She also pointed out that spices are loaded with antioxidants and can help boost metabolism.
Afternoon: By midday, I was getting a headache. Alison assured me this was a common reaction to suddenly depriving yourself of processed foods and caffeine. To ease this side effect, she advised me to drink plenty of water and green tea between each soup. This helped with the headache and made me feel fuller, but I quickly learned that when you ingest nothing but soup, tea, and water in a day, you have to pee. A lot.
Evening: I ended the day on another sweet note—a pumpkin-spice cashew milk that tasted like dessert. But then my boyfriend came to bed with a quarter of a lemon pie and I wanted to die a little.

Morning: Despite the Pie Emotions, I woke up feeling good. I was actually excited to start the process again because day two's lineup included some different soups. That day's alkaline water was mint- and cucumber-based, which I really liked.
Afternoon: I didn't like the second soup so much. It was a mushroom-based broth, and I hate mushrooms. Things turned around quickly with the third bottle, though, a butternut-squash soup that was even better than the one I make at home.
Evening: Again, I really liked ending the day with the cashew milk. It's the most calorie-dense (the soups get heavier as the day goes on), and it's pretty filling. Again, I did not like ending the day with my boyfriend, who this time came home with a pizza.

Afternoon: Watching my BF down an entire pizza proved to be practice for day three. As I said earlier, my office basically turns into a pizzeria on Fridays, and all I could do was sip (OK, chug) my vegetable broth with envy.
If I was really being honest with myself, though, I was just being a baby. I realized that at no point during this three-day process did my tummy ever rumble. My stomach was full. My mind just thought I was hungry. Especially when my coworker tried to offer me one of the Mason-jar cupcakes that were delivered to her desk. (WHEN DID THAT BECOME A THING?!)

During my cleanse, I didn't work out. (Alison said toning exercises like Pilates are actually fine, but she doesn't recommend cardio.) The day after I finished, though, I started my morning with a cardio and weights workout—and it felt good! My energy was high, and afterward, I didn't gorge on donuts for breakfast. I just made some eggs.
That's really because, after all that work, I didn't want to eat a bunch of junk. Alison said that's the whole point. "After you put in enough time and commitment, you're more cognizant [of what you're eating]," Alison said. "It gets you in the right mindset to continue making better choices."
Top photo by Mark Mills, Groupon. All other images courtesy of Soupology.
BY: Favin the Maven
For me, both beauty and fashion need to be accessible and not intimidating. I love a great deal and a good DIY beauty treatment. I pride myself on trying new trends, being open minded and getting a great treatment without breaking the bank. In the name of beauty I will try anything once.