Logan Square Beer Festival's Gleeful Disarray—with Casks and Robots
BY: Cody Braun |
Sep 23, 2013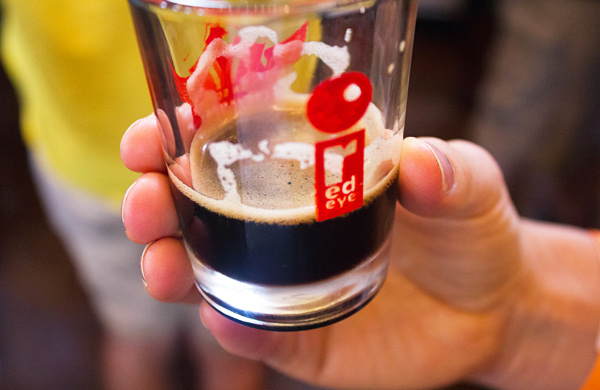 Two o'clock in the afternoon seemed a little early on a Saturday for the crowd at
Logan Square Beer Festival
(September 21 at 
Logan Square Auditorium
). "Warning: I'm very hungover," read the sign at
Off Color Brewing
's booth. "It's Gary Valentine's fault." There, co-owner John Laffler (we've
interviewed him here
) poured samples of Scurry and pleasantly tart Prairie Dogs Are Jerks. After a couple hours, he looked none the worse for wear. Of course, most of the brewers were drinking with the festival-goers. I love drinking with brewers; it lets me know I'm not being poisoned. That jovial spirit led to a pleasant, if chaotic, atmosphere. Richard Atnip of
New Holland Brewing
ceremoniously pulled the foil off a magnum bottle of rare cask-conditioned Dragon's Milk. The bottle opening had been scheduled for 2:30 p.m., and a line of people cut across the auditorium, hoping for a sip. After taking off the foil, he looked down at the bottle and then back at the line of people. "Does anyone have a corkscrew?" he asked. From a perch atop a pile of milk crates on the stage, Tony Magee, founder of
Lagunitas Brewing Co.
, played  "Make Me a Pallet on Your Floor" and a handful of other old tunes on guitar. Tracy Hurst and the rest of
Metropolitan Brewing
's staff laughed alongside a robot—the brewery's mascot. But even that cast of characters couldn't steal the limelight from a lineup of 50 beers, including many limited releases and collaborations. Cask-aged beers were especially well represented.
Abita Brewing Co.
's pecan harvest ale soaks up tannins from virgin oak, nicely rounding out an intense nutty taste.
Revolution Brewing
's Deth's Tar, one of the best things I tasted at the festival, draws entirely different flavors from wood. It's actually a blend of beers aged in four different types of charred bourbon barrels. Pumpkin beers can be hit or miss, but
Lakefront Brewery
's version spent time in a barrel. A seasonal cask-aged is sure to go quickly at a festival, so I tried some and was pleasantly surprised. In the crowded room, bumping into old acquaintances, watching the brewers cut up, and trying their experiments, everyone seemed overwhelmed by that same sense of pleasant surprise.
Photo: © Cody Braun, Groupon
BY: Cody Braun
Guide Staff Writer
Cody is a banjo-carrying gypsy now accustomed to having a permanent home in which to brew beer, store journalism degrees, read Wodehouse, and bake bread.