Lost Girls Vintage Hits the Road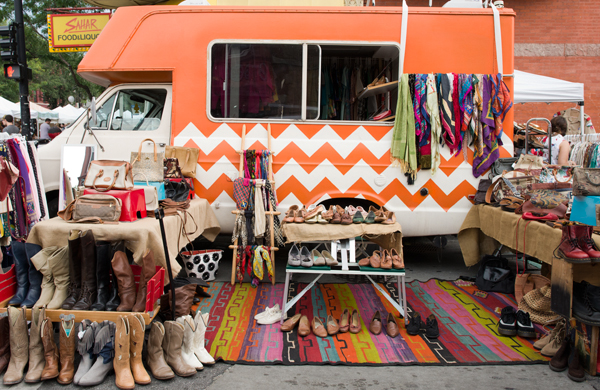 When Sarah Azzouzi and Kyla Embrey of Chicago-based
Lost Girls Vintage
decided to drive their 1970s Winnebago across the country, they expected to run into the usual road-trip hang-ups: a flat tire or a missed exit or two. But their biggest problem turned out to be, well, different. "Since we never used Winnie as an actual RV, it never occurred to us that we would need to empty the waste tank—until we were driving around Texas in nearly 100-degree weather and all we could smell was poop!" Thankfully, a helpful stranger showed them how to empty the tank, and the incident became one of the many colorful stories Sarah and Kyla have collected since teaming up as Lost Girls Vintage last April. But even though they travel all over the country—the girls have already been to Texas and Maine, with a trip planned to Colorado in the fall—you can still find them at pop-up sales and markets around the city. Note: Sarah and Kyla responded to my questions from a shared email account, which is why so many of their responses are combined. But even in person, the two are incredibly like-minded. I guess their time together on the road has really brought them close.
GROUPON: How did you two meet?
SARAH AZZOUZI: It was a hat! I was selling at
Vintage Heaven
in Wicker Park and all of a sudden I see this other girl selling there who I'd never met before. It was Kyla and she was wearing this over-the-top hat with a ginormous bow on it. As a milliner I was like, "Who is this girl? I didn't think anyone else liked crazy hats like I did!" KYLA EMBREY: It's funny, I'm not actually that into hats, but I was going to a Kentucky Derby party right after the sale, so I decided to wear my hat all day. I remember first bonding with Sarah over a game of Farkle at that sale. Farkle is a dice game sort of like Yahtzee that she was teaching me. I couldn't figure out how Sarah consistently kept outscoring me until she pointed out that I was playing it too safe. "No risk, no reward!" she said. Something I try to remind myself of every day.
G: What made you want to go into this business together? 
SA & KE: Last summer we started producing our own pop-up sales with our individual vintage-clothing businesses around town. We had a good deal of success, worked well together, and our styles complemented each other, not to mention we had a lot of fun!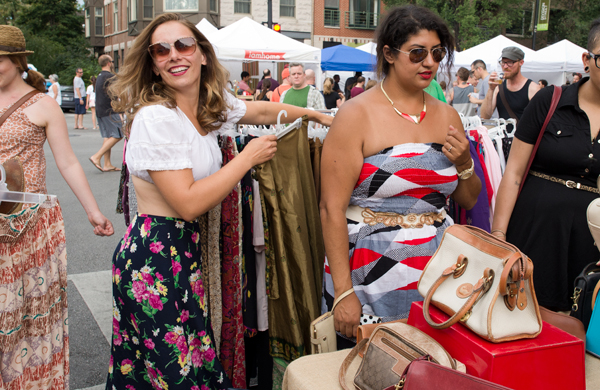 G: Who are your fashion icons?
SA: Carmen Miranda. Everything about her is bold, unique, and colorful. She wasn't afraid to be over the top! KE: My great-grandmother was my total kindred spirit and my fashion inspiration. She showed horses in the rodeo circuit back in the day, which is where I think I get my love of cowboy boots, Western wear, and all things Americana. She was never without some amazing turquoise jewelry and wanted nothing more than to travel the country in an Airstream, so it's really cool to me that I am able to live out the dream like she never could.
G: How do your personal styles influence the clothing you sell? 
SA & KE: Our personal styles are dictated by what speaks to us—looks or pieces that really move us—which translates into the merchandise we sell. While we do make an effort to keep our vintage pieces on trend, we really look for pieces that make us gasp because they're so cool or unique.
G: What draws you to a particular item?
SA & KE: We look for pieces with a wow factor! We don't stick to a specific era or style, but we do gravitate toward bright colors, fun patterns, and interesting details. We'll never pass up a great vintage Coach or Dooney & Bourke bag, Frye boots, or anything with fringe!
G: Who is the typical Lost Girls customer? 
SA & KE: Our typical customer is someone who likes to have fun with style! Guys and gals alike shop with us and we've had customers as young as 3 and as old as 80 find something in our shop. We carry a wide range of sizes and we strive to have something for everyone!
G: Why did you decide to run your business out of an RV rather than a storefront or online shop?
SA & KE: When we first started teaming up, we threw out the idea of opening a shop together, but we were turned off by the startup and overhead costs of a traditional storefront. Not to mention, we both have a background in retail and didn't want to be tied down to physical location or a strict schedule. We're young, and we both like to travel and wanted to do something different. Originally, we were planning to get a pull-behind camper from the '60s for our mobile shop, but, seeing as how the only vehicle we had between the two of us was a scooter, that idea was quickly edged out by the RV—a shop and wheels all in one! The gas mileage isn't so great and every strange noise nearly gives us a heart attack, but it's worth it to get to travel and do what we're passionate about.
G: Tell me a little bit about how you found "Winnie" and how you fixed her up.
SA & KE: Craigslist! We were on several online forums for vintage campers and RVs and had been scouring listings every day for months. We contacted people in Minnesota, Indiana, Wisconsin, and Kentucky about potential vehicles—we had resigned ourselves to the fact that we would have to travel quite a ways to get exactly what we were looking for. But in the end, it came to us. We found our little "Winnie" on Craigslist in Chicago and picked her up from a Salvation Army near downtown. We did a lot of the work ourselves to gut her, paint her, and fix her up, but for everything we couldn't do we had the good fortune of having handyman and artisan painter John King helping us out.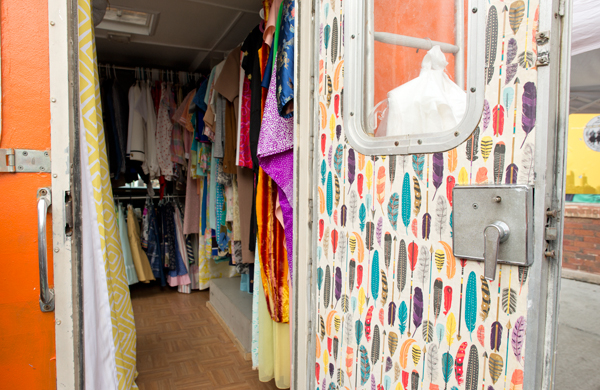 G: Where do you usually sell around Chicago?
SA & KE: The better question is, where
don't
we sell? We've done pop-ups at
Paperish Mess
in West Town,
The Coffee Studio
in Andersonville,
Heritage Bicycles
in Lakeview,
Antique Taco
in Wicker Park,
Modern Co-op
in Pilsen,
Bonobos
in Lincoln Park,
Inkling
in Lakeview, and
City Olive
in Roscoe Village. We've also been vendors at
Randolph Street Market
,
Vintage Garage
,
Chicago Flea
,
North Shore Flea
,
Highwood Beer Fest
,
Renegade Craft Fair
and Vintage Bazaar, and the
Food Truck Social
. We just did our first private event and look forward to booking more private parties and trunk shows!
G: Where have you gone outside of the city, and where do you plan to go in the future?
SA & KE: So far we've been as far south as Austin, Texas, and as far east as Portland, Maine. We're working on putting together a trip to Colorado this fall and want to [travel to] every region of the country before we hit our one-year anniversary next April. The five-year plan? Lost Girls go international!
G: If you could drive "Winnie" anywhere in the world, where would you take her?
SA & KE: Everywhere! Seriously! We already got an estimate on what it would cost to get her to England. Unfortunately, it's
way
more expensive than what we've already invested in Winnie, but we're working on it!
G: What is the best part about being on the road?
SA & KE: The best part is getting to meet so many cool new people and see new places. We never operate with much of a strict schedule; we enjoy seeing where the wind takes us. Some of the coolest people we've met are people who have come into our lives because of chaos or a stressful situation, like the guys who helped us when we needed new tires right as we were getting on the road to Texas or the family that graciously opened their home to us when our Austin accommodations fell through.
G: Who's the better driver?
KE: We both think we're the better driver! Sarah is a good sprinter—she does most of the short-distance city driving. SA: Kyla excels at driving on the open road.
G: If you could sum up Lost Girls Vintage in three words, what would they be?
SA & KE: Wanderlust, fun, and daring.
Photos: © Andrew Nawrocki, Groupon