Lowcountry Cuisine That Brings Charleston to Chicago
BY: Halley Lawrence |
Feb 4, 2014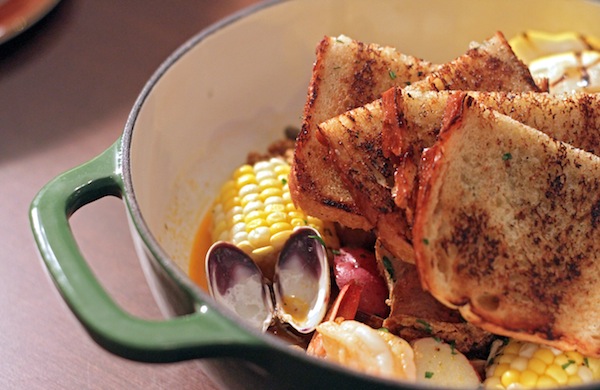 At Carriage House (1700 W. Division St.) in Wicker Park, Chef Mark Steuer's Restaurant Week menu ($44 for dinner) gives Chicago a taste of a balmy Southern beach town in the midst of our winter deep-freeze.
Lowcountry, defined
To my ears, the words lowcountry cuisine are onomatopoeia in action: five smooth syllables that are buttermilk biscuits, bags of boiled peanuts, iron vats of corncobs and shrimp.
This association is from growing up living—and eating—in the South. I relished the thick slices of liver mush that my grandmother fried for breakfast, Wheel of Fortune blaring in the background; the baskets of hush puppies my sisters and I shared at a now long-since-shuttered restaurant called Po'Folks. On certain holidays, we'd pile into our parents' minivan and ride across North Carolina's rolling piedmont toward Charleston, South Carolina's ritzy beach town.
Once we got there, we'd cover our bodies in sunscreen, hit the beach, and acquire impressive sunburns. Equally important, though, was the ritual that came afterward—searching for dinner along Charleston's mansion-lined boulevards.
In Charleston, dinner wasn't just a meal. It was a mainline to the city's lifeblood: a chance to glimpse fancy old ladies and distinguished gentlemen, the couples carousing with their debutante daughters. It was a chance to giggle at tourist-hustlers coaching trained monkeys, a chance to taste fried squid from chefs who ventured onto the sidewalk with platters.
These were my first glimpses at lowcountry dining.
These food memories are so wrapped up in culture, which makes sense. After all, lowcountry cuisine, by nature, brings many cultures together. Even in ubiquitous dishes like shrimp and grits or hoppin' john, you'll find flavors of Spanish and French influence, as well as culinary traditions from enslaved Africans. The frequent use of rich ingredients such as cream and sherry denotes the decadent tastes of the area's ornate upper-class homes.
Lowcountry comes to Chicago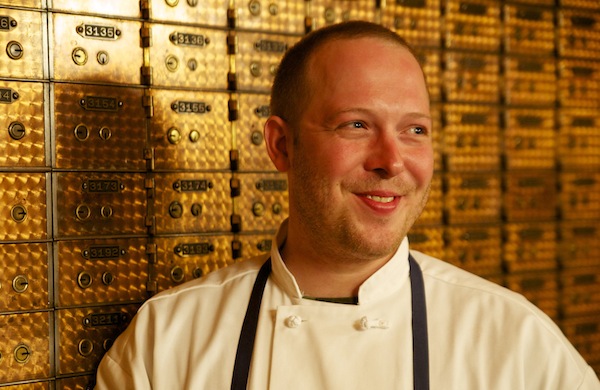 Mark Steuer, the culinary mind behind Chicago's Carriage House (1700 W. Division St.) and The Bedford (1612 W. Division St.), knows these lowcountry elements well.
He too grew up in the South. Steuer's education in Southern cooking began hands-on: he remembers fishing crabs and shrimp from a backyard dock on John's Island with his father, then cooking the seafood on the family's porch. Later, he learned the intricacies of lowcountry cuisine in the kitchen of Brett's, a James Island eatery run by lauded Charleston restaurateur Brett McKee. A move to Madison—and enrollment at the University of Wisconsin—ended Steuer's residence in the South, but he never got over lowcountry cuisine, left lingering on his palate like a debutante's kiss. Carriage House is Steuer's way of remaking and sharing his memories of the South.
The dishes he serves don't play to a typical Southern standard of authenticity; instead, they highlight some of the South's most evocative flavors in preparations that aren't too stereotypically heavy or greasy. Carriage House's Restaurant Week 2014 menu ($44 for dinner) offers newcomers a chance to get oriented with Steuer's take on lowcountry cuisine, and offers Southern transplants like myself an evening with a culinary passport home.
Read on for some of Steuer's thoughts on the dishes he and his team are preparing regularly and for Restaurant Week, which includes a first course of skillet cornbread, pictured below.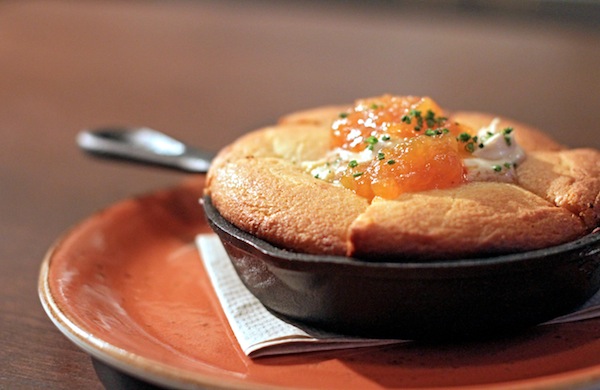 GROUPON: If someone has never had lowcountry cuisine before, how would you describe it to them?
MARK STEUER: It's a mix of of familiar Southern food with a bit of French and Spanish influence.
G: You're known for adding modern touches to traditional Southern cuisine. Are there any dishes on the Restaurant Week menu that really bring together traditional and modern flavors and techniques?
MS: The pickled-squash salad. Normally, pickling squash would make it mushy, so we use a cryo machine to compress the squash so it stays nice and crisp and crunchy. We also use pears packed in salt and roasted for an hour, so they stay crunchy.
G: I read on your site that you credit Mindy Segal with helping you master sourcing ingredients. In what ways did she influence you when if comes to ingredient-sourcing?
MS: Mindy facilitated me meeting everyone I need to know. She's a big supporter of the farmer's market, and so am I. She helped me understand how important local sourcing is, because everything tastes so much better that way.
G: If you weren't cooking during Restaurant Week, where would you eat?
MS: Probably La Sirena (954 W. Fulton Market) or Maude's Liquor Bar (840 W. Randolph St.).
Photo of lowcountry boil and skillet cornbread courtesy of Jamco Creative; photo of Chef Steur courtesy of Carriage House
BY: Halley Lawrence
Guide Staff Writer
Halley is a Chicago writer with southern roots. When she isn't typing, she enjoys cooking without recipes and designing garments for her upcoming clothing line, Ambidestre.