Macy's Is a Museum If You Go with a Fashion-History Expert
BY: Mae Rice |
Apr 24, 2014
Strolling through the store with Columbia College's Virginia Heaven taught me why the trend cycle is accelerating and why guys aren't afraid to wear purple anymore.
History museums don't have a monopoly on history. Just look at the State Street Macy's—originally the flagship location of Marshall Field's, its building was completed way back in 1892. Today, the 3-acre department store is a National Historic Landmark. The merchandise at Macy's has an even richer past, especially if you ask
Virginia Heaven
. An associate professor of fashion design at Columbia College Chicago, Heaven specializes in fashion history. She co-curated the
Chicago History Museum's Ebony Fashion Fair exhibit
, and she's currently at work on an exhibit on student design (it's called
Enduring Style: Practice Makes Perfect
, and it goes up at the Willis Tower on Monday, June 2). I met up with Heaven at Macy's, where we explored the store and talked about the evolution of the latest trends. She began by telling me a little bit about trends in general—namely, that the trend cycle has been accelerating. "Thirty years ago," she said, "trends lasted maybe five to seven years." Now, they might be around for no longer than a single season. The quicker turnover is partially due to technology: consumers can browse Pinterest and shop online at such a fast pace that trends don't feel fresh for long. "You could be in the bathroom, sitting on the toilet, looking at [clothes on your phone]," Heaven said. "There's no pause for the digitally connected." Trends might flourish and wither much faster than they used to, but nothing
truly
dies. Heaven sees plenty of connections between what's hot and what's out of date. As we walked through the store, she explained the historical context behind three particular trends: one in bags, one in menswear, and one in plus-size fashion. Along the way, we listened to many Macy's Muzak classics, including "Girls Just Want to Have Fun."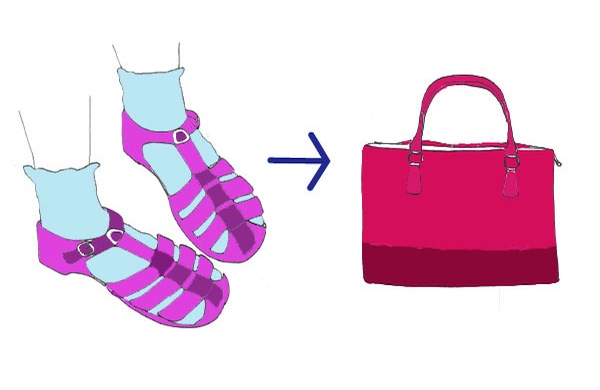 Purses (Floor 1)
Trendy item:
A
Furla Candy Bauletto satchel
($248), which looks like a beautiful jelly bean with a handle and comes in six colors, including bright orange.
How we got here:
According to Heaven, these Furla Candy bags are probably a glamorous throwback to
jelly sandals
. Remember jelly sandals? Looking further back: before the 1920s, people didn't always carry large, structured purses like this one. Those arrived on the scene when women entered the work force en masse and had to start carrying heftier things. Before that, there were reticules—small, floppy pouches that typically featured drawstrings and rich embroidery. "In that bag, you'd have a handkerchief, a little bit of money, and perhaps a key," Heaven said. (Wealthy people didn't carry keys because their servants let them in.)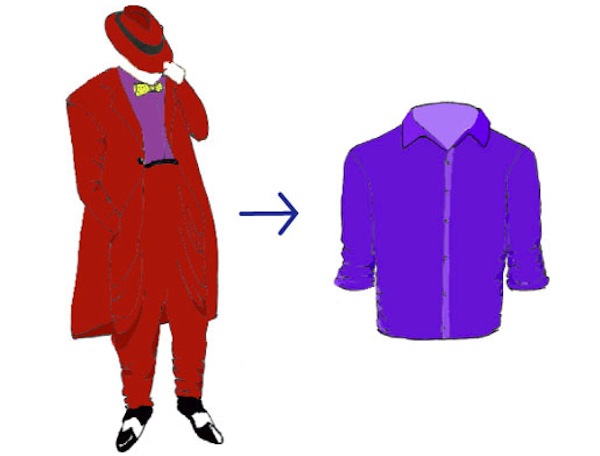 Menswear (Floor 2)
Trendy item:
Tasso Elba button-down in Lupine
($29.98), a bright lavender dress shirt.
How we got here:
Before the '60s, clothing was considered a long-term investment. People shopped more for quality than quantity, which meant smaller wardrobes and clothes in versatile neutrals, like brown and navy. Black wasn't a neutral yet: "[It] still had, up until the 1980s, a connotation of mourning," Heaven said. Colored clothes were a luxury reserved for people rich enough to splurge on a less-than-versatile item. When the '60s hit, however, cheaper, youthful styles became explosively popular. Kids were tired of wearing brown and tan. They wanted to wear brights! Haute couture quickly co-opted their rebellion, and fashion took a colorful turn. For men in particular, several niche fashions helped make color all the more acceptable. After the Industrial Revolution, most menswear was somber-colored—but not the zoot suit, which originated in 1930s Harlem and consisted of high-waisted, pegged pants paired with a long coat. In the 21st century, athletic gear has also helped color make its way into the mainstream. Heaven noted that if men feel like they look good in bright yellow track jackets, they are more likely to try out a colorful dress shirt.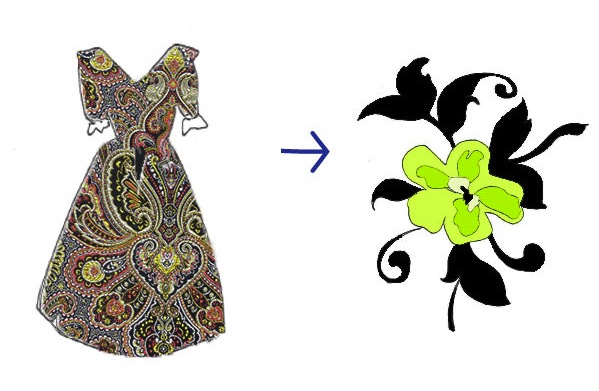 Plus Sizes (Floor 6)
Trendy item:
Jessica Howard plus-size floral-print dress and jacket
($99). "A big print on a big person—they can carry it," Heaven said. A smaller person might look overwhelmed.
How we got here:
Large floral patterns date back to the 18th century, when they were popular among the upper classes. Check out this
floral brocade dress from the 1730s
for a sense of what they looked like and how much the elites liked to show off their backs (a lot). Back then, Heaven said, there was no such thing as "plus-size" clothes because clothing didn't come in set sizes—it was custom made. Being larger, though, was something of a distinction. "It was an indication of wealth. … It simply meant you could eat well." In the '90s and early 2000s, the public outlook was markedly different. "Plus size" was a nascent clothing category, but obesity was stigmatized and plus-size pieces were often tucked away in dingy store basements. Today, the average American is a size 14 (which is the smallest plus size), and the stigma has somewhat lifted, aided by plus-size style icons like Oprah Winfrey, Adele, and Emme. Smaller plus sizes can be found with regular clothing in most stores, and at Macy's, there's a wide variety of plus-size looks in a bright, welcoming section on the sixth floor.
BY: Mae Rice
Guide Staff Writer
Mae Rice is a staff writer who writes about eyelash extensions, French food, what "business casual" even means, and other style and food topics.