My 10 Favorite Summer Nail Colors
BY: FAVIN THE MAVEN | 7.24.2014 |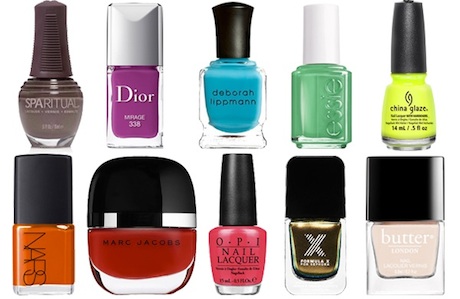 I once knew this girl who worked at a bank, and she was only permitted to wear a few polish colors: light pink…or less-light pink. Boring. I always think of her when picking out polishes for myself, and it usually inspires me to grab something pretty bold. I'm especially into bright colors for summer. Below are my 10 favorite warm-weather hues.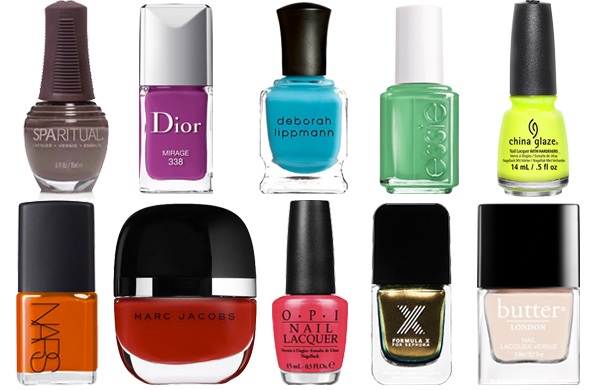 From top left to bottom right:
1. SpaRitual | Freedom
This dark mauve polish is secretly saucy—neutral, except for a kick of shimmer. ($8)
2. Dior | Mirage
The perfect combination of purple and pink. Who wouldn't love this color? ($25)
3. Deborah Lippmann | On the Beach
This ocean hue is one of the few shades of blue I can wear without thinking of frostbite. Let's keep it summery, people. ($18)
4. Essie | Mojito Madness
I'm not comfortable wearing a lot of green (except Groupon green, of course!), but I'm happy to make an exception for this lime-green shade. ($8.50)
5. China Glaze | Yellow Polka Dot Bikini
This is so highlighter-bright that it hurts your eyes a little—and I love it. Summer is the only time of year you can get away with colors like this. ($7.50 at ULTA)
6. NARS | Blow Up
This juicy orange is perfect for days you're feeling a little adventurous. ($20)
7. Marc Jacobs | Lola Bright Red
I'm intimidated by red, and usually just wear it at Christmastime. It's hot right now, though, so I'm learning to love it year-round—especially this true red that's not too orange, not too brown. ($18)
8. OPI | A Definite Moust-Have
I don't usually like pink, but this is a grownup pink. Which is ironic considering this color is from a Minnie Mouse capsule collection. I guess Minnie's got style. ($10.91 on Nail Polish Direct)
9. Formula X | Shifters in Heroic
When you look at this glittery polish from one angle, it's lilac. When you look at it from another angle, it's gold. Science, man. ($12.50)
10. Butter London | Pink Ribbon
Sometimes I need a break from brights, and this almost-white pink is a go-to for me. It's so neutral you can wear it whenever, wherever. Like to the bank, maybe? ($15)
Once you've picked a color, find nail salon deals in your city.
BY: Favin the Maven
Favin the Maven
Beauty blogger working at Groupon. For me, both beauty and fashion need to be accessible and not intimidating. I love a great deal and a good DIY beauty treatment. I pride myself on trying new trends, being open minded and getting a great treatment without breaking the bank. In the name of beauty I will try anything once.