Top Product Reviews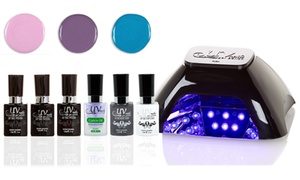 I love this product one of the best things I've spent my money on. The colors are so vibrant and look awesome. I do suggest starting with light first coat and working up to thicker coats. Also make sure you have a scraping tool to scrape away any polish that gets in skin or cuticle over all best thing ever.... Pic after 4 days of polish on....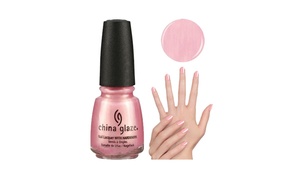 So far l like the light color and it seems to be staying on my nails very good. Not chipping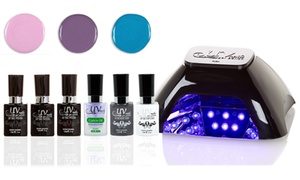 Very nice quality product. The colors were different than shown.
Health and Beauty—Achieve Both with Groupon
Health and beauty may sound like two different ideas, but at Groupon, we think of them as the same thing. Our philosophy is when you feel good on the inside and confident on the outside, you're living happily and healthfully. Trends change constantly, and so does Groupon's online selection, which goes beyond typical beauty-supply offerings to include
vitamins
and
personal-care goods
like toothbrushes and orthopedic supports.
Look Good
Groupon's virtual beauty counter functions as several stores in one. In
cosmetics
, makeup lovers will find the essentials for shiny nails and the perfect smokey eye, such as brush sets and foundation from high-end beauty brands like Chanel, BareMinerals, and Revlon.
Haircare
, meanwhile, supplies both product—think DevaCurl, Keratin Complex, Tigi—and tools—especially flat-irons and hair dryers—geared toward designing the perfect coiffure. But
skincare
truly allows customers to dazzle from within, helping them learn how to get rid of acne and slow down signs of aging with beauty supplies such as masks, serums, and creams.
Smell Good
The easiest way to appreciate your scent is to spritz on a designer
fragrance
from the likes of Calvin Klein, Burberry, and Dolce & Gabbana. But you should also get down to basics, experimenting with a mix of
bath and body products
to find the exact combination of scents, cleansing ingredients, and moisturizers that work best with your body chemistry. For some, that might include all-natural, 100% vegan Hempz lotion and pure jojoba oil; for others, it might feature charcoal exfoliant and invigorating aftershave.
Feel Good
Massage and relaxation tools
can soothe anxious nerves, relieve sore muscles, and ease you into a blissful state of mind. Pairing essential oils with diffusers or humidifiers, for instance, can create a tranquil environment at home or the office. Massagers can sap the pain from tired backs and achy legs. (And we'd be remiss if we didn't mention the potential relief—and fun—provided by
sexual aids
.) Of course, the best, least costly form of feeling good is preventive
health care
courtesy of Groupon's collection of support pillows, health monitors, compression sleeves, and more.