Turn Your Dining Room Into a Summer Music Festival
BY: AMELIA BUZZELL | 7.30.2014 |
Bonnaroo, Coachella, and Pitchfork may be far behind us, but the country is still in the thick of music festival season with events like Lollapalooza and Riot Fest looming on the horizon. But for all that's good about a music fest (sunshine, bands, body paint), there are some things that are equally bad (crowds, expensive tickets, body paint). If it's a boho-chic soiree you crave, why not skip the massive bathroom lines and selfie-snappers and bring the look and feel of a fest indoors—specifically to your dining-room table?
Giant plastic water bottles may be a necessary evil during fest season, but these chic glass versions allow your guests to sip their drink of choice sans guilt. Cupcakes ride a miniature ferris wheel that evokes the carnival feel of Riot Fest and Coachella, and a vibrant paisley-print tablecloth and tassel-fringe napkins mimic the fringe-covered, neon-colored festival outfits. Finally, instead of wearing a flower wreath on your head—as a few fans did at Pitchfork this year—use a crown of daisies as a cheerful, summery centerpiece.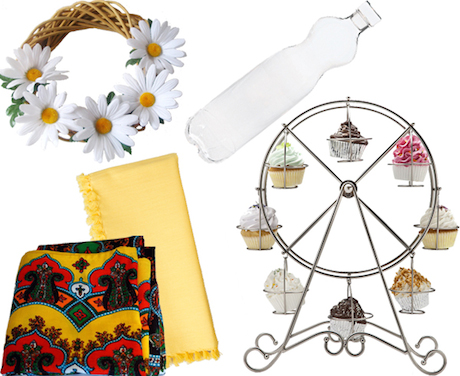 1. Vintage tablecloth; aesthetikara on Etsy ($35)
2. Seletti glass water bottle; The Future Perfect ($33+)
3. Yellow napkin; Fiesta ($3.99)
4. Daisy wreath; LeatherAndRoses on Etsy ($35)
5. Ferris-wheel cupcake holder; Godinger ($69.99)
BY: Amelia Buzzell
Guide Staff Writer
Amelia is a Senior Writer at Groupon who owns about 600 houses' worth of housewares. She daydreams about throwing parties and amassing more housewares.