GROUPON GUIDE TO WASHINGTON-DC
The Five Silliest Stories from NBA Free Agency
BY: Collin Brennan |
Jul 31, 2014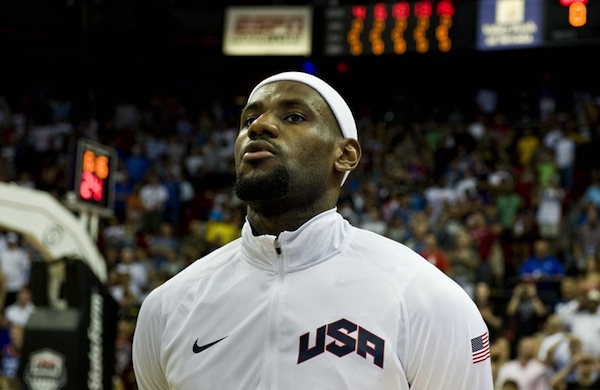 Once upon a time, the NBA's free-agency period wasn't such a big deal. It was a time for business transactions behind closed doors and a time for fans to take a breather between the draft and the start of the season. No longer. Social media picked the locks, opened the doors, and mooned the owners, spawning a new (and sometimes much sillier) brand of sports journalism. With 2014's free agency pretty much wrapped up, let's relive some of the weirder Internet moments of what has become the NBA's second season.
1. All Those Cleveland Conspiracies Actually Come True
As a rule, conspiracy theories are baseless and absurd. But once, every so often, they land in the same ballpark (or basketball court) as reality. LeBron James's Decision 2.0 was the talk of NBA free agency for weeks, but things were mostly hush-hush in LeBron's camp. This led to a rash of
widely publicized conspiracy theories
based on the scantest of social-media-fueled evidence. Beholden to the strange powers of Twitter and Instagram, professional sports journalists were actually forced to report on the following:
2. Kyrie Irving Dances Like He's Rich, Because He Is in Fact Rich
Even before he heard the news about LeBron, Kyrie Irving had reason to celebrate. Cleveland's All-Star point guard signed a contract extension worth $90 million shortly after the free-agency period started, and he celebrated in true
Uncle Drew
fashion. A friend shot this video after Kyrie woke him up in the wee hours of the morning, presumably by brushing a wad of Benjamins across his face:
3. The Polish Hammer Is a $60 Million National Treasure
Marcin Gortat lives a charmed life. It's not just that Washington's starting center recently signed a contract worth $60 million and has a name worthy of a
Rocky
villain. It's also that he gets to spend his time
riding around in tanks
and walking his pet pig around Polish malls:
Marcin Gortat and his pet pig! pic.twitter.com/hZnGFDSJMR — NBA Access (@NBA_Access) June 22, 2014
The world is a better place when the Polish Hammer has lots of money to spend on ridiculous things, like Ferraris that he drives at 140 miles per hour
while filming himself on a smartphone
. Your move, Stallone.
4. Paul Pierce, Poker Wizard, Is Now an Actual Wizard
Paul Pierce is no stranger to winning big, and we're not just talking about his 2008 NBA Championship with the Celtics. The man they call "The Truth" must be a pretty good bluffer, as he kicked off free agency by entering this year's World Series of Poker main event in Las Vegas.
Playin in WSOP today wish me luck pic.twitter.com/R08LsUgfhG — Paul Pierce (@paulpierce34) July 7, 2014
Pierce held his own until bowing out at the end of Day 3, but his new $10 million deal with the Washington Wizards should soften the blow considerably.
5. The Lakers Give $21.5 Million to a Guy Who Can't Throw a Baseball
By this point, it's painfully obvious that the NBA's glamour franchise has no idea what it's doing. The trade for Jeremy Lin was nice, but they overpaid Kobe Bryant and whiffed on pretty much every big name in free agency, from Carmelo Anthony to Chris Bosh. They also threw a ton of money at players who are more flash than substance, like Nick Young. The man who calls himself Swaggy P got a chance to show off his athleticism at a recent Dodgers game: Just a
little
lower, and we'd be looking at a pretty devastating fastball.
Want to get in the game? Check Groupon for deals on basketball and other sports in your city.